Amtrak Coast Starlight Travelogue
between Los Angeles and Sacramento, California
October 5 & 7, 2001
Ray Burns
http://www.trainweb.com/travelogues/rayburns/2001j05a.html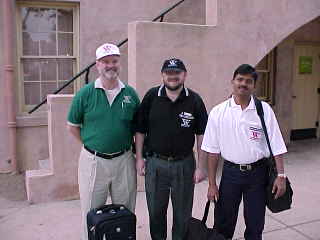 Ray Burns, Steve Grande, Shivam Surve
The below travelogue is about the round-trip of the TrainWeb staff between Los Angeles and Sacramento, California, to attend the California State Railroad Museum "13th Annual Behind the Scenes Tour" of the Southern Pacific Sacramento Shops and the Trainmaster Dinner held on October 6, 2001. The TrainWeb staff members on this trip were Ray Burns, Steve Grande and Shivam Surve. Links are provided to photographs and further information about the "Behind the Scenes Tour" of the Southern Pacific Sacramento Shops.
Click on each link below to view each set of photos:
Set #01 / Set #02 / Set #03
Set #04 / Set #05 / Set #06
Click here for photos and information from the
"Behind the Scenes Tour" of the Southern Pacific Sacramento Shops!
Friday, October 5, 2001
Today the TrainWeb staff, Steve Grande, Shivam Surve and myself, Ray Burns, are on our annual pilgrimage to the California State Rail Museum located in Sacramento, California. These trips have always been enjoyable for us as well as beneficial, so we always look forward to these trips.
The day is overcast and the cool air is welcome. I came into the office early to get a few items out of the way but I wasn't alone too long as Steve and Shivam came in around 8:00 AM. Bob Stone, a Product Line Service Manager for Amtrak stopped by to visit us before his train came in and we had a good chat. However, we soon had to leave to get in the car to drive to the Los Angeles Train Station. As we secured the shop and went downstairs, we met Bill Wallis, one of the local policemen who keeps an eye on the Fullerton train station and enjoys the trains as well. We took a few pictures and bid adieu to our friends.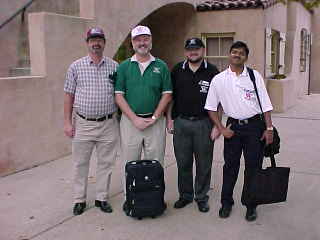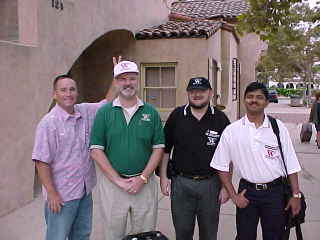 On the left in the above photos:
1st photo: Bob Stone, Amtrak Southwest Chief Product Line Service Manager
2nd photo: Bill Wallis, Off-duty Fullerton Policeman
The purpose of driving to Los Angeles rather than taking a train is because it saves us a lot of time when we return to Los Angeles from our rail trip. If the Southbound Amtrak Coast Starlight arrives on-time or ahead of schedule, there is a bit of a wait before we connect to the Southbound Pacific Surfliner. If the Southbound Coast Starlight arrives very late, Amtrak does not hold the connecting Southbound Pacific Surfliner. In that case, they substitute bus service for the last leg of the trip. It takes almost an hour to transfer the passengers and baggage from the train to the bus before the bus leaves the station. Regardless of whether the train is early, on-time, or late, we can be in our car and drive all the way home before the southbound connecting service has left Los Angeles! There is a drawback, however. There is quite a bit of traffic when we head from Fullerton to Los Angeles in the morning rush hour traffic. Also, parking costs $10 per day in Los Angeles whereas parking is provided for free in Fullerton. The good side of driving is that there is hardly any traffic on our return drive from Los Angeles to Fullerton. We'll shave at least an hour of lost time and put it into some well earned sleep.
We left Fullerton around 8:40 AM and arrived into Los Angeles around 9:30 AM. After parking we went directly to our trainset on track 11 and went to the sleeper cars. Kathy, our Sleeping Car Attendant, was there to greet us by the doorway to our sleeping car "Texas," number 32111. After putting our luggage into the carry on baggage rack, we went upstairs to our rooms. Steve and I shared room 8 and Shivam, right directly behind us, had room number 10. These are both even numbered rooms and thus, were both on the "oceanview" side of the train.
(On the Amtrak Coast Starlight, the even numbered Standard Bedrooms are usually on the oceanview side of the train going north and odd number rooms are usually on the oceanview side of the train going south. Remember: "Even Up, Odd Down." This is not a guarantee, but it is the way the sleeping cars have been oriented on 90% of the trips taken by TrainWeb staff on the Amtrak Coast Starlight. All of the Deluxe Bedrooms are on the same side as the even numbered Standard Bedrooms.)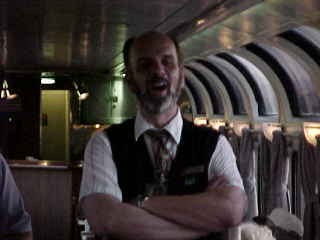 Tom Anderson, Amtrak Coast Starlight Pacific Parlour Car Attendant
After getting settled in our room we made a beeline to the next car back, the Pacific Parlour Car. Tom Anderson, the Parlour Car Attendant was our host on this trip (as he has been on a number of other ones as well). He is always with wit and great conversation.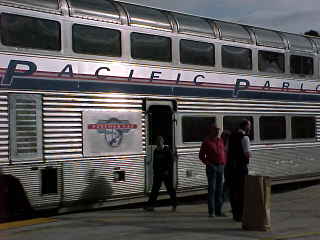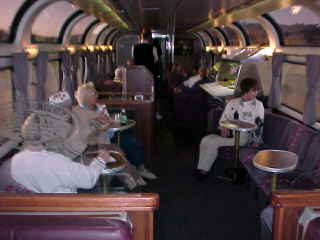 Amtrak Coast Starlight Pacific Parlour Car
The Amtrak Sunset Limited that comes in from Florida at 7:00 AM to Los Angeles will be very late today. These people will be bussed to Sacramento, consequently losing the comfortable Coast Starlight overlooking the beautiful Pacific coastline as we head north to Sacramento, California. We have mentioned time and time again, when you come out west to get on the Coast Starlight, starting in Los Angeles, you should stay overnight in the city. You should catch the train the next morning rather than the same day that your train brings you in to the station. Why? Because when Amtrak comes across thousands of miles it is usually held back by freight trains or some other problems. When you only have one set of tracks, what do you expect? Amtrak should inform these passengers that there is a good possibility that this situation is very likely to occur so they should plan to be safe! For those people who come out west to get on Amtraks' flagship, can you imagine their disappointment when they end up getting bussed to Sacramento! If people would pay attention to all of the travelogues that are posted at TrainWeb, they would unlikely be caught "with their pants down" in cases like this.
Our train left Los Angeles station at 10:00 AM on the dot! Shivam and I had a few pastries that were available in the Parlour Car and the three of us just relaxed in the comfortable lounge seats while looking at the scenery and enjoying pleasant conversation. Bernadete Cole, the Product Line Service Manager came by and individually welcomed everyone on board.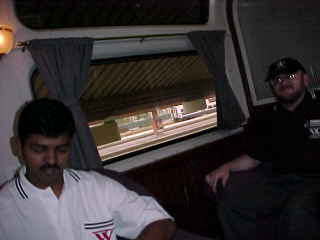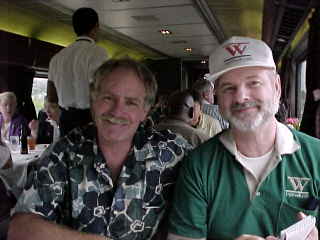 Left: Shivam and Steve relax in the Pacific Parlour Car - Right: Jerry Littlefield with Ray Burns at lunch.
We went in for early lunch at 11:30 AM and Abel served our table. Jerry Littlefield, a firefighter who hails from Belmont Shores (Long Beach, California) was our lunch companion today. He travels around with his camper/motor home a lot, but for this little jaunt up north, he's going to bask in the great scenery at his leisure. I had a Gardenburger for lunch with Caramel Apple Granny a la Carte for dessert. Steve had Grilled Vegetable Flatbread and Shivam had Salmon Salad. Always great conversation at the dining table.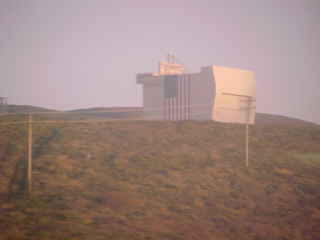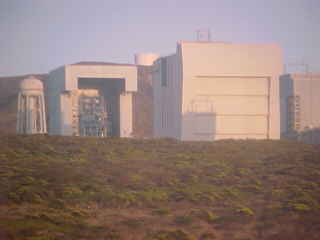 Mothballed Western Military Space Shuttle Launch Facility - Never Been Used.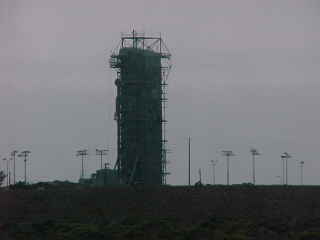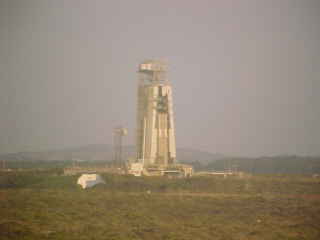 Missle Launch Towers at Vandenburg Air Force Base
After lunch we all went to our rooms and rested for a while. Steve and I went back to the Parlour Car while Shivam worked on his laptop computer in his room. The train stopped a number of miles before we were to pass through the Vandenburg military base because they were in the process to fire a rocket into space. Because it was so overcast we did not see any rocket, so that was disappointing. We stopped around 1:30 PM and left around 2:40 PM. We later came into San Luis Obispo and after a short stop (this is a smoke stop for smokers, as well) we were off again at 4:42 PM.
We also went into early supper - today at 5:00 PM. I had Parmesan Crusted Red Snapper with garlic potatoes and baked red potatoes (I'm a potato man) with vegetables. Steve had stuffed Shiitake Chicken Breast with mixed vegetables and Rice Pilaf. Shivam had Vegetable Lasagna. He didn't eat too much of it because there was too much cheese for him and too little tomato sauce. I returned my fish because it wasn't fully cooked. When it was brought back it turned out to be absolutely delicious. Mrs. Marian Santos who lives in Sunnyvale, California, had joined us at our table today and she was headed for San Jose, California. The first time that she was on a train was when she was two weeks old, so she was "bitten by the train bug" when she was very young. Dave Martin serviced our table for dinner. He is an "old hat" on this line and we have met a number of times on our travels north and south on the west coast.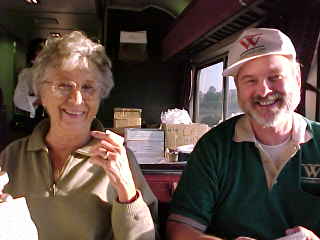 Mrs. Marian Santos from Sunnyvale, California.
After dinner we went back to our rooms. Shivam took his laptop to the Parlour car to work there as there are also electrical outlets in that car to plug into. Steve and I worked on this travelogue for the rest of the evening.
We had come into Paso Robles for a short stop and had left around 5:50 PM. When we later got into Salinas, Steve and I hopped off of the train and went into the train station to take a picture. It was dark out, but nice and cool. We have never gotten off of the train whenever we were passing through here before because of time constraints. We left Salinas station around 7:55 PM and continued in our northern direction.
We came into San Jose and the engineer that got on in San Luis Obispo got off at this station. We were only here for a short while and then we were off at 9:26 PM. Here it is at 9:40 PM and I'm pretty tired now. I was up before 5:AM this morning so I think that I'll get the bed out to get some shuteye now. Seeing as that we're going to be late getting into Sacramento, I might as well take advantage of sleep while I can. "Goodnight, everyone!"
The train departed Oakland at 10:54 PM, Emeryville at 11:16 PM, Martinez at 12 midnight, Davis at 12:45 PM, and finally arrived into Sacramento about one hour late at 1:00 AM. We walked to the south end of the station and took the marked shortcut to "Old Sacramento." Just past the California State Railroad Museum, we took a shortcut through the garage under the freeway, crossed the street and ended up right at the Capitol Plaza Holiday Inn. We stayed in two rooms on the sixth floor.
Saturday, October 6, 2001
We left the hotel by 8:30 AM on Saturday morning to register for the first tour of the day of the Southern Pacific Sacramento Shops. Before the tour, a Continental Breakfast of juice, coffee and muffins was served in the Stanford Gallery at the museum.
Click here for photos and information from the
"Behind the Scenes Tour" of the Southern Pacific Sacramento Shops!
After the tour, we headed back to have lunch at the hotel. There is a restaurant in the hotel which serves suprisingly good food for a hotel restaurant. Shivam and I had the buffet lunch which was exquisite! Steve had the Portobello Sandwich. Steve always looks forward to that item in this hotel whenever he visits Sacramento. He says this is one of the few places that can make a portobello sandwich better than on the Coast Starlight!
The Annual Trainmaster Dinner was held at the Roundhouse in the California State Railroad Museum. All three of us ordered the vegetarian selection. It turned out to be polenta with garden vegetables. Steve and Shivam liked it, but I thought it was a bit bland.
The speakers were Catherine Taylor, Executive Director of the CSRM Foundation and James E. Henley, Historian for Old Sacramento and Manager of the Sacramento Archives & Museum collection Center "The Southern Pacific and Sacramento." Mr. Henley gave a presentation on a segment of California railroad history and especially on the railroad unions.
Sunday, October 7, 2001
We woke up at 5:00 AM Sunday morning and were ready to leave by 5:30 AM. The train was listed as running about an hour late, but we knew there was some buffer between Chico and Sacramento, California, and that the train was still likely to arrive before its scheduled departure time of 6:20 AM.
We took the shortcut through Old Sacramento back to the train station. At this hour on Sunday morning, the streets were almost deserted. I think we only passed two people on our entire walk from the hotel to the station. The motif of Old Sacramento has been preserved from the days of the old west. It was interesting walking between the old western buildings on the raised wooden sidewalks during the dark deserted morning.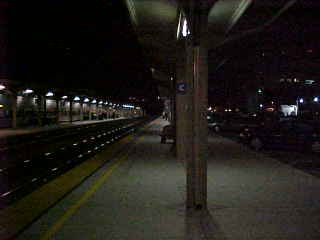 We reached the train station platform about 5:40 AM. The weather was cool, but not too cold. As long as it didn't get any colder or rain, this was the perfect weather to wait for the train! There is something special about waiting on a quiet platform in the early hours of the morning waiting for a train to arrive out of the dark.
The southbound Amtrak Coast Starlight arrived at about 6:00 A.M. We boarded the train and headed to the Pacific Parlour Car. We were pleased to discover that the Pacific Parlour Car Attendant was Richard Talmy. Richard may be the best Pacific Parlour Car Attendant of all ten Coast Starlight crews. He brings his own PA system into the car to provide quality music and so that everyone can hear his running commentary during the trip! Richard is very knowledgeable about the entire Coast Starlight route. Not only does he point out everything worth viewing along the route, but he also gives you background information and history!
One of the things that Richard does that I very much appreciate, is that he posts a schedule at the bar of the times of every event. There is no guesswork as to when the champagne and wine tasting will be held, what times movies will play, what hours the bar is open, etc. Richard also provides a lot of information about the champagnes and wines that are served during the tasting. Only a few of the Pacific Parlour Car Attendants give you a real education about the wines during the wine tasting.
The Dining Car opened for breakfast at 6:30 AM and we headed in for an early breakfast. I had 2 eggs over easy, sliced tomatoes with fried potatoes, gravy with biscuits. Shivam had pancakes, and Steve had his usual health cereal and orange juice. Annette Barclay from Tustin joined us for breakfast at the community seating in the Dining Car. She was on her way back from Seattle.
Later that morning we were told that the US bombed terrorist targets in Afghanistan. At 10:45 AM, we were told that railroads across the nation had been directed to not exceed 50 MPH. We realized this would place us late into Los Angeles, but didn't know how late it would make the train. Steve brought along a pocket AM/FM radio with him on this trip, which he usually does not do. He brought it on this trip just because he knew it was possible that the US might start their retaliation against the terrorists any day, or that there could be another terrorist attack on the US. Thus, we were able to keep informed of the news on the train and pass information along to other passengers.
The Product Line Service Manager on part of our run on this trip was Lionel Johnson.
We had lunch about noon. Ray Faraday Nelson joined us at our table for lunch. Ray wrote a number of science fiction books that have been published. You can find his books listed at Amazon.com. A number of them are rated quite highly. He said that the movie "They Live" was based on one of his books.
Maurice was the Dining Car Service Attendant that served us at lunch.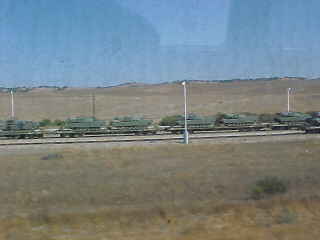 We saw a number of tanks on railcars on our trip south.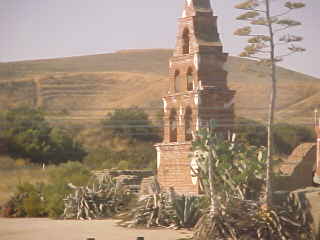 A bit of the mission.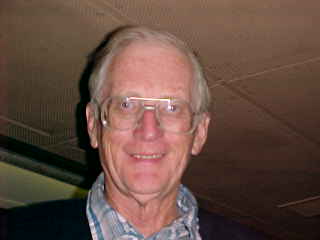 Trevor Clarke from RailPac.
Trevor Clarke from RailPac was on this train. We spent much of the last leg of this journey relaxing and talking in the Pacific Parlour Car with Trevor and a few other passengers.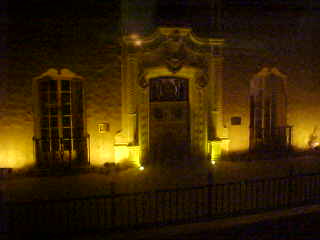 Glendale Station in the evening.
Although we expected a late arrival into Los Angeles, we arrived only about an hour late. There is some buffer to make up time near the end of the schedule, but traveling at 50 MPH didn't seem to put us very far behind. The travel was much smoother and more enjoyable at this slower speed than what it can be like when the train is running late and the train travels at the maximum allowable speed to try to make up some of that lost time.
Click on each link below to view each set of photos:
Set #01 / Set #02 / Set #03
Set #04 / Set #05 / Set #06
Northbound Consist:

460-- ---- F59PHI Locomotive
119-- ---- Genesis Locomotive
21--- ---- Genesis Locomotive
507-- ---- Locomotive
1707- ---- Baggage Car
39022 ---- Superliner 2 Transition Sleeper
32084 1432 Superliner 2 Sleeping Car (Kansas)
32109 1431 Superliner 2 Sleeping Car (South Dakota)
32111 1430 Superliner 2 Sleeping Car (Texas)
39972 ---- Pacific Parlour Car
38058 ---- Superliner Dining Car
33038 ---- Superliner Sightseer Lounge/Cafe Car
34109 1411 Superliner 2 Coach Car
34512 1412 Superliner 2 Coach Car
34116 1413 Superliner 2 Coach Car
34111 1415 Superliner 2 Coach Car