AMTRAK: IT IS WHAT IT IS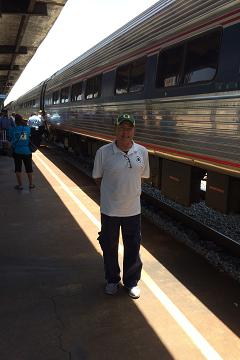 ONBOARD AMTRAK'S CRESCENT--Inevitably when taking AMTRAK from a point A to a point B, family, friends and acquaintances are wont to inquire of me: "why train, and not plane"? I simply tell 'em "I like train travel", to which they usually respond "yeah, but AMTRAK"? Patiently I counter "but it's the only train service we have". They usually just shake their heads with confusion and wonderment.
With the above preface, the reader is asked to now join me on AMTRAK's Crescent for about one half of its New York to New Orleans run, one of our nation's historic passenger rail routes.
On a steaming and humid July 2nd in Atlanta, the southbound Crescent #19 arrived at Peachtree Street Brookwood Station as scheduled at 8:13 am. Just about 18 hours earlier and 859 miles to the north, she had departed New York City's venerable Penn Station. Time wise, things were looking very good for my planned day-trip to Slidell, LA, a distance of 483 miles. As I walked along the platform to board, I could not help but notice that virtually every coach in the consist was in need of a good scrubbing. Ah, wishful thinking I guess. Onboard, I settled into a large and comfortable coach window-seat, and again couldn't help but notice that my view today would be marred by streaks of grime on the window. Oh well, did I really expect a pristine and spotless train experience? Apparently AMTRAK's operating budget does not include a hefty line-item for frequent wash jobs.
However, on a positive note (I seriously attempt to be a glass is half full type of person), today's Crescent eased away from Atlanta almost on time at 8:43am, just five minutes behind schedule. Since I was not "punching a time clock", I had no complaint with that. Between Atlanta and New Orleans, the Crescent passes through Anniston, Birmingham and Tuscaloosa, all in Alabama. It was just south of Tuscaloosa that #19 met its northbound partner the Crescent # 20 speeding toward Atlanta then on to Penn Station.
In Mississippi, the Crescent timetable includes Meridian, Laurel, Hattiesburg and Picayune. Atlanta, Birmingham and Meridian are the longest station stops (about 5-10 minutes) along the Crescent's Deep South route. The last stop before the Crescent City is my destination Slidell,LA., the closest to my hometown of Bay Saint Louis, MS. This was a family vacation trip, and though it would have been faster to take an airline flight into either Gulfport, Miss. or New Orleans, the lure of a train trip prevailed. I easily booked an E-ticket online with AMTRAK, with the senior discount, just $78.20. A one-way airfare would have been about double that price with one-week advance purchase. Had the prices been reversed, I still would have chosen the train.
I can easily say now that I was not disappointed. Sure there were the aforementioned details of coach cleanliness and some distracting cell-phone conversations to endure, but overall the trip got a passing grade, not an "A" perhaps, but at least a "C", and in my grade book, that is sufficient. The positives outnumbered the negatives. There is something about the soothing feels and sounds of a swaying train as it travels through our nation's varied landscapes. Much of what a passenger sees from this run of the Crescent is long stretches of pine forests periodically broken by rural crossings and small hamlets.
There is much natural history about the Deep South to be learned onboard Crescent. Thanks to what is known as Trails & Rails, AMTRAK and the National Parks Service have volunteer docents on the train to call attention to and answer questions about the numerous historic landmarks, the topography and geography between Atlanta and New Orleans. Free brochures remind passengers that the Crescent's route bisects the cradle of America's civil rights revolution of the last century, hearkening back to the days of Dr. Martin Luther King, Jr., Freedom Riders and the Civil Rights and Voting Rights Acts of 1964 and 1965; topographic changes seen from the Crescent range from the Appalachian Mountains, the Piedmont in which Atlanta sits, through the Coastal plain, ending in the Mississippi River delta.
The two friendly onboard docents eagerly provided the curious with a gamut of other information and trivia. One very popular brochure they handed out gives the names and bios of personalities who've given the Deep South its rich musical history. To name a few: Louis Armstrong, Mahalia Jackson, Hank Williams, Sr., Odetta, The Temptations, Jimmie Rogers, Leontyne Price, Thomas Dorsey, The Statesmen Quartet, and more recent and current, Jimmy Buffett. (For more information on Rails & Trails: visit www.nps.gov/trailsandrails and www.AmtraktoParks.com and Google search the individuals listed).
You might wonder about food service on the Crescent. Well I had a tasty ground-chuck steak burger and fries for lunch. I'd had it on previous Crescent trips and was actually looking forward to it. I was not disappointed. But to be totally upfront, it must be added that the dining car seating and service were slow and seemed unorganized. Again this is likely the result of budget cuts reducing the number of attendants on some AMTRAK lines. There was just one waiter on Train 19 on the day of my trip. There was also a Cafe' Car for snacks and beverages with several tables for seating.
It was in that coach that train-travel friendliness had the opportunity to blossom. As I sipped a cola at one table, I observed three other passengers at another table in what obviously was a very fun game of dominoes. I politely asked if I might join. "Of course" they said. Once seated I introduced myself to a young Canadian man and woman (I learned they were boyfriend-girlfriend) who linked up with his grandmother at Penn Station for a vacation trip to New Orleans. With laughter and spirited conversation, the piney woods of Alabama flashed by as we entertained ourselves with dominoes and as they taught me the card game of "99". Such as this seldom happens in the cramped confines of jetliner!
It was from this passenger encounter that I had the opportunity to enlist the expertise and knowledge of the traveling park rangers. I'd told my game-playing partners about visiting the New Orleans gravesite of Marie Leveau, the famous voodoo figure of the Big Easy. What I didn't know at the time was the name of the cemetery where she is buried. So I asked the rangers. Within a few minutes, one of them found me in my seat and told me she'd found the answer in an iPhone search: Saint Louis Cemetery #1, near the French Quarter. Happily I was able to pass this information on to my AMTRAK friends before I left the train in Slidell.
We arrived at my destination at 6:57 pm (CST), "just" 50 minutes behind schedule. The rail lines used by the Crescent are the property of private freight companies, so several times on this trip, #19 had to alter its speed and timetable to make way for those freight carriers.
Remember what I said to begin this account--AMTRAK is our only choice for long distance rail travel in the U.S. , and I just accept that it is what it is, which means it can often run behind schedule sometimes with consists of tired/dreary/grimy cars. But would I do it again? Yes! I am a committed long-distance train traveler, in this country and Europe. Now Europe, that's a story for another time, of high-speed sleek and spiffy trains with the kind of schedules and onboard service we'd like to have here: for example, Eurostar, AVE, TGV, Le Frecce, SJ, ICE, and more.
Still on this rail fan's AMTRAK bucket list are: the California Zephyr between San Francisco and Chicago (if for no other reason than to cross Donner Summit in the Sierra); the Texas Eagle between Dallas-Fort Worth and Chicago; the Capitol Limited linking Washington, DC and Chicago; and for the colorful fall foliage, the Vermonter, the Empire Service or the Adirondack.
Your traveling writer:
Irv Cuevas
Seal Beach, CA
July 24, 2014


Note: Author's photo taken at AMTRAK'S Birmingham, Ala. station stop July 2, 2014
Click each of the below links for more travelogues and info about the Amtrak Crescent:
Visit our Rail Magazine promotion trading partners:
Click here to add your print rail magazine.