TrainWeb Rides the LA Metro Rail Gold Line
Los Angeles Union Station - Pasadena | August 3, 2003
By Matt Melzer of TrainWeb.com
http://www.trainweb.com/travelogues/mattmelzer/2003h03a.html

After stopping at Lincoln Heights / Cypress Park, we traveled through our first grade crossing, and crossed the 110 Freeway for the first time. After the Heritage Square / Arroyo station, we traversed a trench for a short while, then slowed down to travel down the middle of Marmion Way into the Southwest Museum and Highland Park stations. Our speeds were considerably slower for this portion, and the operator did not once sound the horn in spite of the countless street crossings. After Highland Park, we picked up speed, crossing the 110 over Arroyo Seco once again before pulling into historic Downtown South Pasadena. We tied up traffic on several converging main thoroughfares before stopping at the Mission station, which is surrounded by signs from local NIMBY (Not In My Backyard) property owners demanding, "No Bells / No Horns / Slow Trains to 20 MPH". After crossing the 110 for the final time, we passed through an industrial area where I saw the only remnant of the old Santa Fe - severed spur tracks leading into a plant. After entering Pasadena, we stopped at Fillmore, which is adjacent to popular shopping areas.

Pasadena Station Page . Unfortunately, the famed station building was nowhere in sight, only construction for the transit-oriented Del Mar Station housing development. I would have to return to investigate the situation. We soon plunged into a tunnel to avoid the narrow corridor that the Second District used to take across Old Pasadena's Colorado Boulevard before stopping in Memorial Park, which is located in an open trench. We entered one more tunnel and emerged heading east down the median of the Interstate 210 Freeway, where trains can operate at the maximum allowed speed of 55 MPH (though these Siemens cars can reach 70). An MTA worker boarded at Lake, several passengers detrained at Allen, and we reached the eastern terminus of Sierra Madre Villa at 2:01 PM. I fought the large crowds to get a glimpse beyond the end of the Gold Line, where the old Santa Fe tracks were overrun by weeds. (Metrolink owns and operates the Pasadena Subdivision for BNSF freight service to its present western terminus in Arcadia, a couple miles west of Sierra Madre Villa. If Phase II of the Gold Line is built to Claremont with light rail as the preffered alternative, the rest of the Pasadena Sub would meet the same fate as this portion.)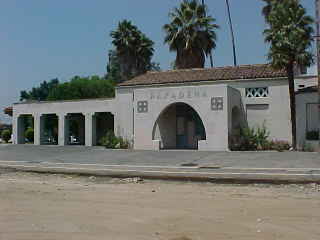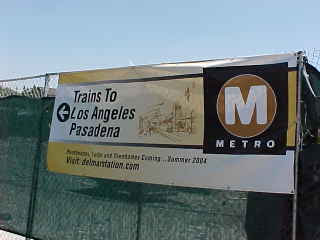 Pasadena Del Mar: Before and After

It took me a while to notice that three stations have been labeled with interchangeable sets of names. For example, Highland Park was originally called Avenue 57. Heritage Square / Arroyo was originally called French. Lastly, Lincoln Heights / Cypress Park was originally called Avenue 26. The latter names all obviously represented the streets on which the stations were located, and I saw various signage using both systems of nomenclature. As we passed through Bull Ring Yard, I noticed a relic from the SP era: a metallic building with hand-painted signs reading "Signal Department", with tracks in front of them! One could only wonder what that building now houses.

Click on the below links to view each set of photos:
Set #01 / Set #02 / Set #03 / Set #04
Set #05 / Set #06 / Set #07 / Set #08

Questions? Comments? E-mail matt@trainweb.com .