Amtrak California Zephyr Travelogue
with Two Small Children
by Mariah Birgen
February 8 - 10, 2006
http://www.trainweb.com/travelogues/2006/cz2child.html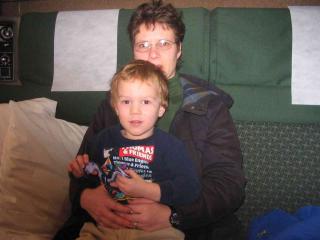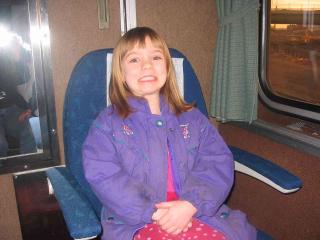 Beginnings:
I have the term off of school, so I decided to take the California Zephyr through the Sierras, something I have always wanted to do. Since Hubby still has to work, I figured I could take my daughter (5) and son (3) along with me. We live in North East Iowa, but I bought tickets from Omaha instead of a closer station because I could fly Southwest back. I figured I could relax more because if things didn't go well on the train, I wasn't looking at another 2 days back from California. I bought the bedroom that sleeps 2, which used to be a deluxe bedroom sleeping 3. It was to have a toilet and a slightly larger bottom bunk. Hidden in the Amtrak site, they tell you it will sleep 3 if two are small. I spent most of January reading other travelogues so that I knew what to expect as far as the trip. I also tracked the Zephyr daily to see how often the train made the connection to San Jose (about 50% of the time). Just in case, I reserved a room in Emeryville that I could cancel if it looked good for the connection. More on that at the end. I knew I would be checking luggage because I had to lug two car seats across the country, so I packed most of my trip clothes in checked suitcases and planned to carry aboard my computer bag (plus DVD's for the kids), my games and snacks bag (my mother still remembers running out of food on the Coast Starlight, or equivalent, in the early 60's), and one small bag I could slide on to a wheeled bag with clothes and toiletries for the trip. I packed those clothes in 2 gallon zip-bags, one for each day. That way, I could put the dirties back in the bag. I brought along two extra sets of bottoms and undies for my son since he is not above having an accident (more on that later too).
Day (evening) 1:
Since the Zephyr doesn't leave Omaha when it is on time until about 10:30 PM, I had the kids go to school and picked them up afterwards with the car all packed. We drove to Des Moines (about half-way) and ate at McDonald. I had them play in the play place for an hour or so and then we headed for Omaha. My son napped on both legs and my daughter on the second. We arrived at the Station about 10:00 PM and some kind teenage boys helped me get everything into the station. They didn't want to let me check my bags because there was no checked bag service to San Jose. I cajoled them into letting me check things to Emeryville, letting them know I wasn't really expecting to make the connection anyway. Since I seemed to know what I was doing, they let me get away with it.
A miracle occurred and the train which had been two hours late the previous day was on time into Omaha. The train was longer than I had expected with roughly 3 private cars on the end. The kids and I walked to near the front of the train and got onto car 0531. Amtrak numbers its sleeper cars XX31, XX32, etc. starting at the car nearest the dinning car, where XX is the route number (the West-bound Zephyr is 05). We met our attendant, Linda, found our room D all made up, changed into pj's and crashed. I was in the bottom with my son and my daughter took the top bunk. The deluxe bottom bunk is just slightly wider than a twin bed, so be warned. Sleeping with my 3 year old was just fine, but when it was the 5 year old's turn tomorrow, I moved my pillow to the other end of the bed in the middle of the night for more room.
Day 2: Because we picked up an hour each day changing time zones, the kids and I were always early risers. I tried to sneak downstairs to shower, but my son woke up as I was leaving. I reassured him that I would be back and took a quick shower and dressed. By the time I got Zac dressed, Jeri woke and we dressed her too. She was a bit distressed that I had checked most of her chosen clothes, but she got over it.
I think we made it to breakfast by about 6:30. I knew from my readings that announcements for breakfast would not take place until later so as not to wake up the sleepers. Jeri sat across from me and Zac sat next to me and we ate French toast, pancakes and a continental breakfast. I learned at lunch that there is a kids menu, but it wasn't posted anywhere except for the waiter's ticket. The waiter (whose name I seem to have lost although he was great) automatically brought kids pancakes for Zac and Jeri ate everything except the oatmeal from the Continental breakfast.
We went back to the sleeper car to collect coloring materials and headed to the lounge/observation car for a bit of Rocky Mountain watching. There was less snow than I had been expecting, I should have brought snacks for the kids and they didn't even announce the Moffitt Tunnel, but other than that the morning was great. There were two separate Amish families on the train. One group was from Indiana and were two older couples headed to San Diego for a two week vacation. The other was headed to Western Mexico to get medical treatment for one of their elders. The second group seemed much more traditional and had brought the entire clan on the trip. The first four were very kind to my kids and treated them as their own, including teasing Jeri with Grandfather-type tricks. I thought it would be cool on the train because this is February, but the turtleneck shirts I packed were too warm. Next time I would pack short sleeves and layer. I was glad I had estimated tip money for the whole trip and had brought quite a bit of cash. I kept it with me at all times, but I never felt I had to worry about our stuff.
Because of no morning snack, we ate lunch at the first announcement. I wasn't that hungry so I ordered the ham and Swiss on sourdough - just okay. We discovered the kids lunches so both had Mac and Cheese. This time Jeri wanted to sit next to me. There was no way I was having a 3 year-old sit on a seat by himself, so I wedged us all into one seat. This turned out to be a great idea because then we had table partners across from us. During lunch, I became even more grateful our sleeper was right next to the dinning car. Both kids had to be taken to the toilet while we ate. Meanwhile, there was some sort of an electrical fire in our car that made the air stink, but didn't seem to cause any trouble for the rest of the trip.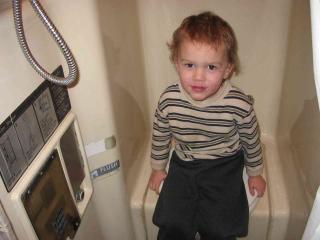 Mid-morning the batteries had died in my camera and I was debating spending the $10 to replace them. A very kind gentleman from Saginaw, MI gave me his spares. By Glenwood Springs, we were almost two hours late due to a lot of freight traffic in front of us. Plus, they were working on the tracks and the Eastbound Zephyr was on the other side of the track work. Fortunately, because of the aforementioned fire, the windows on the lower level of our sleeper were open. With the train running slowly, I got some great "glassless" shots of the Colorado River. We got into the "shopping spot" of Grand Junction at 5:30 and they delayed the first dinner seating so that we could get off the train for a bit.
Dinner had us again sitting three across and I figured out that Zac had to sit near the window because all his wiggling was a navigation hazard for our waiter. This waiter was not nearly as helpful as the other. It took forever for him to take our orders and the table across from us, who sat at the same time, was eating dinner as we were getting our salads. I had the steak, which was a bit rare for medium rare and given that, rather tough. One of our dinner partners had to send hers back for a bit more cooking. Because the kids were getting really antsy, I asked for my desert to go and that took forever and was messed up as well. I decided to pick my waiter a bit more carefully the next day.
We retired to our sleeper which had been made up for the night, watched a Thomas video on my computer and went to bed about 8 PM. About 10 PM, with Jeri pushing me out of the bed, I took my pillows to the other end of the bunk. There are several riders who prefer to sleep with their feet near the window. I tried it both ways and the problem I had with the unconventional method is that the air vent blows on your head!! I covered up with the extra pillow, put my feet near my daughter's chest, and slept.
Day 3: We are a bit behind on the last day because we eat breakfast before we get to Winnemucca. If you like deserts, the morning was scenic, but we found it a bit "dry." Back in the lounge car, Jeri found a 7 year old girl to hang out with. They borrowed my digital camera and took a bunch of pictures, some of which even came out. It is definitely cheaper to use the digital cameras for the kids instead of a disposable, which is what we have used in the past. I have seen some pretty good cameras out there for $60-$70 and may pick one up just for the kids. It sounds like a lot, but it comes out to about 6 rolls of film. Jeri was having too much fun with her friends to stay with Mom. She figured out how to open the doors between cars, but was willing to stick to the lounge car when I asked her to. There were a couple of times I had to look for her, but she was mostly playing happily in a corner.
There was a lot more snow in the Sierras and I loved the climb up the Truckee River Valley towards Donner Pass. There was no one explaining the scenery as had been advertised on Amtrak's web site. They must only do that during the busy season. We were eating lunch as we passed Donner Lake, so I didn't get any good pictures. By the time the train made it to Sacramento, it became obvious that we would make the connection in Emeryville, so I called the hotel and canceled my reservation.
We arrived in Emeryville only about an hour late. In fact, we made it before the earlier Capitol Corridor train. The good news was that we were able to pick up our bags and make it across the tracks to pick up the earlier train with ALL our bags (including the two booster seats). A nice gentleman helped me move everything onto the train and we sat down. The bad news was that, because of track work, we went ONE STOP to Oakland where everyone got off and were loaded on to buses. The kids and I were the last three people on our bus and, of course, there were no seats next to each other. No one would move to help and I got a bit miffed. After my son started crying because he was alone, the person next to him offered to switch seats with me. My daughter wanted to sit on my lap and I told her she had to wait her turn. After my son fell asleep on my lap, she decided it was her turn and started to cry. At this point we are past Oakland, barreling down I-880 towards San Jose. The man who had helped me on the train in Emeryville was sitting next to my daughter and we managed to trade places so that I could have two kids quickly asleep, one on each shoulder. We had two stops and most got off at the first stop. I was able to put both kids on seats of their own for the final leg. When we arrived, I got all the bags off first, then took the kids off one at a time. Jeri woke up and was able to take her bag and booster seat the 100 yards to the station. Zac woke up scared and sad and cried while he walked alone with encouragement. I got the rest of the bags into the station, found an empty bench, put both kids back to sleep and waited for our ride. The only additional snag was that our ride was waiting outside the wrong station in San Jose. We could have been a while, but I had camped out near the restroom. Once Grandma's internal plumbing woke up, we quickly were found and put in the car. Off to Grandma's at last.
Day 4: If you decide, after coming to California to go to the Henry Cowell Redwoods and Roaring Camp Railroads (a narrow gauge, steam train in the Santa Cruz Mountains, www.roaringcamp.com), you should definitely make a stop in Capitola, CA at the Train Place Deli (831-475-0150) at 1820-F 41st Ave across from Sears, next to Longs Drugs and Behind World Savings. They are open for lunch 7 days and dinner every evening except Sundays. They have several model trains running (including a very popular Thomas with Annie and Clarabel) plus videos of the Coast Starlight in action.
Visit related pages from this and other web sites:
Click below for pages in the directory of TrainWeb sites: