My First Train Ride
http://www.trainweb.com/travelogues/2002/2002e15a.html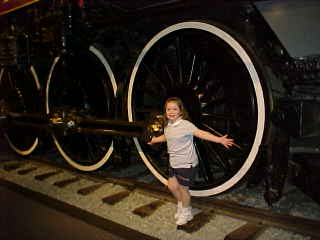 Click on each link below to view each set of photographs:
Set #1 / Set #2 / Set #3 / Set #4
My name is Madison and I am almost six, and I go to St. Francis School in Brockville. This is the story of me and my friend Jamie and our grandmothers. We are going to the Science Museum in Ottawa and we are going on the train to get there.
First we went to the train station and waited a long time for our train. We watched the other trains go by. I met a new friend. Her name is Isabella and she is three years old.
At last our train came and we climbed on. The conductor took our tickets and told us how to break the window. (we were seated by the emergency window) He gave us a sticker book and a colouring book and three crayons.
The train went very, very fast. Sometimes it rocked from side to side, and sometimes it didn't. We got an orange drink from the snack cart. I really like riding on a train.
Isabellas grandparents were sitting in the seats beside us. She really liked the train, because she kept saying that it was so comfortable. They always take the plane, so maybe this was her first time on a train too.
We finally got to Ottawa (one hour) then got off of the train and went up the escalator to the top floor and went outside and took a cab to the museum.
The lady at the museum put a stamp on my hand, then we walked around and looked at a lot of interesting things. My favourite was the crazy kitchen. It was all on a slant and it was hard to walk without falling over. Me and Jamie walked through it fourteen times. Everywhere there were buttons and signs that said "push me" and "try this".
We saw lots of olden cars that you couldn't sit in. What I really, really liked were some old train engines there. They were so big you can't imagine a train being so bug. They had a cow catcher in the front.
We went for lunch in the cafe. I had pizza. It was very, very good, then we walked around some more. I looked through a submarine telescope (periscope) and could see outside. There was a hockey game and you could be the goalie and you could see yourself playing hockey on the T.V. screen. In one room I tried an old fashioned sewing machine. We went to the science demonstration show and people took turns sitting on the nail chair. It had 350 nails in the seat. All of a sudden the lights went out and it was very dark, and the man said we would have to leave because it was a power failure.
We waited outside for a while and went over to a lighthouse to see it up close. Jamie and me climbed over the rocks. We liked the lighthouse a lot. There was another old train that we climbed on, and an old oil well.
When we went back to the museum the man said that it was closed for the rest of the day, so we went for a walk to Mr. Subway. After eating we called a cab to come and get us.
When we got to the train station we went down and up the escalator once, then me and Jamie walked down and up the ramp until our train came. We sat on the other side of the train this time. When the conductor took our tickets we told her we already knew how to break the window. She gave us another sticker book and colouring book with three crayons. We had a drink and chips from the snack cart. It was fun looking at the farms and houses. We waved at everyone. We all played "I spy" all the way back to Brockville.
For my first time on a train, I would say it was very, very nice.
Click on each link below to view each set of photographs:
Set #1 / Set #2 / Set #3 / Set #4