Steve's Rail Travel on the Amtrak Capitol Limited and Southwest Chief from Washington,DC to Fullerton,CA with a stop and change of the train name in Chicago,IL.
This train is a coast-to-coast through train from Washington,D.C. to Los Angeles, California. Although it will change its name, number and even service crew in Chicago, the cars of this train will be going all the way from Washington, D.C. to Los Angeles, California.
I really like the Washington, DC Metropolitan Lounge. There are plenty of outlets for your notebook computer everywhere! That is quite different than the one in Chicago where you have to hunt for an empty seat near one. Plus, you should bring a 3-way adapter in case you have to unplug a lamp or a fan. That way you can plug the lamp or fan back in, which others in the lounge might appreciate! There are also telephones that have data ports in the Washington Metropolitan Lounge. I got it to work with my notebook computer and uploaded all the photos from my trip from Newport News to Washington. However, I was never able to get my own discount long distance carrier to work on the phone. I could place the call to my dial-up provider by picking up the receiver, but it would fail every time I dialed from the computer. I finally did get it to work by just using AT&T and my credit card. I'm sure that cost me a fortune compared to my dial-up provider!
When I entered the Metropolitan Lounge in Washington,DC, they told me that my train would be boarding about 3:45 PM and would leave at 4:05 PM. Instead, they stared making announcements around 3:45 PM that the Capitol Limited had not been released from the yard yet, and they did not have an expected boarding time. They apologized and asked everyone to continue to remain comfortable in the lounge. This announcement was repeated many times about every 15 minutes for more than an hour.
About 4:30 PM, a man came into the Metropolitan Lounge and sat at a seat not far from me. He then told me that he had just arrived on the eastbound Capitol Limited about 20 minutes ago, and 6 hours and 30 minutes late! He said there had been mechanical problems and delays on the train and that this delay was because they were working on fixing the problem in the yard. I don't have any way of confirming the story, but it sounded reasonable.
Finally, at about 5:00 PM, they boarded us onto the train. My car was right outside the door, the last sleeper on the rear. As I boarded, the Attendant asked my name. I said: "Grande, I believe in Room 7." He looked at his list, confirmed the room number, and told me to go upstairs and turn right.
I went straight to my room and immediately put everything the way I like it. I opened up the seat under the electric outlet to the flat position and mounted my tripod and camera. I then opened up the table and got my notebook computer all set up. This time the Sleeping Car is a Superliner I. My suitcase fits perfectly on the top step to the upper bed. Since this room has a closed instead of the open space of the Superliner I, there wasn't any spot to put my backpack there. But, with the chair open, there is plenty of room for everything, even for my feet when I'm all done and ready to relax!
I started the camera and figure I could fill one two hour tape. By the time the tape finishes, it will be after 7 PM and dark outside. The Conductor came by and collected my ticket. He obviously noticed my elaborate set up, but didn't say anything. Strange thing is, I haven't seen my Car Attendant at all since I boarded! He didn't come by at all to even say hello or offer to explain anything. Maybe he went by while I was setting up and figured I had everything under control.
The Dining Car Attendant came by very quickly giving out dinner reservations. I picked the earliest time, 5:30 PM, before I realized it was almost already 5:30 PM! I usually like to get in and out early so that I am free to work on whatever I want for the rest of the evening.
I went to the Dining Car immediately on the first call, but being the furthest car from the diner, the first table already had 3 people seated who were traveling as individuals. There is something psychologically interesting in the order in which you are seated. If you are seated first, then it is like others are coming to sit at your table. If you are seated last, then it is like you are crashing their party! This is especially true if the other party is 3 people who are traveling together. The events are especially significant when you are seated with people who are having their very first meal on the train and were unaware of the community seating practice! It can be quite a shock to the unprepared. In those cases, I prefer the look in their face of "Why are they seating us at YOUR table?" rather than "What are you doing siting at OUR table?"
Well, none of that was at issue this evening. The other two men at my table were frequent rail travelers who knew about and had radio scanners. The woman at my table just prefered rail to flying when she had the time, but hadn't traveled a lot by rail. From a few comments that each of us made, the lady picked us out immediately as being frequent rail travelers.
I don't know if this was an up or a down dinner conversation. I'm used to being the center of the source of information when it comes to rail travel, or when conversing with fellow rail travel enthusiasts, sharing our experiences. I sensed an air of competitiveness at the table. That really didn't interest me. I participated in the conversation, but kept a low profile. As usual, I was wearing my TrainWeb.Com T-Shirt and Hat, but not as usual, nobody asked me what it was. If it doesn't come up in the conversation, then I don't push it.
The first tangle came up early in the conversation. There was a question as to whether this train goes all the way to the west coast. I said that it did. The guy next to me said it was not the same train. He said his answer in such an argumentative tone that I wasn't sure if he really knew it was the same train or just wanted to make a point that it changes name and numbers in Chicago. However, I really believe if I wasn't there, everyone would have left believing a change of trains would be required to go on to Los Angeles.
Next came up the topic about why Amtrak doesn't make money and why they don't add more trains and equipment. The argumentative person made some points that I actually do agree with in why it costs Amtrak more money to run trains than need be, but I don't plan to go into that here. I don't necessarily think Amtrak itself would disagree with many of his points. Then came the topic of how they make money in the east while the long-hauls lose money. That tends to be Amtrak's party line, but don't believe it. That is an item that is highly controversial, for very good reason. There are others who have done extensive analysis of Amtrak's operations that believe that most long-haul routes are profitable and that Amtrak could take steps to make them even more so. Don't accept the statement with blind faith if you see it in the press that Amtrak's long-hauls lose money.
As far as the meal goes, I had the vegetarian lasagna with a side of vegies and some red wine. They also asked whether I wanted rice or what type of potato. I grew up in an Italian household. Where I come from, you don't serve starch with starch, thus no potato or rice with my lasagna, please!
I often like to eat light on the train. That is hard to do since most meals are prepared in a gourmet fashion. Thus, I tend to eat a lot of vegetable lasagna on the train! Once in a while I splurge on a steak or something else. The vegetable lasagna is quite good, certainly a lot better than anything you could heat up out of the freezer. Actually, it is better than the lasagna in many, but not all, restaurants. Amtrak used to have a lot more exotic vegetarian entrees, including such things as vegetarian steaks (made from mushrooms)! I couldn't find such great vegetarian meals anywhere but on the train! Maybe they have fine vegetarian restaurants in your neck of the woods, but there aren't too many in mine. Don't get me wrong. I'm not a vegetarian, but I like to eat light and healthy when I can. If you met me, you'd tell me it doesn't show, but I'm trying! The worst thing I could think of doing would be to eat every free meal and snack they provide on the train. That would be at least double the amount of food I normally eat each day when not traveling!
I saw one person leave a tip of $2 and I left a tip of $2.50. I excused myself from the table, so I'm not sure what the other two diners left for tips.
Now that was funny! A train passed us going the other way right as we went over the detector. Both detectors transmitted at the same time giving out a big garble of numbers! I wonder why it didn't just make that high squeely noise that is usually generated when two radios try to transmit at the same time? Maybe it is only one transmitter for both tracks and two different information generators feed into the same transmitter. That would make sense and would explain how it can generate a whole jumble of mixed up info when two trains cross it in opposite directions at the same time.
It is 9:30 PM Eastern Time. Even though that is pretty early by Los Angeles time, about 6:30 PM, I'm going to turn in now. I want to be up at dawn to start my videocam recording and to have breakfast. Lunch will not be served on the train tomorrow during the 9:20 AM to 4:40 PM layover in Chicago, so I may not get to eat until evening if I don't grab some breakfast in the morning. I plan to remain on the train and just catch up on some of my backlog of work. People ask me how I can take so much time off from work to take all these rail trips. Are you starting to get the picture? What time off?
Your best bet at this point is to program your scanner to watch both Channel 46 (160.800) and 64 (161.070). I don't know exactly where the transition is between these nor if it goes back and forth a couple of times. I do know for sure that it is Channel 64 (161.070) heading east out of Toledo, Ohio for about 5 minuts and then switches to Channel 46 (160.800). You may here the Engineer and Conductor say "Go to Channel One" as they switch from 161.070 to 160.800.
I awoke at 6:30 AM ET. It was already getting pretty light out. I must have gotten at least 8 hours sleep which is quite a bit for me. After getting dressed, I put away the cellular and videocamera batteries I had charging overnight and disassembled my gaggle of wires and equipment. Once the upper bed was cleared off, I folded up the lower matress, put it above and closed up the top bed. This is a job the Car attendant usually does, but putting away the bed is the least difficult thing that I needed to do to get my room set up the way that I like it. Also, I did not want to wait for the Car Attendant to make up my room before getting the video camera rolling, which was the very next thing that I did!
Then, I scurried off to breakfast to make sure that I got to the diner before they made the first call over the P.A. system. There was no worry about that! There were people at only a couple of tables in the diner. As luck would have it, I was seated at the same table with that railbuff that I found to be argumentative the previous evening. There were two other people also already seated with him, making me the last to join the table once again!
This time the conversation went much more smoothly. The person seated next to me was an Economics Instruction, and also another railbuff! He also had a radio scanner and had been listening all night. The guy seated across from me looked enough like Ray Dunbar of the Texas ARP to be his brother! He also had that same Texan accent!
A few factors came to light quickly at breakfast. First, I learned that we were now about two hours late. Evidently there had been some problem with the brakes during the night and we had remained for quite a while at some station while the problem was repaired. The second major factor was that a lot of express cars had been added during the night, probably in Pittsburg. There were about 9 express cars. I see these express cars on the Southwest Chief all the time heading in and out of Los Angeles. I just naturally assumed their eastern terminus was Chicago. I wonder if these cars are the same that will go west of Chicago or if we will drop these off and pick up new ones in Chicago? I certainly can't see how they can go into the station with these cars on the train, regardless of whether the train goes nose end or tail end into the station!
Much of the breakfast discussion was about old railroad equipment, but there was also some talk about the present status of Amtrak. Nothing really confrontational this time. Wait! There was once small contested issue. We were talking again about how the Capitol Limited and Southwest Chief were the same equipment and also how the Empire Builder and City of New Orleans were the same equipment. One person at our table said he was anxious to book a through trip from New Orleans to Seattle and have the same room all the way. Our confrontational friend said: "I wouldn't do that." Asked why, he said that you probably wouldn't have anything left when you returned to your room.
Well, first this implies that the Amtrak Car Cleaners are thieves that will steal you blind. I don't know of any evidence of that and think it is unfair to make such pre-judgements. However, it is always prudent to not leave your valuables unattended. But, I think our argumentative friend missed part of the conversation. The cars are not brought to the yard at all. They stay in the station the entire time. A person is assigned to guard the train while it is in the station and Amtrak does encourage you to just leave everything (except valuables) right on the train if you decide to go out and tour the town during the long layover. I was gone for a few hours last time I had room in a through train in Chicago. I may be gone for a couple of hours this time, but just plan to leave my videocamera and notebook computer set up the way that it is while I'm gone.
The gal that sat with us last night sat at the table across from us this time. She joined in our conversation until someone else was seated at her table.
They seemed to have a wide selection of items for breakfast. There were at least a half dozen different main entrees to chose from, plus sides of either sausage, bacon and hash-browns, and a choice of either grits or potatos. I went for the western omlette with hash-browns and potatos along with orange juice, coffee, and wheat toast. Everything was very good, but I was too full after eating most of the breakfast to touch much of the potatos or toast.
For those that are curious, all my meals on both the Southwest Chief and the Capitol Limited have so far been served on real china along with real silverware and linen napkins. I haven't seen any sign of the plasticware as yet. I have seen what the new plastic looks like and know that it is very heavy duty and fancy. You wouldn't know it was actually plastic until you took a close look, examined the thickness, or picked it up. But, this was not plastic. Everything was real china. The selections have also been just as wide as they have always been for me. Usually for dinner there is one red meat dish, one chicken type dish, one fish dish, one vegetarian offering, and one kids meal. That has been what has been on the menu for every sleeping car segment of this rail journey. I have as yet to see any of the dining changes on Amtrak. However, do keep in mind that the only Amtrak trains that I have been on since the proposed changes have been the Coast Starlight, the Southwest Chief, the Capitol Limited and the VIP Texas Eagle / California Service Inaugural Train.
We seemed to have remained in the Toledo station for quite some time, longer than the 30 minutes allocated. I think we arrived just after I came to breakfast and just started to pull out when I finished breakfast. As you can see from the listed time below, we are now about 2 hours and 10 minutes behind schedule.
My Car Attendant finally showed up! He buzzed my room. I assume it was to ask if I wanted my room made up, but no, it was just a reminder that the diner would be closing soon for breakfast. I let him know that I had already had breakfast. When I came back from breakfast I noticed that the other Sleeping Car had morning newspapers under every door. None has been delivered in our car yet. I keep seeing the Car Attendant in the other Sleeping Car whenever I go through, but this is the only time I have ever seen the one in ours except when I boarded. I don't mean to criticize this one. It could be just a coincidence that he is tending to something else during the few times I have come out of my room, but I am a little concerned that no newspapers have been delivered to our doors.
About 5 minutes east of Toledo you may hear the Engineer or Conductor say on the radio: "Go to channel one" as they switch from 161.070 to 160.800 (AAR Channel 46).
Wow! What a mess! We just passed where the tracks are out of service because of trackword. There is a place where the double tracks split and become two sets of double tracks. The two sets of double tracks diverge and start heading away from each other. Wish I had brought along my national railroad map! I need to get an extra one of those and keep it with the my travel documents.
There aren't any smashed freight cars here, but there seem to be car wheels scattered about at all angles. I wonder if some freight train had derailed at this switch and tore up a lot of track. If so, they took the cars away but left some of the wheels behind. There were tracks, holes, ditches, cranes, and workers everywhere, including some white powder that covered the whole area.
We took the switch to the right which was clear of any rail work. The set of tracks to the left was totally blocked by the rail work. A freight train was sitting on the approach to the switch. From what I could see, he would probably be sitting there for hours! The track in front of him looked pretty torn up. I guess he'll just be sitting there for quite some time!
This must be a really small station! We had to make 3 stops and we only have 2 coaches and 2 sleepers! I assume the first was for baggage, the second for the coaches and the third for the sleepers.
I do want to say a couple of good things about this Car Attendant. There was a whole set of water bottles on top of the refreshment center. Although I miss the days when an unlimited supply of soda would be there, at least this Car Attendant did have the bottle water convenient. I took one of those to my room as I always like to have something to drink convenient by the bed. The coffee urn always had coffee available whenever I went by, though I think this is a new Amtrak policy ever since they took the free sodas away. But, the Car Attendant had made sure that there was plenty of sweetner, creamer, cups, lids, stirers and napkins available! Also, since this is a Superliner I rather than a II, there is no ice drawer. The Car Attendant put out a styrofoam cooler with ice in it. There was also a larger styrofoam cooler under that, but I didn't check to see what was inside that. Maybe just more ice.
I went exploring my car a bit. I found the newspapers on the luggage rack downstairs: "The Blade" from Toledo, Ohio. There was also another railfan standing in the vestibule! Boy, this train is full of railfans! He was holding a radio scanner and jotting things down. The Conductor was occupying the handicap room in this Sleeper. He peeked out as I wandered around. And, I did see my Car Attendant again! He ducked into his Room 1 as I headed toward him down the corridor.
An announcement was just made that passengers heading to Toronto via the International will be taken off in South Bend and bussed to a point to board that train. When a train is going to arrive into Chicago too late to make a connection, this is usually the way they handle it. If you look at a map of the Chicago area and the rail lines radiating out from it, you can see how it is easy to use a bus to take a shortcut from one spoke to the other. Thus, they make up the time by not having to go all the way into and out of Chicago. I heard some chatter amoung the Conductor and Assistant Conductor that there is only one passenger that they know of that is making this connection and that he has a bag in the baggage car. Wow! I wonder if he'll get a whole bus to himself?
On the radio, the Conductor just said over to 2 at 441 and back to 1 at 463, or visa versa. I'm assuming that means they are going to Channel 2 at Mile Post 441 and then back to Channel 1 at Mile Post 463. Those are not AAR Channels, but Channels on the radios that the Conductors have in their hands. I might have gotten then channel or the mile posts backwards, so I'm going to have to figure this out along the way. I am assuming that Channel One is 160.800 and Channel Two is 161.070.
Correction! That was dumb of me! They are talking about track numbers, not radio channel numbers! That makes a lot more sense. They usually don't announce until the last moment the change in radio channels, but the dispatcher usually assigns the track number well in advance of the approach to the switch.
We have just been given an approximate arrival time into Chicago of 11:30 AM Central Time (CT) which would be about 2 hours and 10 minutes behind the scheduled arrival time. The announcement attributed it to mechanical difficulties in Washington, DC. However, we were only 1 hour and 7 minutes behind schedule when we left Washington. There is an unexplained additional 1 hour plus that was lost after I went to sleep last night.
Here is an odd one! The dispatcher just gave a freight train the choice of what to wait for. The dispatcher could either schedule the freight train onto one track where he could wait some time for two Amtrak trains to pass (one is probably ours), or he could send him onto a track right now where he will be behind a slow coal train. The reply from the freight train was: "Whatever you want!" And the final dispatcher reply was: "No, you make the call." Nothing but dead silence over the radio for a long time after that!
Now runing 2 hours and 40 minutes behind schedule! I wonder if they still expect us into Chicago at 11:30 AM? The scheduled time from this station to Chicago is 1 hour and 20 minutes. Except for the buffer, that would put us into Chicago at about noon!
Here is an idea: If I videotape the entire daylight route of all my rail travels from both sides of the train, then we just have to wait until the internet bandwidth opens up. I belive the day will soon come that it will. Internet speed into the home has already jumped tremendously in many areas with delivery via your local cable company and cable modems. I don't really believe it will be that many years before we all have at least T1 speeds into our homes, and that makes real-time video available without streaming. Then, using my videos, I could give you the capability of selecting any segment of any route at any time, and you could watch the scenery go by, with sound, almost like you were really there on the train! Maybe I could point out scenic highlights with a reminder to freeze the frame if you wished to take a closer look. As the internet bandwidth expands, the capabilities that can be offered expand right along with it. We'll just have to wait for that time.
East side unloading for the Train Attendants today! I was hoping to get one more cup of coffee to hang onto for a while in my room. The coffee urn was still on, but all the accouterments have been taken away!
Right after that detector, they immediately switched over to Channel 8 160.305.
Before entering the station, they pulled off the express cars while over the bridge. Then, they backed the train into the station at platform #28.
Vince McGraw, the webmaster of AmtrakIntercity.com (a website now discontinued) and an instructor in the Chicago Car Shops was suppose to meet me here at 10:30 AM, but obviously that wasn't possible since the train didn't arrive until after 11:20 AM! So, I'm not sure if he is going to be able to meet with me at all. I told him my car and room number and said he could just drop by anytime during the layover that was convenient. I don't know if he has other things scheduled, but I'm not going anywhere anyway!
I'm going to see how the cellular reception here is. If it is good, I'll try to upload this travelogue as far as I've gotten. Otherwise, it will have to wait until another service stop or until Fullerton! If you are reading this, then I was obviously successful in uploading it. Also, do check back from time to time. I plan to add photographs into this travelogue at night when I can't do any videotaping.
Amtrak Southwest Chief
Well, this was an interesting stay in the train in Chicago Union Station. As I had feared, Vince had come down around the time of the scheduled arrival to meet my train and waited for a while. However, he did have other commitments for the rest of the day and wasn't able to return to the station after my train arrived 2 hours late.
In any case, that left me a lot of time to get a lot done. I took one picture from inside the train while some Genesis engines were right outside my window and uploaded that to be the current main page photo at TrainWeb. I was also able to add a few more photos to this travelogue but couldn't get a clear connection again to get them uploaded. Those will have to wait till later. In any case, I caught up on a lot of my backlog of e-mail!
THU 04:40 PM (05:34 PM) CT 03/26/98 Chicago, IL CH 13 160.305
We are out in the yard now and they are trying to add one of those big green box cars on the end of the train. They are having problems with something electrical. Could be the FRED (Flashing Rear End Device). They say they can't get it armed. "Communication test failed". This is the device that allows the air to be dumped to apply the brakes from either the front or back end of the train. If there is a clog somewhere in the brakeline, it doesn't prevent the brakes from being applied in the cars beyond the clog. A device in the locomotive radios the device at the end of the train which then dumps the air from the brake line from that end. This device also has that flashing red light that you see at the end of the train, hense the name and acronym.
Finally a mechanic was called and came down to look at the device. It took him less than a minute to get it working. When asked by the dispatcher what the problem was, his reply seemed to indicate that there wasn't any problem. He didn't give a clear response when asked if someone just didn't know how to set it or test it correctly.
Hey, there go some "GO" cars on the Texas Eagle! I wonder if those are the ones that were pulled from Metrolink in Los Angeles and are being sent to Fort Worth, Texas? Those cars are to be run on the Trinity Railway Express. Fort Worth outbid Metrolink in buying them from the Government of Ontario (GO). Metrolink is still going to buy a lot more cars, but will just have to wait longer for them.
CH 66 161.100
We moved over to Channel 66 161.100 even before we were out of the Chicago yard!
Bob Stone, the Chief of Onboard Services, just went through giving each person their meal vouchers and a complimentary drink voucher (good for one alcoholic or non-alcoholic beverage). He asked me about Trainweb mentioning that he had visited it before. I mentioned that he had been the Onboard Chief in a previous trip that I took on June 24 of last year. Bob said that he contributed material to get the Southwest Chief page at www.amtrak.com updated. He wanted to know how I new it was exactly on June 24, 1997 that he was the Onboard Chief on the trip that I took. When I told him that I got it from my computer, he sat down next to me to get a clear view of the screen. Since I had just looked it up, it was right their on my offline Netscape browser screen! I told Bob I'd check out his web page when I get back online and Bob said he would come visit TrainWeb again.
Just to give you a status update, it is 5:34 PM CT and we just started to move again. We are still not out of the yard yet! I just saw that same Texas Eagle go by again with the "GO" cars, but this time it was heading in the opposite direction. I think the problem might be that we are now getting mixed in with the Metra commuter traffic since we lost our departure slot. So, this will continue to delay us from getting out of the metropolitan Chicago area.
THU 05:45 PM (6:05 PM) CT 03/26/98 Naperville, IL
I guess they had padding in the schedule to allow for the addition of express cars in Chicago, but not enough time to account for the equipment problem as we are still 20 minutes behind schedule.
CH 85 161.385 Naperville, IL
CH 85 161.385 Detector: Sandwich
CH 85 161.385 Detector: Mendota
THU 06:31 PM (07:51 PM) CT 03/26/98 Mendota, IL
THU 06:53 PM (07:18 PM) CT 03/26/98 Princeton, IL
Ch 51 160.875 - Switch 5 minutes before arriving into Galesburg.
THU 07:50 PM (08:13 PM) CT 03/26/98 Galesburg, IL CH 51 160.875
I just got back from dinner. I left my room for dinner just as we were arriving into Naperville. Once again, even though I left my room as soon as they made the announcement, the diner was just about full! Looks like we haven't made up any more time than what we made up coming into Naperville. We are still about 20 minutes behind schedule.
I had a very enjoyable dinner. There were many selections, but it was the vegetarian lasagna for me again! This time it came with the rice without me asking. Although I wouldn't have ordered rice with lasagna, it went very well with the vegetables. That was accompanied by two glasses of red wine to be followed by a decafe coffee. The food and the service were both excellent.
Again, I sat at a table that was already occupied by three others. Across from me sat a father and her daughter. Next to me sat an older man. All were quite interested and involved with rail! The man next to me was quite into model railroads and had also been an engineer and a conductor on a smaller railroad. His son was also into model railroads and was a full-time locomotive engineer! The man that sat across with me had traveled a bit by rail when he was younger, and by coincidence, had just visited TrainWeb a few days earlier! I apologize for not mentioning his name here, but I have a bad memory for names and don't like to mention the names of private individuals without their permission.
After dinner, Bob Stone came over to collect for our alcoholic beverages and we chatted a little further about the web page. I suddenly noticed that he was wearing the business card that I gave him on his tie clip! Thanks Bob! TrainWeb certainly appreciates every bit of exposure it can get, especially right on the train!
I then headed back to my room and here I am! It appears that a grandfather and his grandson are traveling in the room across from me. They started out in Washington, DC just like I did. They even had the exact same Radio Shack PRO-51 model scanner that I have. I gave them a copy of the rest of the frequencies that would be used on this trip from this travelogue. I wish I could have given the detailed and fairly accurate list that includes all the detectors at http://trainweb.com/radio/route_03.htm, but that would require a printer! I wasn't about to copy that all down by hand!
I'll probably spend the rest of this evening catching up on answering my e-mail, and then if I have time, scan the videotapes for some photos to add to this travelogue.
CH 51 160.875 MP 188.3 08:30 PM CT
CH 36 160.650 MP 16?.? 08:50 PM CT
CH 36 160.650 MP 226.9 09:01 PM CT
THU 08:48 PM (09:16 PM) CT 03/26/98 Fort Madison, IA
About 28 minutes behind schedule. At this point I decided to turn in one of my free beverage tickets and try one of Patrick's Famous Bloody Marys that I have heard about. Befor leaving, I closed up all my equipment and pulled the "Pull To Call" Attendant button. I'd let him make up my bed and then wouldn't have to worry about getting buzzed later to be asked if I want my bed made. If you pull the button and leave your room open (close the curtain, but leave the door wide open), the Car Attendant will usually assume you want your bed put up or down if you aren't in the room when he arrives. Thus, if you would like your bed put down after dinner or made up while your away to breakfast, just pull the button before you leave and leave your door open (but close the curtain).
The Bloody Mary was very good. I didn't tell him how much tobasco to put in. If he was suppose to be the expert at this, I figured I should let him make it in his usual manner. It was neither too spicy nor too mild, but just the way I like them! Patrick is known for two sayings, though I don't know if these are unique to him. I think I have heard them from other Cafe Attendants. They are: (1) "We have many alcoholic beverages here for $3.99 'plus a penny'." Since Amtrak charges for everything in round numbers, i.e. $4.00, that works! (2) "If you look out your right window at this time you will see absolutely nothing. If you look out your left window at this time you will see absolutely nothing. It is too dark out. If you look down in the bar you will see your friendly bar tender, Patrick. So come on down!" He also ran a two for one on the hot breakfast sandwiches in the late evening. I imagine they might be restocking in Kansas City and he wanted to clear out the breakfast sandwiches before they started getting old and the next shipment arrived. The Cafe stayed open to about 11:30 PM and then opens pretty early in the morning.
THU 09:53 PM (10:18 PM) CT 03/26/98 La Plata, MO
FRI 12:35 AM (01:00 AM) CT 03/27/98 Kansas City, MO
FRI 01:00 AM (01:25 AM) CT 03/27/98 Kansas City, MO
FRI 02:02 AM (02:27 AM) CT 03/27/98 Lawrence, KS
FRI 02:36 AM (03:01 AM) CT 03/27/98 Topeka, KS
FRI 04:53 AM (05:18 AM) CT 03/27/98 Newton, KS
CH 30 160.560 Detector: MP 192.1
FRI 05:27 AM (05:52 AM) CT 03/27/98 Hutchinson, KS
CH 30 160.560 Detector: MP 247.9
CH 30 160.560 Detector
CH 30 160.560 Detector: MP 341.0
I woke up around 6:30 AM CT and put my room together so that I could get the video camera rolling again. Knowing they don't usually start using the P.A. system till about 7:00 AM, I figured I had a little time before they would make first call for breakfast. The dinning car seldom gets crowded for breakfast until then. However, at about 6:45 AM CT I heard them call for some name, party of 3, "Your table is ready!" Figuring I had better at least put in my name, I hurried down to the dining car. When I got there, there were still a lot of tables empty. But, how fast they can seat you depends more on how many people are working the diner at the moment rather than how many empty tables they had. I could see the service people were really hussling to get the orders taken and delivered.
FRI 07:11 AM (07:26 AM) CT 03/27/98 Dodge City, KS
They sat me at an empty table. It took a while to get my order taken, but I could see that nobody was slacking. They were really moving in there! Eventually they poured my coffee and took my order. I ordered the scrambled eggs with hash browns, a side of sausage and wheat toast along with a glass of orange juice. Even though lunch is included, I expect this breakfast to hold me until dinner time.
Two gals from coach heading home from Ohio to Santa Fe joined me for breakfast. Even though they often travel by train, this was the first time they had eaten in the dining car. When they were about to be seated at my table, one of them said they had just come for coffee. The dining car person then told them that they could get that downstairs in the Cafe Car one car back. But, then the other gal said she did want breakfast. So, they did end up sitting at my table! We did have a nice conversation, though not a lot about trains this time.
Patrick in the Cafe Car announced that he would not be selling alcoholic beverages until we reached the Colorado state line around 9 AM CT as he was not allowed to sell them in the state of Kansas by local or state ordinance!
FRI 07:56 AM (08:21 AM) CT 03/27/98 Garden City, KS
CH 30 160.560 Detector: MP 418.1
CH 30 160.560 Detector: MP 439.2
CH 30 160.560 Detector: MP 466.1 09:10 AM CT
Strange. A female voice said over the radio: "George, would you play that hot box message for us again? Was that 'detector' or 'ejector'?"
We just got to a Red Block at 9:17 AM CT and had to stop. After getting permission from the dispatcher to proceed, we are now continuing east, but very very slowly. Our speed has to be about 20 MPH at best.
9:46 AM CT and we have stopped at another Red Block! An announcement was just made over the P.A. system that we are encountering signal problems and that we will be continuing at a reduced rate of speed until we get a more favorable signal.
My guess is that the dispatcher knows that there are no trains ahead of us for a safe number of blocks either coming toward us or heading in the same direction ahead of us. But, since the signals are not properly reporting this condition, we have to proceed slowly just to be on the safe side. We won't be able to pick ups speed until we reach a signal that says that we are allowed to proceed.
I think the passengers appreciate it when they are kept aware of the situation. The last P.A. announcement did also explain that we will be losing some time until we get a proper signal. Passengers would rather be informed along the way that be sitting in a train that has stopped or going real slow without any explanation. Passengers especially don't like suddenly arriving into a station far behind schedule with absolutely know explanation of how we lost the time. This crew has been excellent in keeping the passengers informed of our status and the reason for any delays.
Nice tilt! It is always fun to go around a curve at only 20 MPH that has been banked for a high rate of speed! I wouldn't say it is unpleasant, but it is odd to feel one side of the train higher than the other.
Got a clear signal at 9:57 AM CT at Mile Post 482.1! Here we go! We are picking up speed quickly! By 9:02 AM CT we have to be up to at least 79 MPH from the speed that it looks like we are passing by the scenery. I don't know what the speed limit here is, but I would not be surprised if they have the required new signaling to go faster and are going well over 79 MPH!
CH 30 160.560 Detector: MP 499.0 09:11 AM MT
FRI 08:18 AM (09:16 AM) MT 03/27/98 Lamar, CO
Oops! We're behind by almost an hour now! I've got to do some real calculating to get the rest of this trip to work right! The San Diegan Club is having their meeting onboard Train #759 tomorrow as that train goes from San Diego to Fullerton and then returns as Train #792. I am suppose to board that train in Fullerton at 8:03 AM PT. If this train stays an hour late, that will put me into Fullerton tomorrow morning at about 8:13 AM PT. That won't work.
I've already have my backup plan ready. In addition to my Southwest Chief ticket to Fullerton, I also have a ticket good on this train from San Bernardino to Los Angeles and then another on the Coast Starlight from Los Angeles to Santa Barbara. If this train does stay an hour behind schedule, then arrangements will be made to get the people from this train onto the Coast Starlight that have connections and I will go along with those arrangements to get me to Santa Barbara as early as possible. Usually that is a bus out of San Bernardino over to Santa Barbara where it easily catches up with the Coast Starlight with a shortcut down Interstate Route 10 bypassing the rail trip in and out of Los Angeles.
Taking the Coast Starlight, or maybe an Amtrak bus from San Bernardino to Santa Barbara, I should catch up with the San Diegan Club in Santa Barbara about noon, the scheduled arrival time of the Coast Starlight at that station. That will be 40 minutes after the arrival of San Diegan Train #759. I know where they will be having lunch, so I will just catch up with them there and come back on Train #792 with them as far as Fullerton.
In very worst case, I can catch San Diegan Train #773 out of either Fullerton at 10:11 AM or Los Angels at 10:50 AM to get to Santa Barbara at 1:38 PM, just in time to join them for the return Train #792 that leaves Santa Barbara at 1:54 PM!
CH 36 160.650
CH 32 160.590 La Junta, CO
FRI 09:35 AM (10:17 AM) MT 03/27/98 La Junta, CO
Hmmm. Not a good sign. The Car Attendant appeared to be quite friendly and diligent, but I just walked by the coffee urn and there isn't any coffee available. Not only that, but it is turned off, closed up, wire wrapped around it, and not even any accouterments were out! I am almost hoping it is broken rather than being a reflection on the service provided by this Car Attendant.
As I had mentioned before, ever since Amtrak policy removed the endless supply of soda bottles on top of the refreshment area, all Superliner Sleeping Cars appear to have made coffee available around the clock. I thought that was a great policy and this is the first time since that change that I have not found it available. I wonder if there has been another change in policy.
CH 32 160.590 Detector: MP 618.5 11:06 AM MT
FRI 10:52 AM (11:26 AM) MT 03/27/98 Trinidad, CO
Looks like we made some time and are now only 34 minutes behind schedule. At that rate we'll make it into Fullerton at 7:47 AM or Los Angeles at 9:19 AM. This is where it gets really tricky! 7:47 AM into Fullerton will be early enough for me to get off, run upstairs to the TrainWeb office to drop off my luggage and heavy jacket and then run downstairs in time to catch Train #759 at 8:03 AM. However, if the Southwest Chief arrives into Fullerton just a few minutes after 8:03 AM, then I should stay on it to Los Angeles. The Southwest Chief schedule allows 92 minutes to get from Fullerton to Los Angeles. The actual running time, as more accurately indicated on the San Diegans schedule is about 25 minutes! Thus, even if the Southwest Chief is running 1 hour and 7 minutes behind schedule, it could still arrive into Los Angeles on time at 8:45 AM! That is 5 minutes before the scheduled departure time of Train #759 at 8:50 AM! If I miss that, I still have the Coast Starlight that I can catch at 9:30 AM.
It has just been announced that we are on a 3.2% grade which means that our altitude increases by 3.2 feet for every 100 feet. If these cars are 80 feet long, doesn't that mean the front of each car must be at least 2 feet higher than the back end as we climb the grade? So, if the train had ten cars, then wouldn't the front of the train be at least 20 feet higher than the back of the train? That seems impressive to me!
From my past experience and from all the description of the scenery over the P.A. system, the most scenic side of this train route is the north side of the train. I have avoided the temptation to take my videocamera over to that side of the train. I'm going to make as complete a recording as I can on this trip of the scenery on the south side and will make a recording of the scenery on the north side on a future trip. With any luck, maybe I will get Bob Stone again as the Chief of Onboard Services so that his running commentary will end up on the video recording just like it is going onto this recording.
CH 32 160.579 Detector: MP 649.8 12:00 PM MT
CH 32 160.590 Detector: MP 657.0
FRI 11:59 AM (12:23 PM) MT 03/27/98 Raton, NM
CH 32 160.590 Detector: MP 675.8 12:18 PM MT
CH 32 160.590 Detector: MP 702.1 01:01 PM MT
CH 32 160.590 Detector: MP 728.0 01:21 PM MT
CH 32 160.590 Detector: MP 753.6 01:51 PM MT
FRI 01:44 PM (02:05 PM) MT 03/27/98 Las Vegas, NM
CH 32 160.590 Detector: MP 774.9 02:14 PM MT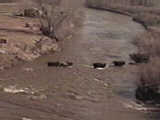 The above photo is of cows crossing a river just a bit outside Las Vegas, New Mexico (not the Las Vegas in Nevada with all the glitter). Bob Stone noticed these cows crossing the river as he happened to glance out the window and announced it over the P.A. system. Fortunately, because Bob was up in the Crew Coach near the front of the train and I was 6 cars back in the last Sleeper, I had plenty of time to swing my already running videocamera around to catch this scene. To me, it looked like a cattle driving scene from one of those old western movies where the cattle are being driven across the river. However, in this case, the cows were not being driven by anyone and were just crossing the river for their own reasons, probably to do some grazing on the other side!
CH 32 160.590 Detector: MP 809.2 03:03 PM MT
Bob Stone came by giving out the dinner reservations. I selected 8 PM figuring that would be 7 PM Pacific Time, which I have to start to readjust to. Also, I wanted to make sure I would be in my room while we were in Albuquerque to see if I can upload this travelogue along with uploading my stored e-mail replies and download my new e-mail. And, a third reason, is that I want to be in my room to change the videotape in a couple of hours. By 8 PM it will be dark out and I won't have to worry about changing the tape!
After getting the dinner reservation next door, Bob popped back into my room and asked for another one of my cards. I guess the person next door also gets on the internet. On the back of my card he also wrote the web addresses: www.amtrak.com, www.amtrakwest.com (Discontinued), www.amtrakintercity.com (Discontinued), and www.coaststarlight.com, all of which are run by Amtrak themselves and all of which are hosted on the TrainWeb Server except for www.amtrak.com. I forgot to tell him about www.redblock.com which used to be but is no longer run by Amtrak and hosted on the TrainWeb Server.
FRI 03:26 PM (3:48 PM) MT 03/27/98 Lamy, NM
CH 32 160.590 Detector: MP 843.4 03:58 PM MT Total Axles: 80

This really got me to laugh! Bob Stone just announced over the P.A. system that we have a passenger onboard in the sleepers named Betty who has been traveling Amtrak since 1983 and has traveled 11,000 miles by Amtrak. Bob then asked "Is there anyone else onboard besides Steve that can top that?" I got a big laugh out of that! I guess as Bob was asking the question, he realized if that was to be a challenge, he'd have to exclude me. I never told Bob how far I have traveled by Amtrak, but he probably just assumed it must be a lot if part of what I do for a living is travel Amtrak and write about it!
I haven't totaled my Amtrak milage in over a year or two, but I know that it was over 60,000 miles at last count and is probably over 120,000 miles now! If anyone wants to try to calculate that for me, just click here for the list of my Amtrak travelsinside California and click here for thelist of my Amtrak travels outside California and go to it! I plan to recalculate it myself sometime using the milage listed on the schedules in the Amtrak National and Northeast Timetables. I haven't logged all of my California rail travel, but that would just add a few thousand miles at most (especially San Joaquin trips between Los Angeles and San Francisco that I haven't logged).
I don't think I have taken any one individual rail journey that would top Betty's 11,000 mile record, but you could probably add two of a number of my rail journeys to top that! Coast to coast is always at least 3,000 miles one way. Double that is 6,000 and several of my journeys have been coast to coast and then some, including this one.
Hmmm. The curiosity about what might have been my longest rail journey is overwhelming me. I'm going to have to calculate that now. That has to be the one I started in New York, went up and down the coast on all three Amtrak Silver Trains, and then went home on the Sunset Limited. Click here to read the travelogue and see the exact route that I took on that rail journey, including a number of photos that I posted.
Here it is:

0141 miles: Maple Leaf from New York City to Albany-Rensselear,NY
0199 miles: Lake Shore Limited from Albany-Rensselear,NY to Boston,MA
0456 miles: Northeast Direct Twilight Shoreliner from Boston,MA to Washington,DC
1166 miles: Silver Plam from Washington,DC to Miami,FL
1391 miles: Silver Star from Miami,FL to New York City,NY
0978 miles: Silver Meteor from New York City,NY to Jacksonville,FL
2583 miles: Sunset Limited from Jacksonville,FL to Ontario,CA
6914 miles: Grand Total For A Singe Trip! Just under 7000 miles!
Maybe I'm wrong about that being my longest trip. Let's take a look at this trip:
2204 miles: Southwest Chief from Fullerton,CA to Chicago,IL
0824 miles: Three Rivers from Chicago,IL to Philadelphia,PA
0321 miles: Twilight Shoreliner from Philadelphia,PA to Newport News,VA
0197 miles: Old Dominion from Newport News,VA to Washington,DC
0780 miles: Capitol Limited from Washington,DC to Chicago,IL
2204 miles: Southwest Chief from Chicago,IL to Fullerton,CA
0129 miles: San Diegans from Fullerton,CA to Santa Barbara,CA
0129 miles: San Diegans from Santa Barbara,CA to Fullerton,CA
6788 miles: Grand Total. Close, but not quite as much.
I've looked at a few of my other rail journeys and many are in the 6,000 to 7,000 mile range, but I don't think any have been over 7,000 miles. But, you can see that with the number of Amtrak trips I have taken since 1995, those numbers can add up fast!
CH 32 160.590 Detector: MP 874.5
FRI 04:53 PM (04:48 PM) MT 03/27/98 Albuquerque, NM
FRI 05:18 PM (05:18 PM) MT 03/27/98 Albuquerque, NM
Hey! We're right back on schedule again! I got a good cellular connection in Albuquerque, connected at 4800 baud, and was able to upload most of my travelogue . So, if you already checked this travelogue anytime after 5:18 PM Mountain Time on Friday, March 27, 1998, then you've already read the current status of this journey right up to about Lamy, New Mexico!
I was able to send all my pending e-mail, but was only able to download 12 of 96 messages waiting for me. Somebody sent me a huge message, which was number 13. That message downloaded for about 10 minutes, but then I lost my cellular connection as the train began to move and pick up speed.
CH 36 160.650 Detector: MP 65.8 06:24 PM MT
Coffee is on again! I guess this must be one of those Car Attendants that doesn't drink coffee or at least not much. I actually don't drink that much myself, I think. Maybe 2 or 3 cups a day. However, even before Amtrak's new policy of having the coffee ready around the clock, it would be ready all the time if you had a Car Attendant that was a coffee drinker! Actually, I don't even know if most Car Attendants get their own coffee from there or if the get it in the diner or the crew car. But, usually a Car Attendant that is a heavy coffee drinker will keep it going all the time on the assumption that everyone else likes to have coffee just like he or she does. The worst thing is to have a Car Attendant that doesn't drink coffee at all because it will often slip their mind to make fresh coffee when it runs out!
When I went into the upstairs washroom, I made sure the latch was closed as I always do. This one closed with a big "clunk!" Looking at the latch, it looked solid. So, I didn't bother to keep my eye on it. As I was washing my hands, I heard a little kid run to the door, turn the handle, and it started to open. Since I was right there at the washbasin, I just said "Excuse me" and closed the door. I don't know how a latch that seemed so solid could have come open. I am used to keeping my eyes on the ones that seem rather loose and slide back and forth with just the vibration of the train. The only thing I can think of is, because of the configuration of the upstairs washroom, I could have bumped into the latch and unlatched it while I was washing my hands. If you are concerned about this at all, then use the downstairs washrooms. If you were sitting on the upstairs toilet when the door opened, I don't think you could reach the door without gettin up unless you have arms like an ape! In the downstairs washrooms, you can check if the latch is wiggling out of place and the latch is within easy reach to slide it closed again or to even put up your hand to stop the door from being opened.
Another little odd item: There was one of those pre-filled coffee filter packs sitting on the shelf where the paper towels are dispensed in the washroom. That seemed a very odd place for it. It really isn't a shelf. It is just an empty space to give you room to pull out the paper towels from the dispenser one at a time. Thus, this filter pack was really in the way of pulling out the paper towels. This seemed rather unsanitary. People would be reaching up with wet hands to get a towel and drip onto the coffee filter pack. Or worse, they might pull it off the shelf to see what it was before they had washed their hands! I was tempted to just take it and throw it in the trash. Not sure why I didn't. But, I did move it out of the way and put it on top of a couple of unopened rolls of toilet paper. When I went to use the room again later, I found it back on top of that shelf again! I certainly hope the Car Attendant doesn't intend to use this to make the next pot of coffee! It is one thing to torture coffee drinkers by not having any coffee available, but this is going to far! On the other hand, maybe this coffee filter pack fell out of somewhere and some passenger found it and just stuck it up there not knowing what to do with it. There was also a toothbush in the washroom which I'm sure someone had just forgotten to take with them when they left.
CH 36 160.650 Detector: MP 065.8 06:24 PM MT
CH 36 160.650 Detector: MP 090.5 06:45 PM MT
CH 36 160.650 Detector: MP 111.1 07:01 PM MT
CH 36 160.650 Detector: MP 131.3 07:16 PM MT
CH 36 160.650 Detector: MP 153.9 07:32 PM MT

Well, the mystery continues. Later, I found another one of those pre-measured coffee filter bags in the downstairs washroom! This time, it was on the counter around the sink and was soaking wet. I don't know if this is the same one, or if the Car Attendant purposely placed one in every washroom. Maybe he thought this would be a good substitute for a bathroom deodorizor?
FRI 07:39 PM (07:39 PM) MT 03/27/98 Gallup, NM CH 72 161.190
There was suppose to be a family boarding here who had the handicapped room booked. The Conductor didn't know if they would have a handicapped person or if they took that room because that was all that was left. That could have been tight since the handicapped room really has the same sleeping accommodation as a Standard Bedroom (Economy Room) except that it has extra space for a wheelchair lockdown and its own toilet with a curtain around it. But as far as beds, it is the same as the Standard Bedroom. It would be difficult to sleep more than 2 in the room unless people took turns sleeping!
The Conductor said he would find out if there was or wasn't a handicapped person. If not, they'd have the family walk down to the 31 car so they didn't have to double spot. Otherwise, they'd double spot the train. As it turned out, they didn't show up! Someone asked over the radio if they could wait a few minutes. The Conductor replied "No, we've got to go!" We are now running right on time and I think this Conductor wants to make sure it stays that way.
I don't know if the family called ahead to say they would be to the station in just a minute or two, or if someone just wanted to give them a few more minutes to see if they would show up. Either way, we headed out on time without them!
CH 72 161.190 Detector: MP 176.5 07:59 PM MT
CH 72 161.190 Detector: MP 202.4
CH 72 161.190 Detector: MP 225.2
CH 72 161.190 Detector: MP 247.4
CH 72 161.190 Detector: MP 270.4

FRI 09:18 PM (09:18 PM) MT 03/27/98 Winslow, AZ
CH 55 160.935 Detector: MP 294.2
CH 55 160.935 Detector: MP 315.5
CH 55 160.935 Detector: MP 336.8

FRI 10:19 PM (10:19 PM) MT 03/27/98 Flagstaff, AZ
CH 55 160.935 Detector: MP 358.3
CH 55 160.935 Detector: MP 377.?
CH 55 160.935 Detector: MP 377.?
CH 55 160.935 Detector: MP 426.9
CH 36 160.650 Detector: MP 452.1
CH 36 160.650 Detector: MP 473.9
CH 36 160.650 Detector: MP 493.3
CH 36 160.650 Detector: MP 512.5

SAT 01:40 AM MT 03/28/98 Kingman, AZ
CH 36 160.650 Detector: MP 536.0
CH 36 160.650 Detector: MP 561.5

SAT 01:34 AM PT 03/28/98 Needles, CA
CH 55 160.935 Detector: MP 607.5
CH 55 160.935 Detector: MP 612.4
CH 55 160.935 Detector: MP 628.1
CH 55 160.935 Detector: MP 644.5
CH 55 160.935 Detector: MP 665.0
CH 55 160.935 Detector: MP 690.3
CH 55 160.935 Detector: MP 711.1
CH 55 160.935 Detector: MP 733.3
SAT 04:14 AM PT 03/28/98 Barstow, CA CH 27 160.515
CH 32 160.590
CH 72 161.190 Detector: MP 08.5
CH 72 161.190 Detector: MP 28.5

SAT 04:51 AM PT 03/28/98 Victorville, CA
CH 72 161.190 Detector: MP 48.5
CH 72 161.190 Detector: MP 57.3
CH 72 161.190 Detector: MP 64.1

SAT 06:03 AM (about 6:50 AM) PT 03/28/98 San Bernardino, CA
CH 36 160.650 Detector: MP 32.0

Approaching my stop in Fullerton, California, things got a little hectic, but no real big problem. Naturally I was watching that clock. The exact arrival time of the Amtrak Southwest Chief into Fullerton would determine whether I would try to transfer to the northbound Amtrak San Diegan in Fullerton or would stay onboard until Los Angeles. I'd be safe to transfer in Fullerton if we arrived anytime before 7:50 AM and that was going to be real close!
Bob Stone went from room to room to check to see if each person had a pleasant trip, if there had been any problems, and to say goodbye. I mentioned my problem of trying to meet with the northbound Amtrak San Diegan and he said it would be no problem to continue on to Los Angeles to catch up with it if I needed to do that. We exchanged some last minute reminders, for Bob to check out this travelogue on TrainWeb, and for me to check the Southwest Chief web page at www.amtrak.com to which he had contributed updated material.
The Dining Car had opened for breakfast at 5:30 AM PT and would only be open until 6:30 AM PT to give the Dining Car crew time to clean up the car in time for our early arrival into Los Angeles. Someone went through our Sleeping Car about 6:15 AM making last call for breakfast. A lady in another Sleeping Car asked: "First call for breakfast?" I heard the answer come back: "No, last call. The Diner will close at 6:30 AM so it can be cleaned before our arrival in Los Angeles." Another lady was upset, or maybe it was the same lady, that her husband had ordered breakfast for both of them and came back to fetch her to the diner instead of bringing the breakfast back to her. I guess she didn't feel presentable to the world yet.
At about 5:30 AM, I put on my "Call Attendant" light to alert him to come to my room to make it up so that I would have somewhere to sit. I then left the room to get ready and to get some coffee and orange juice. He did have coffee and orange juice available at the refreshment area in the Sleeping Car. I returned at about 6:00 AM, but the room had still not been made up. I just sat up in my bed for about the next 15 minues. I noticed that my Car Attendant was quite busy running around. Maybe he just had too many rooms to make up and too many people to tend to who were getting off in Fullerton and Los Angeles. At about 6:15 AM, 45 minutes after I had first pulled the "Call Attendant", I decided that sitting up in the bed was pretty comfortable and turned off the "Call Attendant" light.
SAT 07:13 AM (7:51 AM) PT 03/28/98 Fullerton, CA
About 5 minutes before pulling into Fullerton, my Car Attendant finally came by. He made a couple of good morning comments and then just confirmed that I was getting off in Fullerton. I assumed he would be coming back for my luggage as most Car Attendants usually do. He never did come back for it. Thus, I put on my heavy winter coat so that I wouldn't have to carry it, put my backpack on over that, and then picked up my heavy roller suitcase with both hands and carried it downstairs. Usually I have empty hands when I'm about to leave my room which is my que that I have to take the small box that holds my tripod. Since my hands were already full, I did manage to leave my room and get off the train without my tripod! I'll try and track it down to see if it ended up in the "Lost & Found" in Los Angeles, but fortunately it was an inexpensive one that I had purchased as an experiment just for this trip. I think I paid $19.95 for it. This was a very successful experiment and I may now want to buy an even smaller and even more light-weight tripod, maybe even one that can fit into my suitcase so that I won't have to worry about leaving it behind!
I do want to conclude that this trip was a very enjoyable experience overall. The staff was very friendly and accommodating throughout the train. I do try to mention names when I'm able to obtain them, but only refer to people specifically when they have provided good service. I may detail unfavorable events, or things that I observe but do not understand, but I will not mention the name of the personel in those circumstances. The events are described here because I do want you to know what you might expect when you travel by Amtrak. However, my purpose is not to assign blame to particular individuals as I know there can often be circumstances beyond their control of which I am not aware. But, once again I do want to stress that my overall experience on this train was very favorable. Although I don't know them all by name, I have had various members of this crew on my previous journeys on the Southwest Chief and remember them as creating a light and pleasant atmosphere on this train!
Please do continue to revisit this web page over the next few days. I will be adding further photos along with some final detail. I also plan to add a few words about my connection to the northbound Amtrak San Diegan to meet up with the San Diegan Club on its way to Santa Barbara. I don't plan to write a lot about that meeting and trip, so I will probably just add a few more paragraphs onto the end of this travelogue. So, do check back from time to time this week!
Train Route: Southwest Chief
Train Number: 03
Direction: Southwest
My Route: Chicago,IL to Fullerton,CA
Accommodation: Superliner Standard Bedroom
Onboard Crew #4 of Train #3

Chief of Onboard Services: Bob Stone
Dining Car Steward: Barbara
Cafe Car Attendant: Patrick
Visit our Rail Magazine promotion trading partners:
Click here to add your print rail magazine.