Rocky Mountaineer Railtours
Vancouver, BC to Jasper, Alberta, Canada

Vancouver to Jasper travelogue with photos.
An overnight stop in Kamloops included.

Click On A Photo Above For A Larger Image And For The Rest Of The Story!
Click Here
for photo highlights of
scenery during this tour segment!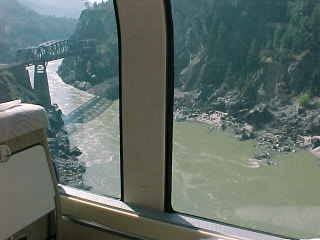 After you have read the first segment of this rail journey below,
click here for the next segment of this rail journey.
This travelogue is not exactly in the same format as most of my other travelogues and the content of this travelogue is a bit different than most of my other travelogues. For most of my rail travel I am alone in my room in a Sleeping Car. I am able to place my notebook computer on the fold down table and plug it into the wall outlet for electric power. The scenery is often interesting, but there are usually hours between photo opportunities. On my notebook computer, I keep a window open that contains my current travelogue in progress. I'll add to that travelogue as we make station stops, as we pass detector boxes, and generally whenever anything inside or outside the train strikes me as being something that deserves comment. Sometimes something that I see or that happens on the train will remind me of something that might have to do with trains, but is totally unrelated to my current rail travel. More often than not, I'll add that to my travelogue also!
Thus, everything that goes into my travelogue is composed while the trip is in progress, not after the trip is over. I've never been able to sit down and write a travelogue after the rail trip is over. Even working from notes taken during the trip is rather difficult for me. While I'm in the middle of the rail travel, I can write effortlessly. After the rail travel, thinking of what to write is next to impossible for me! Even now as I work on completing this travelogue that covers my travel on the Rocky Mountaineer a few months ago, I am in my room on the Amtrak Sunset Limited! Because of my difficulty of continuing to work on a travelogue once I have left the train, you will sometimes find that the weakest part of many of my travelogues is right at the end. Once I pack up my computer, I can no longer add to my travelogue. I'll often forget to note the time the train arrived at my final destination and skip writing about the final details of the trip that are needed to put the final touches on the travelogue. To prevent the end of my travelogue from being too abrupt, I often atempt to take notes about the final details of my trip on paper and add them later to my travelogue. Sometimes, however, when I get home or to a hotel and am about to upload the travelogue, I'll suddenly realize while reading my own travelogue that I left off the end of the trip! At that point I have to sometimes guess at the final arrival time and try to remember some details to put closure on the travelogue.
Approach this travelogue of the Rocky Montaineer with the above and the following in mind. I was not able to use my notebook computer to write my travelogue during the travel. Since the Rocky Mountaineer is neither a commuter train nor a train designed for overnight travel (all passengers are put up in hotels each night), there are no electrical outlets at the seats. Thus, even if I attempted to use my notebook on the train, I'd be restricted to 3 hours per day. Unlike regular passenger trains, the scenery was so beautiful and constant, that I had to always be ready to take a picture without any advance notice. Once I took a picture, the next photo opportunity might be only seconds away! Thus, it would not have been very wise for me to take my eyes off the scenery and get involved in composing my travelogue while on the train.
I did take notes throughout the trip. That left me in a situation that I find very difficult: attempting to compose a travelogue from notes after the trip is over. Fortunately, Ray Burns, also of TrainWeb, was very helpful in composing this travelogue by writing up his experiences and impressions of the train. After our long rail trip on the Rocky Mountaineer was over, it took Ray and I many weeks to catch up with our normal business obligations and to find the time to put this travelogue together. But at last, here it is!
We do hope this inspires you to take your own rail adventure on the Rocky Mountaineer. If you decide to write a travelogue about your experience, please do click here to e-mail us a copy of your travelogue. We'd be more than happy to post it to TrainWeb so that you can share your experience with thousands of other rail travel enthusiasts! But, if writing a travelogue after your rail experience has been completed is going to cause you stress as it did me, then forget about the travelogue and just sit back, relax, and enjoy one of the most spectacular rail journeys in the world!
1999 SEP 15 WED 01:00 PM Vancouver, British Columbia, Canada
As soon as we detrained from the Amtrak Cascade, a porter offered to help with our luggage. Since we already had our hands full with our camera equipment, we welcomed the help! The Porter escorted us to Canadian Customs. Canadian Customs was very friendly. They passed us through without checking through the luggage and wished us a good stay in Canada.
As soon as we entered the main part of the Vancouver train station, Greg Chadwick greeted us! Greg has designed quite a few web pages for TrainWeb and for a number of our clients. We've done quite a bit of business with Greg but we had never met in person before. He lives in Squamish, British Columbia, not too far from Vancouver, and gave us a ride to our hotel.
A last minute correction was needed to our itinerary before we left from Los Angeles three days ago. Because of the change, none of the regular hotels booked by the Rocky Mountaineer Tours were available. Instead, they booked Ray and I into two suites in the Terminal City Club Towers. For a number of the tour packages on the Rocky Mountaineer, a night in a hotel in Vancouver the day before the start of your train trip is included.
When we arrived at the hotel, we weren't sure that it was the right place. The sign clearly said "Terminal City Club Towers", but there were no signs out front promoting the hotel like you will usually see in front of hotels open to the public. Evidently the facility is exactly what the name implies: an exclusive private club.
The reception area was very large and elegant! The clerk at the front desk was very friendly, courteous and helpful. As soon as we gave our names, the clerk handed us a package that was waiting for us. Then, the clerk asked for our hotel vouchers. For a moment, Ray and I were caught off guard because we didn't have any vouchers yet. Our travel packet was supposed to be delivered to us here at the hotel. Then it dawned on us, the package the clerk just handed to us was probably the travel packet that we needed! Sure enough, all our travel papers and vouchers were in that package!
Ray, Greg and I spent some time talking in a very nice pub that is part of the hotel. There are a number of restaurants in the hotel open to members and guests of the hotel. Many of them require jacket and tie, but the pub has an informal atmosphere which was our preference.
My suite was up on the 11th floor while Ray's was on the 12th floor. Each suite had a full living room and separate bedroom. Being a floor higher, Ray's suite seemed a bit larger than mine. While I had a view of the water, Ray's suite was facing inland but was a corner suite with more windows.
I gave a call to the bus company that would be transporting us to the train station in the morning. Vouchers for this transfer were included in our package. The vouchers stated that we would be picked up at 6:15 AM, but when I called for confirmation, they let me know that they prefer that we be downstairs in the lobby by 6:00 AM. We tried to get to bed a bit earlier than normal to be ready for this early start in the morning. We arranged for a wake-up call and set the clock-radio alarms for 5:15 AM.
1999 SEP 16 THU 05:50 AM Terminal City Club, Vancouver, BC
In the morning, we headed downstairs at about 5:50 AM. From the number of other people that had already taken their luggage to the lobby, we could see that the Rocky Mountaineer had booked a number of other people into this hotel for the evening.
The bus was right on time for the time stated on our voucher, 6:15 AM. They checked everyone in right in the hotel lobby. Special tags placed on our checked baggage indicated they were to go through to Jasper. The Rocky Mountaineer company suggests that you pack a small overnight bag for the one night stay in Kamloops. In order to minimize baggage handling, passengers going to Jasper or Banff are asked to check their luggage through to their final destination and just bring a small carry bag for what will be needed for the one night stay in Kamloops. There is a good deal of room for bags above each seat, below each seat, and even at your feet in the Signature Service regular coach cars, but there are no places to put a regular size suitcase onboard. That is why it is imperative to place those regular size suitcases into checked baggage.
Since Ray and I had arranged with the Rocky Mountaineer to take some 360 x 360 immersion photos onboard, we had to bring the bulky and heavy equipment case for that camera with us onboard. The bus only took about 10 minutes to take us from the hotel to the train station. An Attendant on the bus provided us with a good deal of preliminary information while we rode to the station.
1999 SEP 16 THU 06:50 AM Vancouver Train Station, BC
Ray and I were starting to get a bit worried about having enough time to take the photos onboard the train before the boarding of passengers started. However, our worries were unfounded! As soon as we got off the bus, we were greeted by Janice Greenwood of the Media & Public Relations department of the Rocky Mountaineer. Janice got us checked in right away and escorted us to the Goldleaf Signature Dome Cars that were near the front of the train.
We got to work right away taking a number of 360 x 360 immersion photos upstairs and downstairs. The train staff was doing some last minute setting up of the car so we had to work around them a bit. It takes a few minutes in each spot to get all the needed photos. There is some set up and calibration involved. Then it is important to take several sets of photos at different angles in each location as it is difficult to tell which angles or lighting work best until the full 360 x 360 immersion photos are built. Thus, actually taking the photos doesn't take very long at all. The most time consuming part of the 360 x 360 photos is the amount of computer time required to check every photo to determine which are the best, build all the desired links into the photos, and then to build the web pages to support the photos!
Several photos were taken both in the dome and downstairs in the diner. Then, we took a number of photos in each of the 3 different sections of the Parlor Car at the end of the train. Last, we finally took a few photos in the Coach Car in which we would be traveling. Because of the early hour and the lack of lighting, the photos in that very last Coach Car did not come out well. We'll be looking for another opporunity later in the day to retake those photos with better lighting.
Finally, at about 8:00 AM, we got a chance to begin to relax, We put away the special camera equipment and sat down in our seats. Our reserved seats were the very last seats at the rear of the last coach passenger car, right in front of an area where they let us store our camera equipment.
1999 SEP 16 THU 08:05 AM Vancouver Train Station, BC
At 8:05 AM we were on the move! In the station, there were two Rocky Mountaineer trainsets parked side by side on opposite platforms. One set was going to Jasper and one set to Banff. However, they travel as one trainset to Kamloops. Before we departed, they pulled the set going to Banff forward and connected it to the front of our cars. The dome cars were actually at the head of our set of cars, but once the trainsets were combined, the domes were in proper sequence with the rest of the cars going to Banff. From Vancouver to Kamloops there would be 18 passenger cars in our train. That made for quite a sight when we went around curves!
As soon as we got moving, breakfast was served at our seats. Breakfast included a fresh bagel, cream cheese, fruit, yogurt, cake, coffee and juice. Real silverware and fine linens were provided with the meal.
CH 87 - 161.415
Tiana is our Car Attendant. I noticed that all the Car Attendants have 2-way radios tuned to the road channel. On Amtrak trains, only the Conductors and Engineers have such radios. I think the difference is that Amtrak trains have an Intercom (IC) that can be used between the staff on the cars. This train does not have an Intercom system, so the radios are the only option available for communication among the staff. We asked Tiana about the radio frequencies used along this route. She told us that a different channel will be used tomorrow and that she will find out what that channel is for us. Evidently we are not the first people to bring a radio scanner along on this ride!
Tiana explained about safety on the train. A bit of a humorous education was given as to how to exit the train in an emergency. It involves using various tools readily available on the train to smash the glass windows. Although the explanation drew a number of chuckles from the passengers, it was truthful. On older passenger rail cars, the fastest way out of the car in an emergency can sometimes be through a smashed window!
When you book a tour on this train, you can pre-purchase tickets to the "Two River Juction Dining & Entertainment Experience." If you want to experience that, I suggest that you do pre-purchase the tickets. You can buy the tickets after you board the train, but an announcement was made that they were already all sold-out before boarding even began today! They were taking a waiting list in case there were cancellations or no-shows.
As far as the Engineering crew goes, one takes this train from Vancouver to the Thornton Yard. The next crew takes this train from the Thornton Yard all the way to Kamloops. Another crew will take this car tomorrow from Kamloops to Jasper. The onboard crew, including the Car Attendants, mostly stays the same through to Jasper. Loretta is our Assistant Train Manager today, but Bill Stacey will be our Assistant Train Manager tomorrow.
In the yard, our train started out as two sets of cars. The train is so long that people at the front of the train would have to walk a very long way if the train did not start out in two segments. The two segments are joined together before departure from Vancouver.
At 8:05 A.M. we were on the move! Ray and I decided to explore the train. We went to the car behind us which was the last car of the train. The car behind us was a special parlor car that the Rocky Mountaineer often uses for special groups and parties. On this trip, it was open to everyone on the train. The first section of the car had been set aside as a designated smoking area. The Rocky Mountaineer has decided to go all no-smoking, so this is the last year that this car will be used for smoking.
At the end of the smoking section was a beautiful set of sliding glass French doors! We slid them aside and moved into the next section. There were a number of wood tables and chairs with a beautiful light varnish finish. We continued to move to the rear of that car where we found a number of souvenirs on display. Finally, we went out though the rear door and found ourselves in an open vestibule with windows wide open on both sides and to the rear of the train! It was cool outside, but the sound of the train on the tracks not muffled by the windows and the fresh air were exhilarating!
We returned to our coach seat and were served breakfast which consisted of a bagel with cream cheese, fruit, yogurt, cake, coffee and juice.
At 08:40 AM we changed crews (Engineers & Conductors) at the Thornton Yard. Since we have traveled such a short distance from the station, I assume that this first crew was a switching crew just to get us from the station to the yard.
Ray and I noticed the smell of burning rubber just before noon. This usually indicates that one of the brake shoes is getting worn too fast. The man in charge of the mechanical condition of the train that is constantly walking through the train also noticed the smell. He said the car was having problems with "sticky breaks." A few minutes after noon, we saw smoke coming out from under the train. The man in charge of the mechanical condition of the train had the train stop and then went outside and took care of the problem. In a short while, we were off and running once more.
A bit after 12 Noon we were served a box lunch. We had the choice of two different offerings. Ray selected the Salmon box lunch which came with a salad, a roll, butter and eclair and a chocolate candy. I selected the Chicken & Pasta which was served with excellently prepared mixed vegetables, an Apricot Tart and a chocolate candy. As Ray and I were just finishing our lunches, we commented that we should have swapped deserts. Ray loves fruit pastries and I don't care much for them. Ray ate the chocolate eclair but really didn't want it. I had the tart but would have greatly preferred the eclair! Ray and I just assumed that both lunches had the same desert until we noticed near the end of our lunch that they were different!
Tiana later came by our seat with cookies and a variety of cheese and crackers.
Ray and I headed back out to the vestibule with all the open windows which the Rocky Mountaineer calls an open platform. It wasn't really what Ray and I have previously experienced as an open platform. Usually those are totally open all around with just a covering. Actually, Ray and I liked the open vestibule more than an open platform. The windows on each side of the vestibule were huge and wide open. Also, there was a very large window directly out the back of the train which was also wide open. The openness gave us plenty of fresh air, the crisp cool weather of the outdoors, the sound of the wheels on the rails, and the ability to take clear pictures without the filtering or reflections of a window. You could even put your head by the open window and get the feel of the cool breeze on your face! (That is "by" the window and not "out" the window. Though it was an elevating experience, we would not want anyone losing their head over it!) Because of the design, the only thing missing from the open vestibule vs. an open platform is that you don't get all the dust that normally gets kicked up by the train back onto you!
We found the following rules posted on the wall out in the open vestibule:

Rules for Open Platforms:
No more than 4 people at a time
10 minute limit
Despite the 10 minute limit, there didn't seem to be any problem getting as much time out in the open vestibule as we wanted. Because of the cold air, people that did come out did not stay very long. Whenever 1 or 2 people would come outside, Ray and I would go in to let others have a turn. But, whenever there wasn't anybody outside, which was quite often, Ray and I would go back outside. Quite often Ray and I would be the only ones outside, and more often than not, I found myself outside all by myself! I just could not get over how the scenery seemed to be endless! There were rivers, forests and mountains. One beautiful vista blended right into the next one!
1999 SEP 16 THU 05:15 PM Kamloops, BC
Ray and I have noticed that the Rocky Mountaineer Railtours seem to have the operation of their tours down to a science. First, they consider the package tour to start the day before the departure of the train. The hotel stay and the transportation from the hotel to the train is included in the package. Thus, you only have to worry about how you are going to get to Vancouver. Once you are there, the hotel and transportation is already arranged. They even provide breakfast on the train so that you don't have to worry about getting something to eat in the morning! By starting the packaged tour the day before departure, they can be pretty sure that everyone will be at the train for the scheduled departure time. If everyone had to find their own hotels for the night before and then get breakfast and then arrange their own transportation in the morning, I could see how it would be more difficult to make sure everyone was down at the train station in time for departure.
Our 18 car train arrived into Kamloops at about 5:15 PM. Unfortunately, the station platform only fits about 12 cars! Being near the end of the train, we had to wait until the front cars unloaded before we were able to detrain and go to our bus. That took about 20 or 30 minutes.
1999 SEP 16 THU 05:45 PM Kamloops, BC
There were several buses waiting to transport passengers to local hotels. Tiana, our Car Attendant, told everyone which bus number would be going to their hotel. When we got off the train, the buses were all waiting right beside the train lined up in ascending order by bus number. This made it very easy to find our particular bus. Some of the buses were like those used for touring with very comfortable seating. Other buses were like buses used for public transit in a city.
All the buses used to take passengers to the hotels were painted in the same color scheme as the train and displayed the Rocky Mountaineer logos just like the train. By providing their own buses, I'm sure that helps the Rocky Mountaineer company provide timely and reliable connections with the trains.
1999 SEP 16 THU 06:15 PM Dream Lodge, Kamloops, BC
As mentioned above, passengers from the Rocky Mountaineer were transported to a number of hotels in Kamloops. Kamloops is served by both the Rocky Mountaineer and VIA and is the crossroads of three major highways, and is at the juncture of Two Rivers.
1999 SEP 17 FRI 06:15 PM Dream Lodge, Kamloops, BC
In the morning, a Rocky Mountaineer bus picked us up from our hotel in Kamloops and brought us back to the train.
At 08:26 we were rolling again! The crew of the Rocky Mountaineer waste no time in getting the train out on time in the morning.
We were served breakfast at our seat. Each person was given cereal, milk, yogurt, juice, coffee, muffin or a pastry. Screwdrivers and Bloody Marys were also available for an extra charge.
The lunch served at our seat was turkey, a roll, fuit, snacks and beverages.
Ray and I headed to the Parlor Car again. There was soft pleasant music playing in the Parlor Car. Once again, we had plenty of time out in the open vestibule.
In Jasper, we were taken to our hotel by bus which was covered by another voucher in our travel packet.
1999 SEP 17 FRI 06:30 PM Snowridge Lodge, Jasper, AB
This is certainly a unique experience! I'm siting at my computer in my hotel room with the window open. There are just 3 sounds that I hear: (1) cars on a road not too far away, (2) the low rumble of a locomotive, and (3) the calls of a moose! At least, I think they are moose calls. I've never heard moose calls before except in videos, but this sure sounds like those sounds!
Jasper is pretty much as far north as I have ever been by rail. Actually, it is as far north as I have ever been in my life! The weather is amazingly mild, especially for mid-September. Ray and I are quite comfortable in our short sleeve shirts. It isn't even chilly! I have the window in my room wide open. Neither heat nor air-conditioning are required for a temperature that seems just perfect. However, I would recommend that you do bring an adequate jacket when you come to visit. I've heard that the temperatures are not always this mild.
Click Here
for photo highlights of
scenery during this tour segment!
Or click the links below to view each set of photos:
09/16/99:1999i16a / 09/16/99:1999i16b / 09/16/99:1999i16c
09/16/99:1999i16d / 09/16/99:1999i16f / 09/16/99:1999i16g
09/16/99:1999i16h / 09/16/99:1999i16i / 09/16/99:1999i16j
09/16/99:1999i16k / 09/16/99:1999i16l / 09/16/99:1999i16m
09/16/99:1999i16n / 09/16/99:1999i16o / 09/16/99:1999i16s
09/16/99:1999i16t / 09/16/99:1999i16u / 09/16/99:1999i16v
09/16/99:1999i16w / 09/16/99:1999i16x / 09/16/99:1999i16y
09/16/99:1999i16z / 09/17/99:1999i17a / 09/17/99:1999i17b
09/17/99:1999i17c / 09/17/99:1999i17d / 09/17/99:1999i17e
09/17/99:1999i17f / 09/17/99:1999i17v / 09/17/99:1999i17w
09/17/99:1999i17x / 09/17/99:1999i17y / 09/17/99:1999i17z
Click Here
for video clips from this rail journey!
After you have read the first segment of this rail journey above,
click herefor the next segment of this rail journey.

Visit our Rail Magazine promotion trading partners:
Click here to add your print rail magazine.