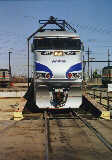 F59PHI Photos
http://trainweb.com/samssrw/f59phi/
The following photographs are of the first 2 F59PHIs, #450 & #451, to be delivered to Los Angeles for operation on the Amtrak West San Diegan route. These photos show the two locomotives back-to-back on the turntable at the Amtrak's Redondo Roundhouse.
NOTE!
The photographs on this page are COPYRIGHT &copy 1998 by
Sam Pottinger's Steel Rails West.
Reproduction of these photographs is not permitted without
the express written permission of
Sam Pottinger's Steel Rails West.

Click here for contact information for Sam Pottinger's Steel Rails West to find out how to purchase enlargements of these photographs or permission for other use of these photographs.
Click on the thumbnail image to display a full photograph.
The following photos are other rail photos not related to the F59PHI.
---
Please select one of the following:
Sam Pottinger's Steel Rails West Main Page
TrainWeb F59PHI Web Page
---
visits since June 25, 1998.
http://trainweb.com/samssrw
copyright &copy 1998 Sam Pottinger's Steel Rails West