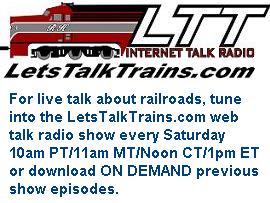 CLICK HERE for Let's Talk Trains
Live Railroad Talk Radio On The Web
Every Saturday 10am - Noon PT (Noon - 2pm CT)
(Also available as an iTunes PodCast: Search For "Lets Talk Trains"

CLICK HERE for the Let's Talk Trains LIVE CHAT ROOM during the show.
Saturday, August 07, 2010:
Cathy Stanfill is hosting this Saturday's Let's Talk Trains. Thanks to Ace Holman, landline Morse is back! He developed a system using slow modems to upload Morse signals onto modern telephone lines in order for Morse operators in USA and Canada to communicate with each other via the American Morse code. Join us at 10:00 AM Pacific Time by calling in your questions to (646)716-7106 or in the chat room at www.railradio.com/lttchat.
On Demand Episodes (On your computer or iTunes / iPod / PodCast):

Original Air Date: Saturday, July 31, 2010:
Nathan of Kansas City is hosting this week's show. After recently returning from a trip to Ontario and Quebec, Canada, and a visit to ExpoRail--Canada's Railway Museum. We are also remembering our good friend, Richard Hamilton, who passed away this time last year--the second hour of the show will be replaying Richard's last show.

Original Air Date: Saturday, July 24, 2010:
Ken Shattock, also known as "Key Route Ken" to readers of Trainorders.com and Altamont Press, will be Bob and Elizabeth's guest on Saturday July 24th. Ken will be talking about railroading in Oakland and San Francisco in the 1950's and 1960's. Join us at 10:00 AM Pacific Time by calling in your questions to (646)716-7106 or in the chat room at www.railradio.com/lttchat.

Original Air Date: Saturday, July 10, 2010:
The 8th Anniversary Show and NS Steam Returns!
Skip Waters of Dallas, Texas will host the "8th Anniversary Show" of Lets Talk Trains. Call in to share your fond memories or comments about the Lets Talk Trains history. Let's hear about your favorite moments, hosts or show topics. Following will be a discussion on the recent announcemen from Norfolk Southern to bring back steam to the mainline. Skip will take calls to hear your reaction to the "21st Century Steam" program announcement of June 30th. What do you want to happen and what were your favorite NS trips of the past? It's a big show, hope you tune in and join us!

Original Air Date: Saturday, July 3, 2010:
Railroads and the Morse Telegraph
Please welcome a new host to the Let's Talk Trains Show. Cathy Stanfill will be hosting her first show. Her topic will be how Morse Code was used by the railraod lines.

Original Air Date: Saturday, June 26, 2010:
Royal Hudson Caretaker to appear
Let's Talk Trains goes international as Don Evans, president of the West Coast Railway Association is Bob and Elizabeth's guest on Saturday. The WCRA is based in Squamish, British Columbia Canada. Join us at 10:00 AM PDT as we discuss the Royal Hudson and other preserved equipment from Western Canadian Railroads.

Original Air Date: Saturday, June 19, 2010:
"Hey Railfan, Are you a Terrorist?"
Skip Waters of Dallas, TX returns again as your host for the Lets Talk Trains show. The topic is "Hey Railfan, Are you a Terrorist?" Skip will discuss the current state of affairs surrounding railfans and photography. What do the railroads and the public think of railfans shooting trains? Joining Skip will be Richard Whitenight who in 2002 was reported in the Washington Post as being grilled by the terrorism task force. Richard will tell us what happened. Then we will hear a recent video recording of a shortline railroad accusing some local railfans as being terrorists. Followed by a current Special Agent letting us know how the railroad feels about railfans and photography in today's environment. Callers are welcome to join. Don't miss it. Tune in and find out if you are a terrorist!

Original Air Date: Saturday, June 12, 2010
"LTT - Train No. 06.12.2010 - Kansas City Here I Come!"
This week, Kansas City Nathan will be hosting the show with his uncle, Todd, live from Doc's Caboose in Kansas City, Missouri's West Bottoms. The topic for the show is Railfanning in Kansas City & the metropolitan area, and model railroading in the area. Besides our regular callers and news items of the week, we will have a number of guest join us at the location, talking about the history of the Kansas City area, as well as the model railroading scene in the area, and it's long ties between city and the iron rails--this would include the battle of which town would have the first rail bridge to cross the Missouri first--Atchison, Kans.; Leavenworth, Kans.; or Kansas City, Mo. Please join us!!!
RAILradio.com
Lets Talk Trains is a Radio Talk Show all about railroads broadcast live every Saturday at 10am PT / Noon CT. Archived shows are available online as well as via iTunes Podcast. This website also features everything related to railroads on the radio including information about railroad radio channels and frequencies as well as laws relating to using scanners and tips and suggestions for programing and using radio scanners.
Books With Railroad Radio Information
Click on any book title below for further details
and information on ordering the book.

Railroad Radio,
Hearing and Understanding Railroad Radio Communication & Systems
by Vincent Reh. (rehvince@together.net)
Altamont Press - Regional Railroad Timetables






The Compendium of American Railroad Radio Frequencies
by Gary L. Sturm and Mark J. Landgraf.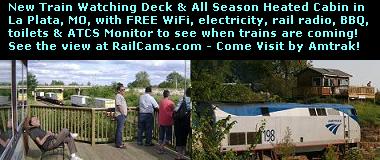 Visit related pages from this and other web sites:
Click below for pages in the directory of TrainWeb sites: