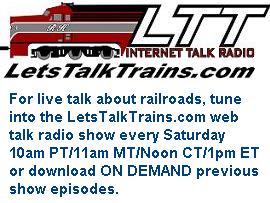 CLICK HERE for Let's Talk Trains
Live Railroad Talk Radio On The Web
Every Saturday 10am - Noon PT (Noon - 2pm CT)
CLICK HERE for more On-Demand Episodes
Founded by the late Richard Hamilton (1949-2009)
CLICK HERE for information & photos of Richard Hamilton.
including text from the dedication at the Silver Rails Memorial Library
located in Silver Rails Country, La Plata, Missouri.
RailRadio.com
Lets Talk Trains is a Radio Talk Show all about railroads broadcast live every Saturday at 10am PT / Noon CT. Archived shows are available online as well as via iTunes Podcast. This website also features everything related to railroads on the radio including information about railroad radio channels and frequencies as well as laws relating to using scanners and tips and suggestions for programing and using radio scanners.
Books With Railroad Radio Information:
Click on any book title below for further details
and information on ordering the book.

Railroad Radio,
Hearing and Understanding Railroad Radio Communication & Systems
by Vincent Reh

Altamont Press - Regional Railroad Timetables

The Compendium of American Railroad Radio Frequencies
by Gary L. Sturm and Mark J. Landgraf.
Additional Railroad Radio Information:
Visit related pages from this and other web sites:
Click below for pages in the directory of TrainWeb sites: