Overland Trail Links
www.trainweb.com/overlandtrail/links.html




Click on each image above for 360 x 360 degree views of the car interior!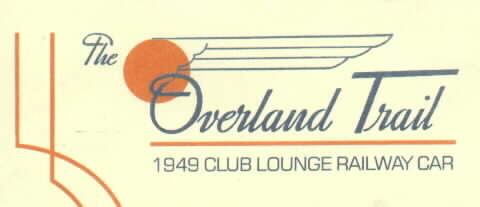 Overland Trail Home Page
Photographs
Videos Clips
Sample Ticket
Haircut Price List
Photos & Travelogue: Steve & Ray April 24, 1999 Family Outing
Photos & Travelogue: Overland Trail on SF 3751 Steamtrain to Railfair'99
If you have traveled in the Overland Trail when it was used as a lounge car for the Southern Pacific, please send e-mail. We are seeking photos, stories and other information about the time when the Overland Trail was in service for the Southern Pacific.
Visit our Rail Magazine promotion trading partners:
Click here to add your print rail magazine.