TrainWeb Related Robbery
http://www.trainweb.com/news/robbery.html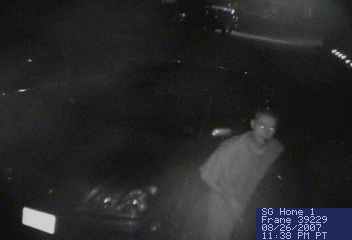 On Sunday evening, August 26, 2007, my car was broken into and my computer bag stolen which contained the notebook computer on which I do all of the development and maintenance of the TrainWeb.com website. The above is a photo of the person who broke into my car and stole my computer at 11:38 PM Pacific Time.
My car was parked at the head of my relatively long driveway right in front of my house. The car was locked with the factory installed alarm set. This has been a fairly safe neighborhood. In the 21 years I have lived on this street, I have never heard of an auto theft, robbery, house break in, or any type of crime on this street. I rarely leave my notebook computer in my car, but this was one of those rare occassions where I did leave it in my car with the plan to go out later to my car and bring it into my house.
The police told us there were four other auto break ins that evening. In all cases, those cars were locked with the factory alarms set, and no damage to the cars done in the break in to the cars. Evidently the thief had some method to unlock the car without setting off the alarm (just as if he had a key). Our guess is that this was not a professional home burgler. If he was and had cased our house, he would have noticed the extensive network of security cameras and automatic flood lights. We think he may just have been scanning the neighborhood looking for vehicles that whatever device he had would unlock. He may not even have noticed our cameras and lights until after he had broken into my car and was about to leave with my computer. The above photos looks to me like he was startled when the lights came on and the camera captured his image.
Forutnately, I did have a complete backup of ALL of the web pages and photos. I use Carbonite (see: Carbonite.com) which continuously backs up all of my files to a remote backup server over the internet. Thus, I did have a copy of ALL of my files right up to date.
However, I did have to go through the inconvenience of obtaining a replacement computer and restoring all my backed up files to that replacement computer. The replacement of those files was not too difficult, but the restore process did take more than 72 hours to completely download all of the many gigabytes of TrainWeb pages and images from the internet backup. The more difficult and time consuming part of the process was obtaining and reinstalling all the software tools that I use to develop and maintain the TrainWeb.com site.
New PC based computers are now delivered with Vista pre-installed instead of Windows-XP. A number of the software tools that I use every day no longer work under Vista. In some cases, I had to purchase and install a new Vista compatible upgrade of programs that I had been using for years. Some programs had no Vista compatible upgrades and I had to switch to new software for accomplishing the same purpose. The learning curve of switching over to new software was part of the delay in trying to get back into my daily routine of keeping TrainWeb up to date. On top of that, Vista itself has quite a learning curve! Although very similar to Windows-XP, there are enough troublesome little differences to make many of my mundane routines quite troublesome. I've figured out the "new way" of doing things under Vista for most of my tasks such that I am finally ready to start updating TrainWeb regularly once again.
This entire experience has put me quite far behind. There is a LOT to catch up on! Chris Guenzler recently returned from the NRHS Conference where he travelled on many special rail trips and came back with a large number of rail stories, each full of photos. It will take a while for each to get featured on the main page of TrainWeb.com. In the meantime, you can see these stories by clicking here to see them posted to Chris' own web site at TrainWeb.org/chris. Eventually, I will get all of those stories added to "Upcoming Feature Stories @ TrainWeb" at TrainWeb.com/pending.html along with many other rail stories and photos from many other TrainWeb correspondents and readers.
I wish to thank you for your continued patience. It shouldn't be much longer before TrainWeb.com is back into shape and being updated in a timely manner once again!
Visit related pages from this and other web sites:
Click below for pages in the directory of TrainWeb sites: