Holiday TrainFest and Toy Drive to Brighten Spirits
at Los Angeles Union Station
Public invited to share holiday cheer at free event on Dec. 17 supporting Toys for Tots, featuring historic steam locomotive, rail car display, and visit from Santa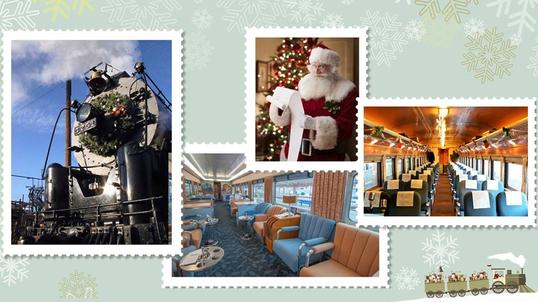 LOS ANGELES – Santa will trade in his sleigh and eight tiny reindeer for vintage rail cars and an 874,346-pound steam locomotive decked out for the holidays at the first-ever Holiday TrainFest and Toy Drive at Los Angeles Union Station.
The free, family-friendly event will take place on Saturday, Dec. 17, from 4 p.m. to 8 p.m. on Track 14 at Los Angeles Union Station, located at 800 N. Alameda St. in Los Angeles. Staff will be on hand to collect donations of new, unwrapped toys in support of Toys for Tots, and new socks to assist the Los Angeles Homeless Services Authority.
Attendees will be able to:
See the historic Santa Fe 3751 steam locomotive up close
Tour vintage rail cars from the 1940s and 1950s decorated for the holidays
Explore Amtrak® Pacific Surfliner® and Metrolink rail equipment
Enjoy holiday refreshments
Meet local police and firefighters, and
Visit with Santa Claus
The Holiday TrainFest and Toy Drive is presented by the Los Angeles – San Diego – San Luis Obispo (LOSSAN) Rail Corridor Agency and Amtrak Pacific Surfliner in partnership with Metrolink, the San Bernardino Railroad Historical Society, L.A. Rail, the Los Angeles County Metropolitan Transportation Authority (Metro) and Toys for Tots. The U. S. Marine Corps Reserve Toys for Tots Program collects new, unwrapped toys and distributes the toys as holiday gifts to less fortunate children in the local community.
Participants can travel to the event by train from points throughout southern California, including Orange County, Ventura County, San Bernardino and the Antelope Valley using Amtrak Pacific Surfliner or Metrolink service. Visit PacificSurfliner.com or MetrolinkTrains.com for additional information, including schedules and fares.
For more information about the Holiday TrainFest and Toy Drive at Los Angeles Union Station, visit Facebook.com/PacificSurfliner
Click Here to visit the Holiday TrainFest and Toy Drive Facebook Event Page.
Visit related pages from this and other web sites:
Click below for pages in the directory of TrainWeb sites: