Make-A-Wish at the Fullerton Depot
http://www.trainweb.com/news/2005/2005d29a.html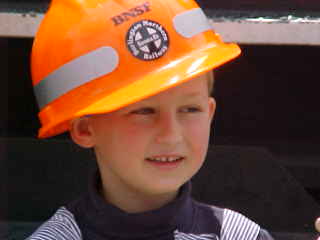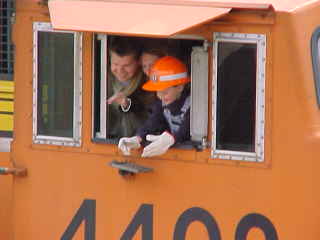 Click on below links to view each set of photos:
Set #1 / Set #2 / Set #3
Friday, April 29, 2005
I was curious as to what all the commotion was outside my office at the Fullerton, California, train station this past Friday, April 29, 2005. My associates, Steve and Shivam were too busy processing orders for TrainParty.com to notice any going ons elsewhere. Lo and behold it was a group of more than 50 people with many children in tow with lots of balloons in the crowd. I thought that these people were gathering to meet a special relative coming in on an Amtrak run. Was this some beloved grandparents coming in to visit their children and grandchildren, or possibly a son coming in from Iraq? There were too many children present, so that nixed out any politician. I've never seen such a large crowd coming together to meet some person at the train station. This group of people did arouse my curiosity!
A few moments later a BNSF/Santa Fe freight train was honking its' horns and slowly coming into the station. "Oh, I get it!" It's a welcoming party for the engineer who has a birthday. How neat!
I left the window to get my camera and take some pictures of the festivities. After taking a few shots I noticed a young boy at the engineers window waving to the crowd below. So, it was the young boys birthday and his engineer father brought him on this special trip for "his" birthday to meet his other family members and friends here at the Fullerton train station. What a great gift!
With such a large crowd gathering I decided to go downstairs and take a few pictures at ground level. As I was on my way down I was thinking that I probably won't mention this neat story as I did not want to get the engineer dad into any trouble, as he possibly did not have permission to bring his son on board. With all the attention that this mysterious little boy from somewhere was getting from the crew, the last thing I wanted to do was burst everyone's bubble.
Everyone was grinning from ear to ear and it was contageous. The cameras were whiring and clicking away. What a festive occasion! Now I started to ask questions instead of assuming the situation. First off, the celebrity child was Jacob Aspling, a five year old child with a serious heart ailment. His father was not the engineer of that train but rather, his parents, Carol and David, were in the crowd enjoying the whole show. The train crew were the loving surrogate fathers while young Jacob was with them all the way from San Bernardino, California, to the Fullerton train station.
It seems that the "Make-A-Wish Foundation" had contacted the Burlington Northern & Santa Fe Railroad (BNSF) Company and told the officials about the circumstances of little Jacob, and that his greatest wish was to ride in the cab of a real locomotive. Well, we all know how tough these hard nosed business people of large corporations can be, but it seems that these heavy players did not stand up against little Jacobs simple wish. Never mind the political or other ramifications involved, their hearts were softened to love this special child. It has been five years since the BNSF Railroad allowed anyone to ride their trains. Who said that boardroom directors don't have soft spots in their heats? This is far from the first time that this company has been generous with the public. I tip my hat off to them!
Ms. Laura Brave, a volunteer for the Make-A-Wish Foundation was very involved in making this episode come to life. Can you imagine the gratification that she must get for her role in this project? Can you imagine everyone else's feelings for whatever their part was in this wonderful surprise for little Jacob? I'm even talking about all the people who showed up at the station!
The Make-A-Wish Foundation grants a wish for a child that has life threatening medical conditions. This organization has many volunteers and I'm sure they could use many more. Michelle Wells, Director of Marketing and Public Relations Director, can be contacted at (714)573-9474. You can also visit their website at: www.wishoc.org. If you know of a child that has a serious life threatening problem that can be verified by a doctor, call in and submit their name and they'll be put on a list. Possibly their dream could come true, just like little Jacobs' did.
The pleasure in his parents faces when they saw the twinkle in their sons' eyes and the happiness that he bubbled forth from his gleeful little face is a memory that will be cherished and last them the rest of their lives, as it will everyone else present. What greater gift can one receive than the happiness on a childs face? Here, in its' simplest form are people helping people. Brothers and sisters banding together to support and help each other with love and compassion.
This is one of the great virtues of man who from all walks of life contribute kindness to their fellow brothers in times of need. People such as Rafael and Jose Nonaka and Benito Luviano of Mexico, Doug and Laurie Symons and her brother Robert of Canada, Giao and Diana Nguyen and Pham Hung of Vietnam, and all the other do gooders of this planet. Maybe this world can be saved after all. But, for this precious moment, the spotlight belongs to little Jacop Aspling and his mysterious train and to all those individuals who participated in Jacobs magic wish to make this jubilation so special. God bless little Jacob Aspling, and God bless the good ol' USA!
Click on below links to view each set of photos:
Set #1 / Set #2 / Set #3