Canadian Pacific Railway 2002 Holiday Train
At Smiths Falls, Ontario, Canada
Monday, December 9, 2002
http://www.trainweb.com/news/2002/2002l09a.html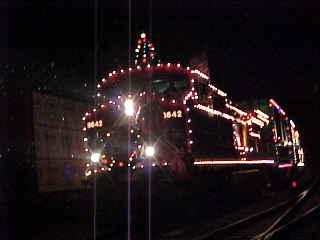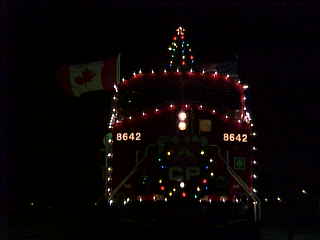 By Laurie Symons

The light snowfall only added to the excitement of the children waiting for the C.P.R. Holiday Train. We were standing outside the Smiths Falls train station and the wind had picked up a bit making it quite cold, but the youngsters didn't seem to notice; they were warmly bundled in snowsuits with layers of colourful scarves and mittens. Although only in its fourth year of operation, this train of lights has already become a Canadian tradition, signaling the beginning of the holiday season.

And what a great way to begin the season, by considering those less fortunate. No Province in Canada is exempt from the need of these food banks, and unfortunately it is a sign of our times that so many thousands of people go hungry each day in this country. With yet another year of drought in the west, and plant closures and job losses across the country, the strain on our food banks will be that much greater. On its journey across Canada raising awareness of hunger issues, the C.P.R. Holiday Train accepts donations of cash and non perishable food items to be donated to the local food banks where the train makes their scheduled stops

Excited shouts of "here it comes" were heard, as all eyes searched the darkness for any sign of the train. At 9:15 p.m., with everyone holding their breath, the train slowly rounded the bend welcomed by the cheering and clapping of all at the station. Thousands of lights adorned this trainset, which can only be described as "magical".

For the next half-hour he walked among them answering their questions, and giving hugs. "Yes, of course Santa knows who you are", "yes I received your letter", "I know you are trying to be good, I am very proud of you", and "yes, Santa loves you too" were a few of the comments I overheard him say to some of the children. What an honour to be standing so close to this kind and gentle man.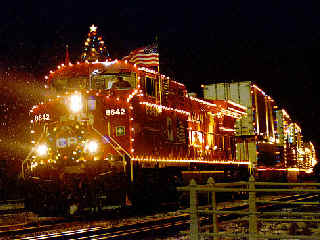 Click to view each set of photos below: