F40 Locomotive Used By Amtrak
www.trainweb.com/locomotives/f40.html
F40 locomotives used by Amtrak.
Click on each photo below to display a larger image.
Click here for photos of an F40 in Surfliner paint!
Click here for photos of the F40 on the Amtrak San Diegans
Click here for photos of F40s and other Amtrak Diesels by Chris Fussell
Click here for F40 Notes from the Prodigy On Track On Line Trains Community
The following 3 photos and video clip are of an F40 that was modified to be a Cab Control Car for the Talgo trainsets on the Amtrak Cascades in the Pacific Northwest. These photos were taken in the Fullerton Santa Fe Depot on Saturday, February 27, 1999 at 7:30 AM as this locomotive was being transported via the Amtrak Southwest Chief.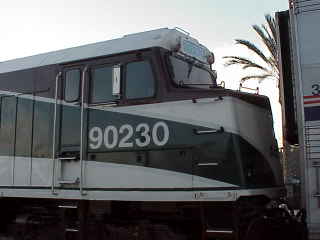 Click here to view the video clip (122k).
Visit related pages from this and other web sites:
Click below for pages in the directory of TrainWeb sites: