BNSF Hi-Rise Auto Carriers
www.trainweb.com/fotosort/trains/bnsf/1999i08a.html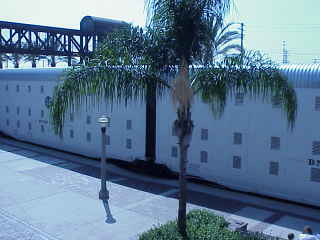 BNSF Hi-Rise Auto Carriers.
Click here for photos.
Click here for video clip.
One day while working in our office, we looked out the window and it looked like someone had built an office building in the middle of the tracks! But, the office building was slowly moving by our window! These are photos of the tallest railcars that I have ever seen. They are BNSF hi-rise auto carriers.