SilverRails Country RailFest 2011
in Silver Rails Country, La Plata, Missouri

Sunday July 17 Noon - Wednesday July 20 10am
Followed by a caravan to Train Festival 2011 in Rock Island, Illinois
TrainWeb.com/events/2011g17a.html

15% Discount Off Rooms at the
Depot Inn & Suites
Be sure you mention you are coming for SilverRails RailFest 2011.
Transportation:

NOTE: If you are coming from Chicago and find that the Amtrak Southwest Chief into La Plata is sold out, you can still take the Amtrak Illinois service from Chicago to Quincy and we'll send the hotel shuttle to Quincy to pick you up free of charge. Just please call us a few days in advance to let us know you are coming that way so that we can make sure we send a vehicle large enough to pick up everyone arriving. Thanks!

The Amtrak Southwest Chief from both the east (Chicago) and the west (Los Angeles, Flagstaff, Albuquerque, Kansas City) provides directly dailey service right to La Plata, Missouri, in the heart of Silver Rails Counry and 5 minutes from the Depot Inn & Suites. Free hotel shuttle service will be provided from the La Plata Amtrak Station. Flights are also available into Silver Rails Country on Cape Air. (Fly to St. Louis, MO, then take Cape Air to Kirksville, MO). Free hotel shuttle service will be provided which is just 5 minutes away. Just call in advance to make arrangements

Free hotel shuttle service is also provided from the Amtrak Stations in Quincy, Illinois, and Ottumwa, Iowa (Amtrak California Zephyr), but contact the hotel well in advance of your arrival date as each of these stations is about an hour drive from the hotel.
EVERYONE will be given a FREE copy of he NEW Silver Rails Country Map upon arrival!
Planned Events (subject to change):

More information about the events are coming, but here is the preliminary list of events:

Sunday, July 17th:

10am: Passengers arrive right into La Plata from the west on the Eastbound Amtrak Southwest Chief with free shuttle service meeting them at the Amtrak Station. Other guests arrive by auto or will have made prior arrangements with the hotel to be picked up from the airport or other Amtrak Stations mentioned above.

BBQ Lunch at the Chris Guenzler Million Mile Lookout Point. See: RailLookout.com

Tour of La Plata local area in Silver Rails Country including a number of venues operated by the American Passenger Rail Heritage Foundation. These will probably include: the Exhibition of Amtrak History, the Silver Rails Gallery, the Silver Rails Memorial Library, and the Silver Rails Event Center. Plus there will probably be a stop at the headquarters of TrainWeb.com and TrainParty.com. Visit SilverRailsCountry.com for more information about some of the sites that might be visited.

Dinner at Colton's Steakhouse in Kirksville

8pm: Passengers arrive from the east aboard the Amtrak Southwest Chief
(unless they arrived the prior evening to not miss the festivities of the first day!)

Monday, July 18th:

Railfanning west of La Plata to at least Marcelene, Missouri

Each of the trips out to the photography locations here and below will be led by Chris Guenzler.

Group Dinner at the Red Rooster

Slide Shows / Presentations in the hotel Meeting Room

Tuesday, July 19th:

Morning free until after eastbound Amtrak Southwest Chief arrives into La Plata

Railfanning east of La Plata to mostly Medill on the BNSF mainline

BBQ Dinner at Chris Guenzler Million Mile Lookout Point

Slide Shows / Presentations in hotel Meeting Room

Wednesday, July 20th:

Depart in early morning to caravan to Train Festival 2011 in Rock Island, Illinois. If interested in being part of the caravan, please send an email to ltt@LetsTalkTrains.com with the subject "SilverRails Railfest 2011"

Those not going to Train Festival 2011 head home or are welcome to stay and do more touring of Silver Rails Country!

SilverRails Railfest 2011 Event Ends.
Click Below to Book 3 Nights
at the Depot Inn & Suites
Sunday July 17 - Wednesday Jul 20, 2011
at 15% off the regular $94 per night rate
($94 X 3 = $282 - 15% = $239.70)
If you plan to arrive earlier than Sunday July 17 or stay beyond Wednesday July 20, then call the hotel toll free at 888-814-3669 to make your hotel reservations. Be sure to mention you are coming for RailFest 2011 in order to obtain the special 15% hotel discount rate.
---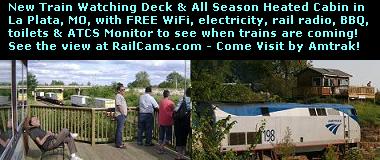 Visit related pages from this and other web sites:
Click below for pages in the directory of TrainWeb sites: