ANNOUNCING:
The La Plata Spring Railfan Event 2015
www.trainweb.com/events/railfan2015a.html
No humidity or high temperatures in April!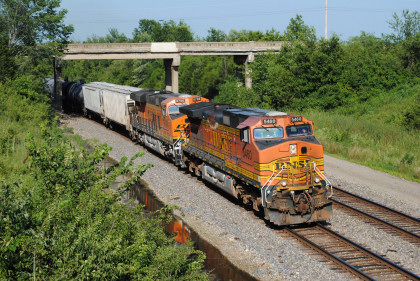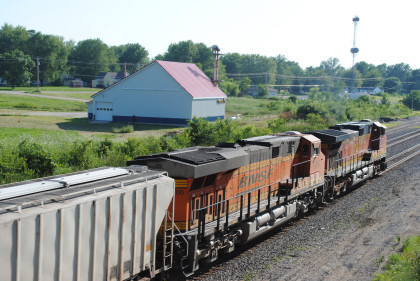 Join us for our next La Plata Railfan Event this Spring Sunday April 5 through Wednesday April 8, 2015. The event will be held at the Depot Inn & Suites and each day we will go out into the Missouri Countryside to photograph and watch trains. Your host Chris Guenzler will led you to many excellent photo locations. Rooms at the Depot Inn & Suites can be had by calling the hotel at 888-814-3669 and saying "I want a room for the Chris Guenzler Spring Railfan Event 2015" and get 20% off all rooms before, during, and after your stay. We will have a group dinner each night plus digital shows each night.
The schedule
Sunday 4/5/2015 early departure to the BNSF bridge at Sibley. We will spend that day out between Sibley and Carrolton.
Monday 4/6/2015 Today we travel east of La Plata to many unique photo locations.
Tuesday 4/7/2015 Today we travel to Bosworth and two old bridges west of there and then make our way back to Marceline.
Wednesday 4/8/2015 Today we travel west of La Plata to many unique photo locations.
To see some of pictures you might get check out the La Plata Railfan Guide at: www.trainweb.org/chris/lapguide.html
Join us for an interesting Railfan Event in 2015.
Accommodations: The Depot Inn & Suites is providing 20 per cent room discounts to participants who register in advance by March 15, 2015. Click here for more information about the railroad themed luxurious Depot Inn & Suites hotel.
After Hours: There is much to see and do in the surrounding Silver Rails Country when you are not busy attending the railfan events, or if you stay beyond the days of the event. Click here for more information or click here to have a map of Silver Rails Country mailed to you.
Free Hotel Shuttle Service is provided from the La Plata-MO Station on the route of the Amtrak Southwest Chief, the Ottumwa-IA Station on the route of the Amtrak California Zephyr, and the Quincy-IL Station on the route of the Amtrak Illinois Service. Cape Air also provides daily air shuttle service from St. Louis to Kirksville with connections from throughout the nation. The hotel also provides free shuttle service from the airport, just 5 minutes from the hotel. When you make your hotel reservation please be sure to mention that you will need free shuttle transportation and from which Amtrak Station or if from the Kirksville Airport.

Click Map For Driving Directions.
Click Here For Information On Arriving By Train Or Plane
This event has been organized and will be led by Chris Guenzler. Chris has traveled more than a million miles by Amtrak and is quickly approaching two million miles of overall rail travel. He has traveled, photographed, and posted reports related to all of the Amtrak routes, most other tourist railway lines in North America, and over quite a bit of other rare mileage. The train watching platform and cabin in La Plata was dedicated and named The Chris Guenzler Millionth Mile Lookout Point at a ceremony commemorating when Chris acheived his millionth rail mile enroute to La Plata on April 27, 2007. The following year on April 7, 2008, Chris reached exactly one million miles of Amtrak travel as he stepped off the Amtrak Southwest Chief in La Plata. Details and photographs from these events that celebrated Chris' record rail travel achievements can be found at: TrainWeb.com/chris1mm.html. Rail travel reports and photographs by Chris Guenzler can be viewed at TrainWeb.org/chris.
For Further Information send email to Chris Guenzler at chris@trainweb.com. For hotel reservation questions send email to info@DepotInn.com or call 888-814-3669 toll free. For complete train, plane, car rental, hotel or other travel reservations call 877-459-5900 toll free. (Please only call 877-459-5900 if you want to book Amtrak, flight, car rental or other travel reservation in addition to booking your hotel stay. If you ONLY want to make hotel reservations, then please call 888-814-3669. 877-459-5900 goes to our knowledgable affiliate travel agency. 888-814-3669 goes to the Depot Inn & Suites front desk. Thanks!)
The 20% off discount hotel rate will also apply if you'd like to arrive a few days before the event begins or would like to stay a few days after the event ends based on availability. To check for availability or to make your reservations, call the hotel toll free at 888-814-3669 and mention that you are coming for the Spring 2015 Railfan Event in order to obtain the special hotel discount rate.

Visit related pages from this and other web sites:
Click below for pages in the directory of TrainWeb sites: