San Diegan 60th Anniversary Celebration
Sunday, May 17, 1998, 10:30 AM to 5:30 PM
Los Angeles Union Station
www.trainweb.com/events/980517.html
The San Diegan 60th Anniversay was held in Los Angeles Union Station on Sunday, May 17, 1998.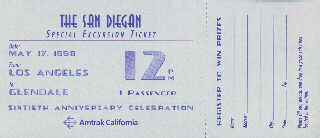 Below is the event announcement that was the main subject of this web page prior to the event:
Amtrak invites you to attend a celebration commemorating sixty years of San Diegan service and ten years of service to Santa Barbara. The celebration will be held on Sunday, May 17, from 10:30 a.m. until 5:30 p.m. at the historic Los Angeles Union Station. The theme of the celebration is honoring the past; celebrating the present; and looking forward to the futuer of passenger rail in Southern California. Amtrak, commuter and freight equipment will be on display, and representatives from many Amtrak services will provide information and give-a-ways.
Other participants will include the California Department of Transportation, with an extensive display featuring new accessible motorcoaches, and two rail safety organizations, Operation Lifesaver and Operation Redblock. In addition, we except participation from the city of Santa Barbara, the San Diego Film Commission, and the San Diego area high school jazz band "TRAXX".
San Diegans: The First Sixty Years
For Santa Fe Railway, 1938 was a banner year highlighted by the introduction of modern streamline equipment on it's major routes. On March 27, 1938 Santa Fe ushered in a new level of passenger travel- and a new name-on the Southern California coast route. Gleaming new diesel-powered streamline trains made two round trips between Los Angeles and San Diego each day. And they were called the San Diegans.
The new equipment was very popular with the traveling public. Another streamline train set was add in 1941; now four of the five daily San Diegans round trips featured modern equipment. Steam locomotives would continue to provide power for some San Diegan trains into the 1940's. The outbreak of World War II saw troop trains added to the usual mix of freight and passenger movements along the surf line route. All this activity recessitated the installation of Centralized Train Control for more efficient use of the rail line.
The postwar era ushered in a period of unparalleled urban growth in Southern California, and with it came a pent-up demand for leisure travel. The San Diegans met the challenge with new equipment-the Budd Cars-and more round trips, as well as longer trains. During these years steam saw its last hurrah on the route, and passed into meory in 1953. Mighty diesel locomotives continued to power the roster into the 1960's offering Southern Californias ready access to many popular beach destinations. As the postwar population grew, station stops were added to serve new communities.
In 1971 Amtrak assumed operation of the San Diegans as part of the national passenger train network. In the following years, Amtrak deployed new equipment and added frequencies. In partnership with Caltrans, amtrak has "grown the service" from three daily trains to ten daily round trips. Service was extended to Santa Barbara in 1988 and to San Louis Obisbo in 1995. Amtrak California locomotives and passenger equipment joined the San Diegan fleet the same year.
Today the San Diegans are a major success story, due in large part to a philosophy of "putting the customer first". By providing amenities such as Pacific Class Service and modern equipment, and aggressively marketing special discounts and unique features of the service, San Diegans ridership has grown to 1.6 million passengers annually.
And the years ahead? Amtrak passengers can look forward to comfortable new equipment, handsome station facilities, unsurpassed onboard service, and the best scenery California has to offer. So come along and join us for the start of the next sixty years.
Amtrak Celebrates 60 Years of San Diegan Service
LOS ANGELES--(BUSINESS WIRE)--May 14, 1998--Amtrak and the California Department of Transportation (Caltrans) will celebrate 60 years of San Diegan service to the Central and Southern California coast, and 10 years of rail service to Santa Barbara during a public event and equipment display on Sunday, May 17.
The free event at Los Angeles Union Station, 800 North Alameda Street, will be held from 10:30 a.m. to 5:30 p.m. It will include entertainment by live bands, singers, caricature artists and face painters, refreshments and souvenirs. Visitors can walk through a number of rail cars, including an Amtrak California Passenger Coach and Dining Car, San Diegan Pacific Class Car, Dome Car, which will enter San Diegan service, Amtrak long-distance Coach, and commuter cars from Metrolink and Coaster. A new Amtrak Locomotive also will be on display.
A special Excursion Train will take visitors on rides, departing every hour between 11 a.m. and 4 p.m. Reservations are not required for the Excursion Train, however rides are provided on a space-available basis. There is a nominal charge of $2 for adults, $1 for children 2-15, and children under 2 ride free.
Young and old will be greeted by Disneyland's Buzz Lightyear from 2 p.m. to 4 p.m. There will be a chance to win a free trip for four on an Amtrak train to Disneyland to see the new attraction Tomorrowland, and other trips on the San Diegan.
Visitors will enjoy complimentary beverages courtesy of Pepsi cola and stop by the KCBS-FM "Arrow Cruiser". They will see informational booths by a number of exhibitors, including the San Diego Chargers, California Division of Tourism and city visitors' agencies, Caltrans Rail Program, and Fillmore and Western Railroad. The Operation Lifesaver booth will include a special Railroad Simulator, enabling kids to drive a big locomotive and learn safety tips around railroad tracks and equipment.
While the celebration will commemorate the historic importance of passenger rail travel in the region, San Diegan passengers can anticipate exciting changes to the service. The acquisition of new custom-built equipment, upgrades in on-board amenities and a renewed focus on customer service will continue to increase San Diegan ridership, currently second largest in the Amtrak national rail system.
Amtrak offers nearly hourly service during peak periods between San Diego and Los Angeles with 10 daily roundtrips, four of which extend to Santa Barbara and one continues to San Luis Obispo.
CONTACT:
California Department of Transportation
Charles Seifert, 415/461-9249
Eileen McNally, 510/238-4360
Visit related pages from this and other web sites:
Click below for pages in the directory of TrainWeb sites: