Silver Rails Country
New in Autumn 2009!
by Stephen Grande,
web author of TrainWeb.com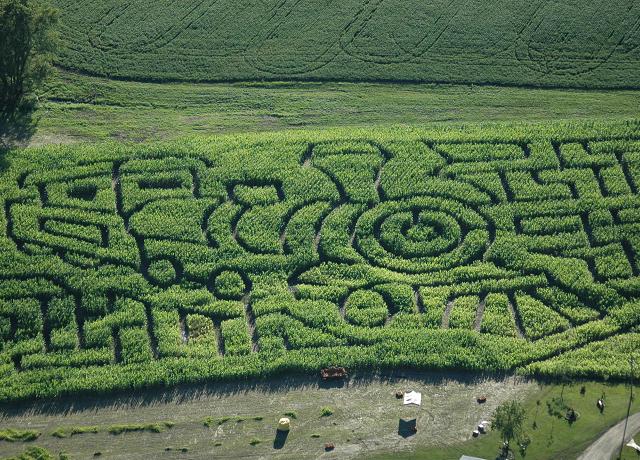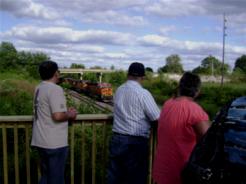 Above: Steam Engine Corn Maze & New Rail Lookout Point Deck
Click on any photo on this page for a larger image.
This page is a sneak preview of what you can see if you come to visit Silver Rails Country in La Plata, Missouri! Some of the new things include the new large deck at the Chris Guenzler Millionth Mile Lookout Point, the new ATCS Monitor in the lookout point cabin that shows when trains are coming from hundreds of miles away, and the new professional model railroad display in the north ex-Amtrak MHC railcar. Also new is that there are now 3 hotel channels devoted to train enthusiasts! Right from your Depot Inn & Suites hotel room a closed circuit camera with infrared capability at the lookout point allows you to watch and hear trains live around the clock. A second hotel channel provides an ATCS Monitor screen so you can tell when trains are approaching even from hundreds of miles away. A third channel provides continuous playing of various railroad DVDs as well as documentary DVDs of past rail related events held in La Plata. If you come before the end of October you can also enjoy the steam engine corn maze and all the other activities at the Jackson Country Connection and the Walt Disney Hometown Museum (very train related!). Both of those close at the end of October for the season.
My sister, Shelli, had her 50th birthday on September 1, 2009. Much of our family came to La Plata to celebrate her birthday at the Silver Rails Event Center. That included five of our siblings (with Shelli and me that makes seven on my mother's side!), our Aunt and our cousin, plus a couple of our spouses and significant others. My wife, Barbara, was there along with her parents. Tom & Kelly Marshall were there from the Depot Inn & Suites, Ray Burns from TrainWeb.com, Bob & Amy Cox from Railfan's Friend and the Silver Rails Gallery and dozens of other friends that Shelli has made in La Plata since she moved there a bit more than a year ago!
If you come to visit La Plata, you will probably meet Shelli as she is usually the one that picks visitors up from both the Amtrak station and the Kirksville airport!
Sunday, August 30, 2009
My wife and I from Southern California, my wife's parents from Northern California, and my relatives from Florida all flew on Continental Airlines to Houston, Texas, where we all met and got on a Continental Express Jet to Kansas City. We didn't arrive into Kansas City until after 11 PM. Not wanting to drive everyone to La Plata for 3 hours in the middle of the night, we stayed right at the Airport Marriott Hotel. The rates are usually quite reasonable there, often less than $70 per night and the hotel provides free shuttle service from the airport every 20 minutes. In the morning, I picked up an 11 passenger van from Budget (open from 8am to 11pm) at the airport and did the 3 hour drive to La Plata, Missouri.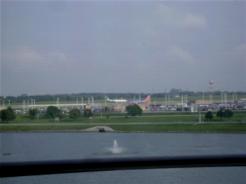 View of the Kansas City Airport (MCI) from the Marriott Hotel
Monday, August 31, 2009
My three siblings and one of their spouses from New England all flew to Chicago and then took the westbound Amtrak Southwest Chief from Chicago to La Plata. They arrived on Monday morning, August 31, 2009. Arriving into La Plata is a lot more fun by Amtrak as the train takes you right to La Plata and just a block from the Depot Inn & Suites. The property of the Depot Inn & Suites starts right across from the Amtrak Station, but it is still a pretty big "block" and you will want to take advantage of the free shuttle service provided by the hotel. That is especially true if you have luggage!
Though the Jackson Country Connection Steam Engine Corn Maze doesn't officially open until next week, September 6, 2009, which is after my family departs, Bob and Andy (Bob's wife) Jackson, were kind enough to give us a preview tour of the grounds and the maze. The corn maze had been all cut, but the "stations" had not yet been set up. Without the "stations" in the corn maze, it is very easy to get totally lost in the maze. Even Bob Jackson said he almost got lost in the maze! Thus, they didn't let us into that maze, but they did give us a taste of the maze by letting us into the smaller kid's maze. We had a hard enough time finding our way in and out of that and that was just in the shape of a simple "X" railroad crossing signal!
We also did the kid's "bale maze" which looks simple, but is complicated by the rule that you are only allowed to make right turns. It took a while, but some of us eventually found our way through that without breaking the rules! We also played with the "corn cannon" where you can shoot corn cobs using a compressed air powered cannon. If you come during September and October you will find much more to do including a bounce house, a pumkin patch, tractor ride, and much more.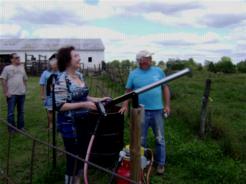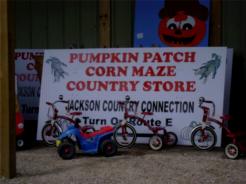 Above Left: Firing the Corn Cob Cannon
The Jackson Country Connection is only open during September and October each year so be sure to call 877-459-5900 to make your Depot Inn & Suites hotel reservations soon if you want to walk the maze yourself this year! The Steam Engine Corn Maze is normally open Friday through Sunday. But if you can only come during the week (or if you have a difficult time finding open hotel reservations on weekends), ask about seeing the Steam Engine Corn Maze during the week. Often arrangements can be made to allow you to come visit the maze outside of normal hours.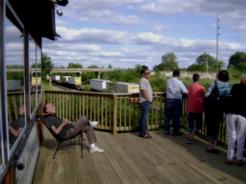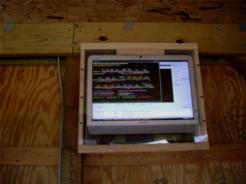 Left: Watching Trains From The New Deck At The Rail Lookout Point.
Right: New ATCS Monitor At Rail Lookout Indicates Locations Of Trains From Miles Away.
We next stopped by the newly completely train watching deck at the Chris Guenzler Millionth Mile Lookout Point. The deck gives train enthusiasts a comfortable vantage point closer to the mainline where they can watch and photograph trains safely. There are chairs and plenty of room on the deck to sit and relax between trains. The cabin is still at the lookout point for train watching during inclement weather. The cabin is heated during winter and has free high-speed WiFi as well as electric outlets for notebook computes and cell phones. The lookout point also features a BBQ grill and "Ma" and "Pa" out houses. There is also a railroad radio in the cabin tuned to the "road channel" so that you can listen in on all the communication between the train dispatcher, conductor and engineer. During our week long stay, the new ATCS display was installed so you can see where the trains are dozens of miles away before they get to La Plata.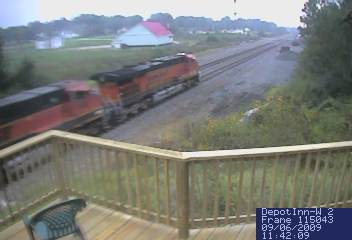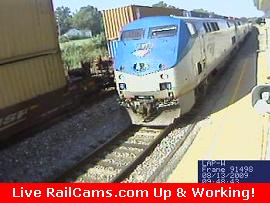 La Plata Live WebCam Images: Left From Lookout Point; Right From Amtrak Station
Click On Either Image Above To Go To Each Of The Live RailCams.
For a really comfortable view of the trains you can see and hear the trains as well as the radio communication right from the comfort of your hotel room at the Depot Inn & Suites! There is a camera at the lookout that sends video and sound right to every room around the clock! Since it the camera has infrared capability, you can even watch the trains at night. If you'd like to watch trains going by the Lookout Point live from home right now, just visit RailCams.com/dis. Or, to see the trains going by the La Plata Amtrak Station, visit RailCams.com/lap. Those pages also have an archive feature where you can see every train that passed through La Plata during the prior 24 hours.
Tuesday, September 1, 2009
The following morning we were off to a late start. The Depot Inn & Suites in La Plata, Missouri, is a laid back restful place in the countryside. We were all enjoying a relaxing time and were in no rush to get off to an early start!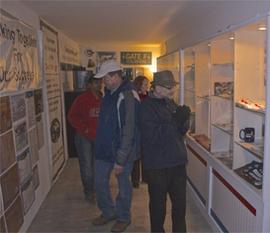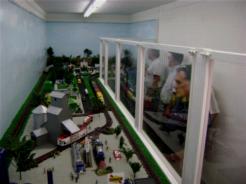 Top: Ex-Amtrak Mail Handling Cars (MHC) Next To Depot Inn & Suites
Left: Exhibition of Amtrak History in South Railcar
Right: Model Railroad Display in North Railcar
At 11 AM we went to look at the brand new model railroad display in the North ex-Amtrak MHC (Mail Handling Car) that is right next to the hotel. The Model Train Layout was designed and built by Darrell Reinwald, President, Trains Across America (636-447-6524, Reinwald@earthlink.net, TrainAndToyDisplays.com). We also toured the South ex-Amtrak MHC that houses the Exhibition of Amtrak History. That displays the entire collection of the Amtrak Historical Society as well Amtrak materials TrainWeb.com has been collecting and been donated by visitors. Both railcar displays are open to the public free of charge all year round.
Next we drove to Marceline, Missouri, to visit the Walt Disney Hometown Museum and the original Main Street USA that served as a model for Main Street in the Magic Kingdom. Marceline is less than an hour drive from La Plata and transportation can be booked from the Depot Inn & Suites. Much of Walt Disney's life involved trains so it should not be surprising that the museum is in the Marceline ex-Amtrak Depot and contains a vast amount of railroad memorabilia. Even the city park has on display a steam locomotive and a caboose.
That evening was the event that had brought us all to La Plata, Missouri, for this trip: my sister Shelli's 50th Birthday! About 80 people attended the party which was held at the Silver Rails Event Center. The event center features a railroad theme throughout and can accommodate parties of more than 500 or as small as 25. An Italian Buffet Dinner was catered along with Loco Vino railroad theme wines from West Winery and bar service. We plan to do a similar event in the Silver Rails Event Center during the New Years Celebration for Train Enthusiasts. Everyone had a great time!
Wednesday, September 2, 2009
Heartland Dairy provides escorted van tours free of charge once you get to the facility. Heartland is about a 30 minute drive from the Depot Inn & Suites. Transportation can be booked from the hotel. It is open year round and tours can be arranged for any day of the week. The Heartland Dairy has one of the largest mechanised milking operations in the world with a turntable that holds 60 cows simultaneously. The entire operation can be viewed from an observation window. They also have one of the largest goat milk production facilities in the nation.
Heartland covers about 20,000 acres including a great deal of land planted with corn, soybeans, and other crops. Two of the features not to miss are the "Solid Rock 1950's Cafe" (with very reasonable prices and excellent food!) and the Auto Museum right in the same building with the cafe. Our tour started at 9:30 AM and wasn't finished until Noon. The tour of the facility covers quite a bit of the grounds and is very informative of their operations. After the tour, we enjoyed lunch at the Solid Rock 1950's Cafe. We then examined all the autos in the museum that pretty much spanned the entire 1900's and then some staring with a horse drawn wagon.
Thursday, September 3, 2009
On Thursday everyone that had come from New England for the party and vacation boarded the eastbound Amtrak Southwest Chief to head back to Chicago. From there they would fly back to New England later in the evening. By coincidence, Chris Guenzler arrived on the same train coming from California! So right after Chris got off the train, my siblings boarded the train! At this point everyone agreed that a day of rest and relaxation was in order for the vacationers. So, no outings were planned for today. Unfortunately, my wife and I didn't get too much relaxing in as we had a few meetings to attend and some work to get done related to TrainWeb, TraiinParty, the Depot Inn & Suites, APRHF and the Silver Rails Resort venture. So we really needed that one day to try to get a lot of business out of the way that is easier to get done when we are in La Plata in person.
However, we did take time out to have diner with the family and Chris Guenzler at the Dining Lodge that has a fantastic lake view at the Thousand Hills State Park right outside of Kirksville, just a 20 minute drive from the hotel.
Friday, September 4, 2009
Those of us heading back to California and Floriday checked out of the hotel on Friday morning. We decided to take a detour on our trip back to Kansas City and stop by Jamesport, Missouri, the largest Amish settlement west of the Mississippi. It was a pleasant drive west out of Kirksville on Route 6 for a couple of hours through Missouri countryside.
We had a wonderful buffet lunch at a Dutch Kitchen in Jamesport and then visited all the shops in town. We saw a number of Amish horse and buggies pass through town while we were there. From there it was just about another 90 minute drive to the Kansas City Airport. We all spent the night at the Airport Marriott as all our flights departed the next morning. We had one last meal together as a family at the hotel before we said goodnight and goodbye as we had different flights in the morning.
So that brought to a conclusion our longest stay at the Depot Inn & Suites in La Plata, Missouri, and the largest and longest reunion with my siblings and other family members! Everyone had a wonderful time celebrating Shelli's 50th Birthday and the week in La Plata! I hope you enjoyed reading this travel report and the photos and will think of coming out for a visit yourself!
The Jackson Country Connection Steam Engine Corn Maze and the Walt Disney Hometown Museum are only open until the end of October, so please visit DepotInn.com to make your plans soon! If you can't make it to La Plata before the end of October, then do try to join us for the New Years Celebration for Train Enthusiasts!
If you would like to come to Silver Rails Country, La Plata, Missouri, for the Depot Inn & Suties Autumn Harvest Celebration or at any other time, please call 877-459-5900 toll-free for help with all your travel plans. Whether you want to come by train, plane or drive, you can call that number for help with travel plans, room reservations, or to book any of the tours. We hope you will come soon and experience Silver Rails Country for yourself!
Click on the below links for each set of photos:
Click on the below links for more information and photos: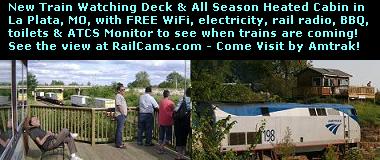 Visit our Rail Magazine promotion trading partners:
Click here to add your print rail magazine.