Villa Del Mar Inn
San Clemente Pier (SNP), California
August 3 - 6, 2001
http://www.trainweb.com/cities/snp/villadelmarinn/2001h04a.html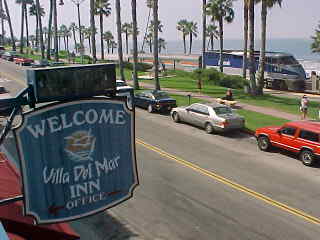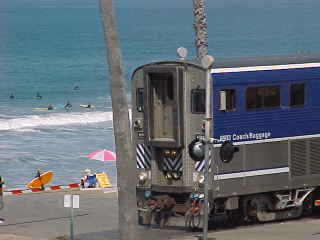 Click on each link below to view each set of photos:
Set #1 / Set #2 / Set #3
Note: All the photos were taken from the hotel room or private balcony!
Friday, August 3, 2001
I didn't leave the TrainWeb office at the Fullerton Santa Fe Depot until about 2 P.M. By the time the car was packed and we were ready to leave from home it was about 4 P.M. We had a bit of traffic to crawl through for the first 5 miles until we reached the 241 toll road. It was clear sailing down the toll road until we merged with Interstate 5 South. Then it was back to a slow crawl. The two lane car pool lanes were moving even slower than the other lanes. Eventually the car pool lanes cleared up and we were able to travel at a better pace most of the way down to San Clemente.
I would love to have taken the train from the Amtrak Fullerton Station to the Amtrak San Clemente Platform, but that was not possible since you can only go south to San Clemente in the morning and come back north in the evening. When heading to spend a weekend at a hotel, one needs to do just the opposite. We needed to head south on Friday evening and come back north on Monday morning.
It is possible to take an evening Metrolink train south to San Clemente any day except Saturday and Sunday, but those evening trains stop at a different platform about a mile north of here. There is more space for commuter parking at that platform north of here. But for tourists and vacationers, the popular spot is here by the San Clemente Pier where all the hotels, restaurants and shops are located. Thus, if you tried to get here by Metrolink in the evening, you'd have to call a taxi to take you the last couple of miles. If you don't mind taking a taxi for the last couple of miles, there is frequent evening weekday southbound Metrolink service out of Los Angeles Union Station (LAUS) and frequent morning weekday northbound Metrolink service to LAUS from that more northern San Clemente Station Platform.
The first of only two southbound Amtrak trains to stop at the San Clemente Station Platform arrived at about 10:10 A.M. This train is scheduled to arrive here daily at 9:58 a.m. The only other southbound Amtrak train scheduled to stop at this platform is at 10:49 a.m. daily. The only time northbound Amtrak trains are scheduled to stop at this platform are at 4:12 p.m and 5:10 p.m. daily. These are seasonal stops. Aside from the summer months, the Amtrak trains don't stop at this platform at all, even though San Clemente gets quite a bit of tourist traffic year round.
I just realized there is a bit of a convoluted way to get from LAUS to San Clemente in the evening on any day, including weekends, by Amtrak. You can take Southbound Amtrak Surfliner Train #578 out of LAUS to Oceanside. That train leaves Los Angeles at 2:00 p.m. and arrives into Oceanside at 3:46 p.m. At Oceanside, take Northbound Amtrak Surfliner Train #581 at 3:52 p.m. back up to San Clemente! If you miss Train #581, just take Northbound Amtrak Surfliner Train #783 at 4:50 p.m. to arrive at San Clemente by 5:10 p.m.
You can also do the reverse if you want to leave San Clemente in the morning by Amtrak. Take Southbound Amtrak Pacific Surfliner Train #570 (#560 on Saturday and Sunday) out of San Clemente at 9:58 a.m. which arrives in Oceanside at 10:25 a.m. From Oceanside take Northbound Amtrak Pacific Surfliner Train #573 at 11:18 a.m. which arrives into Los Angeles at 1:15 p.m. Or, you can take the later Southbound Amtrak Pacific Surfliner Train #772 out of San Clemente at 11:09 a.m. which arrives in Oceanside at 11:32 a.m. From Oceanside take Northbound Amtrak Pacific Surfliner Train #775 which leaves at 12:43 p.m. and arrives into Los Angeles at 2:40 p.m.
The methods of getting into San Clemente by Amtrak in the evening and out in the morning are a bit round about, but it is possible to do so if one wishes to! But keep in mind, that Amtrak only stops at the San Clemente Pier stop during the summer months. Metrolink runs year round, but only on weekends and only stops at the other San Clemente platform that is a couple of miles north of the San Clemente Pier.
All the rooms at this hotel feature a very large balcony overlooking both the tracks and the surf. I'm sitting at a table in the room right now and by just moving my eyes, I can see the surf rolling in and can see the tracks that are between the hotel and the surf. There is just a single track at this spot along the beach. The only thing between the hotel and the tracks is the street that goes by the front of the hotel. When the trains stop at the platform, they are stopped directly across from the hotel. There are a number of photos with this travelogue. All of the photos of the trains were taken either from inside my hotel room or from the large private balcony that goes with our room.
Every room at this hotel is a large suite. Some have two bedrooms and some have one. We wanted a two bedroom suite, but they only had a single bedroom suite available for this weekend. Every suite features a large living room at the front of the suite with a screen door that leads out to the large private balcony. The living room is connected to a kitchenette that has a microwave, coffee maker, toaster, stove, oven, sink, full-size refrigerator. The kitchen cabinets are full of dishes and the drawers come with silverware. There is a single bathroom with a sink and combo shower / tub inside.
Our bedroom is fairly good size with a kingsize bed and a double bed. The bedroom is nothing to write home about since it is the back of the suite. It doesn't have any view. Since the only room with an air conditioning unit is the living room in the front, the cool air doesn't reach the bedroom in the back. This is a bit of an odd arrangement since the living room is the least likely room to need any air conditioning. With the cool sea air right outside the screen door to the balcony, the living room gets plenty of cool fresh air. Because of the arrangement of the suite, our sleeping arrangements were a bit odd on Friday night. The single bed is in the same room with the king size bed. So, my kids ended up sleeping in the kingsize bed, my wife in the single bed, and I slept on the couch in the living room! It was a little uncomfortable, but I didn't mind the trade-off of being able to be cool and hear the surf rolling in all night (and a train going by from time to time!). The couch is supposed to open into a bed, but we were told by the hotel in advance that it was broken. They are going to provide us with a roll-away today at no charge because of the broken convertible couch. I'm not sure what we'll do for the sleeping arrangements on Saturday night, but we'll manage.
After settling in, we headed down to a nearby Ralph's Grocery Store. We wanted the option of staying in and not having to go out to eat if we didn't want to. I think we went a bit overboard as we spent over $100 on supplies. But, whatever we don't finish we can take home with us. We have the car with us and it is only about an hour drive back to our house.
Saturday, August 4, 2001
The Metrolink Beach Train arrived from San Bernardino / Riverside at about 9:45 A.M. An amazing number of people got off that train! I have to assume it was pretty full. This train only runs on summer weekends and tickets have to be puchased in advanced from Amtrak or Metrolink. They can't be purchased at the Metrolink ticket machines and can't be purchased on board. After all the passengers got off the train, the train continued south. I assume they probably park the train at the Oceanside Metrolink / Coaster Yard for the day until it is time to make the return trip. Click here for more information on the Metrolink Beach Train.
At about 12:50 p.m., a Southbound Amtrak Surfliner went by. The consist was the new Surfliner cars with an F59PHI as the locomotive. It was traveling with the cab car in the lead. However, attached to the nose of the F59PHI locomotive to my surprise, was the Scottish Thistle Private Railcar, one of TrainWeb's Sponsors! There were a number of people on the open platform of the rear of the Scottish Thistle at the rear of the train. I'm sure they were on their way to the Del Mar Races. The train caught me off guard and I didn't have my camera ready. The Scottish Thistle will be heading back sometime later today and I will try to catch a photo of it at that time. The Del Mar Races have resulted in some other interesting consists on the Pacific Surfliner route. Yesterday, we saw a train with a consist having 3 of the new Pacific Business Class cars in additional to the usual compliment of Coach Cars.
Last night, we tried to go to the restaurant on the pier for dinner. It was about 8 p.m. when we went to eat. Unfortunately, there was over an hour wait for a table! The restaurant is a pretty popular spot to eat at the beach, especially on Friday and Saturday night. We decided to skip eating at that restaurant on Friday. Instead, we came back for a late lunch on Saturday afternoon about 3 p.m. There wasn't any wait at that time. My wife had fish and I had a pasta dish. One of my kids had a chicken dish and the other had a hamburger. All of the food was excellent! The Fisherman's Chowder was especially good. Usually, I like white New England style clam chowder much more than the red style chowder, but after one taste of the red, I decided that was the better selection!
My kids and I are really night people. We don't like the sun or crowds. So our ideal time to walk is after dusk when the sun has gone down and the beach crowd has left. We walked to the end of the pier and back and then we walked to downtown San Clemente. Most of the downtown stores were closed, but a number of restaurants were open as well as a really interesting used bookstore. We spent about 20 minutes in the used bookstore. Fortunately, the walk from the pier to downtown was mostly up hill. Thus, I had an easier down hill walk to look forward to on our way back to the hotel!
My kids called me over to the TV at about 9:15 p.m. when they noticed that a Nero Wolf episode was playing on the A&E Channel. They know that I'm a big Nero Wolf / Rex Stout fan. I sat down with them and watched the rest of the special two part episode that ran from 9:00 p.m. to 11:00 p.m. I have read seven of the novels and was in the middle of one of them on this mini-vacation. A few months ago I had started to watch this series on A&E, but lost track of it when they pulled it off from Sunday evening. I was glad to find that they had just moved it over to Saturday evening rather than find that is was taken off the air totally. While watching the TV, we had the big picture window blinds open and the door to the big patio open. I could see and hear the surf and passing trains while watching the TV.
At 11 p.m., I layed down on the chase lounge on the outdoor patio and dozed on and off for the next few hours. I wore my pants and jacket, but didn't need a blanket. It was just mildly cool outside, but not cold or windy at all. Falling asleep to the sound of the surf has to be one of the most relaxing things in the world. When I did wake up from time to time, I could look across the street and actually see the surf rolling in. It must have been high tide as the surf was about as far up the beach as it could go. With the lights from the street, pier and restaurant, it was easy to see the surf rolling in on the beach.
I don't know how people that don't like trains react to the situation, but the trains blast their horns extensively as they pass in front of the hotel! Fortunately, the last passenger train goes through at about 11:15 p.m. and the first one in the morning doesn't come through until about 7:20 a.m. There is some, but very little freight traffic during the day or night. I had my radio scanner with me, so I usually had about 10 minutes warning before a train would pass in front of the hotel. Since there is only a single track in front of the hotel, there are signals not to far up the line at both ends. The Engineer and Conductor would always communicate as they passed the signals, thus giving me advance warning of the approaching train. Even without that advance warning, everyone had about 30 seconds advance warning of an approching train because of the crossing signal right in front of the pier. The lights would start flashing, bells ringing, and arms lower before the train was in sight. Looking to the south, the tracks are hidden from view starting at the south end of the platform. But, looking to the north, you can see the tracks for quite a distance until they bend around a cliff further up the shore. The crossing gate seems to activate just as the train rounds that bend and comes into view. If you bring a radio scanner when you stay at the hotel, set it to AAR assigned Channel 30 (160.560).
Sunday, August 5, 2001
My wife, Barbara, and I woke up around 7 a.m. We went for a fairly long walk down the beach. I was going to see if we could make it all the way to the San Clemente Metrolink Station. After walking for about 30 minutes, we didn't quite reach it. I'm pretty sure I saw it still quite a ways up ahead, but we didn't want that long a walk. So we turned around and headed back to our hotel. From the location where we turned around, the San Clemente Pier looked quite a ways down the beach!
Again, the Metrolink Beach Train arrived from San Bernardino / Riverside at about 9:45 A.M. There is a bus stop at the street in front of the train station. A shuttle bus comes by that location every so often that says "FREE BEACH TRAIN SHUTTLE". It seems to come by serveral times during the day on Saturday and Sunday. I know it goes to downtown San Clemente where all the shops are located, but I don't know if it goes anywhere else in San Clemente.
Investigating a number of other hotels to the right and left of ours, I think the Villa Del Mar Inn provides the best compromise. It is directly across from the Amtrak platform and is the only hotel with a balcony large enough for a chase lounge and patio table with four chairs. Actually, there is a lot more room than that on the patio. It is a pretty big outdoor patio! Most of the other hotels had much smaller outdoor patios with barely enough room for two small patio chairs. Some had patios at oblique angles where you can see the surf, but I'm not sure how good a view they provide of the railroad line along the shore. I'm sure I'll be staying at some of these other hotels in the future and be able to give you a better review of those hotels at that time.
Again we went to the restaurant on the pier for lunch. We went a bit earlier around 2 p.m. and there was a 40 minute wait for lunch. The wait was worth it, even if just for another cup of that Fisherman's Chowder! The wait isn't too bad at the restaurant. While waiting, you can go across to the other side of the pier and wait in the Oyster Bar associated with this same restaurant. You can have some appetizers or some drinks while waiting for your name to be called.
We were originally planning to leave on Monday morning, but we altered our plans and left about 9 P.M. on Sunday evening. Friends came to visit us on Sunday night, for which we had pre-arranged permission from the hotel. As you will see later in this travelogue, only guests are allowed on the premises. I'm not talking about having guests stay over in your room. The hotel rules don't even allow for guests to be on the premises at all! We left on Sunday night and our friends stayed until Monday morning to turn in the keys. The hotel office closes in the late afternoon, so there wouldn't be anyone to turn the keys into if we left at night. Our friends were happy to spend the night in the hotel and turn our keys in to the office in the morning for us. This hotel requires that everything be paid in advance, thus we knew that our friends would not have to pay for anything on check out. If there are any unexpected charges, which hopefully there won't be, the hotel will charge them to the credit card that I used at check-in.
---
Click on each link below to view each set of photos:
Set #1 / Set #2 / Set #3
Note: All the photos were taken from the hotel room or private balcony!

Click here for the Villa Del Mar Inn website.
---
You might consider some of the information that I am providing below to be a harsh commentary on the Villa Del Mar Inn. They have policies that are stricter than any hotel I have ever been at. But, as I mentioned above, after weighing all the factors, it is likely that this is the most desireable hotel at which to stay if you wish to have a large outdoor patio overlooking all the action. Thus, they seem to have no problem attracting guests. They can make whatever rules they want, and people are still going to want to book rooms at this hotel!
---
I have a hard time staying off the internet and off the phone when I'm on vacation, but the Villa Del Mar Inn is the first hotel I have every stayed at that has tried so hard to help me with this problem. Take a look at their policies about making phone calls, and especially about trying to connect to the internet:
Villa Del Mar Inn
612 Avenida Victoria
San Clemente, California 92672
(949) 498-5080

WARNING: If the phone jack is removed from the wall for computer use or any other use, you will be FINED.
Local Calls (San Clemente ONLY): 75 cents for the first 30 minutes and $1 per minute thereafter.
Any other calls are Toll Calls.
Directory Assistance: $2 per call.
All 800 calls subject to 75 cent charge for the first 30 minutes and $1 per minute thereafter.
If any call is allowed to ring more than 5 times, there will be a charge.
Incoming calls: 8:00 a.m. to 9:00 p.m. ONLY.
Outgoing calls: Available 24 hours per day.
So if you plan to get on the internet via telephone while you stay at this hotel, forget it! If you plan to stay in touch by telephone with your business, family or friends, forget it unless you want a huge bill of additional charges upon check-out! If you brought along a cell phone, that might work for you. I have a phone on the Nextel system. It didn't work too good inside the room, but it worked fine on the patio out front.
---
The people at the front desk were friendly enough, but the hotel policies, rules and regulations won't give anyone the impression that this hotel intends to pamper its guests:
Villa del Mar Inn
612 Avenida Victoria, San Clemente, CA 92672
POLICY
ONLY REGISTERED GUESTS ARE ALLOWED ON THE PREMISES. If disobeyed the register guests will be forced to check-out without refund. In addition there will be a $300.00 charge.
For family reunions a $100 deposit will be required per unit, refundable within 24 hours after check-out.
A $95 charge for unreturned or lost key.
Suite must be left clean and dishes must be washed. If not, there will be a $75 charge.
FOR ANY MISSING TOWELS there will be a $25 charge per towel.
NO PETS, NO EXCEPTIONS. A $200.00 fine will be charged if a pet is found in the room.
Guests paying cash will need to put up a $100.00 deposit.
Phone billing has been explained and is up to your discretion to use.
One free parking space provided for REGISTERED GUEST ONLY.
Double parking if available at $25.00 per hour or $75.00 per day, with permit only. Must be prepaid.
Upon check out, if parking space is available you can park for $25.00 per hour with prepaid permit. A 3 hour maximum.
Check-out time is 11:00 AM. After 11:00 AM there will be a $25.00 charge per hour. Any extension must be prepaid and approved by the office.
RULES AND REGULATIONS
ABSOLUTELY NO BARBECUE'S allowed inside or outside. There will be a $500.00 charge.
NO SMOKING IN THE ROOMS. If you do smoke in the room you will be asked to leave without a refund.
NO POPCORN POPPING IN MICROWAVE.
NO FOOD OR GREASE in garbage disposal. It will clog the drain and the plumber's expense would be paid by you.
Do not take HOUSE TOWELS to the beach. Office will provide beach towels. For any unreturned beach towels there will be a charge of $35.00 per towel.
BEACH SAND MUST BE WASHED OUTSIDE before entering the suite. Sand will DAMAGE THE BATHTUB.
Iron and ironing board are provided in your room. Please do not use the blankets or bedspreads to iron on.
PATIO UMBRELLAS must be down and tied at sunset or windy days.
SURF AND BOOGIE BOARDS are to be left laying down flat on the balcony.
Do not hang your clothes or towels over the balcony.
DO NOT MOVE THE FURNITURE, or take it outside.
Daily limited housekeeping service provided.
You must PARK YOUR CAR in your designated area ONLY.
PARKING PERMIT must be displayed on your dash board at all times. If not, it will be towed away.
Room inventory is done upon check-out. There will be a charge for any missing, or broken items.
Phone services for outgoing calls is available 24 hours a day.
Incoming calls from 8:00 AM to 9:00 PM.
Please help us keep our carpets clean. TAR REMOVER can be obtained in the office.
ALL PERMITS MUST BE PAID IN ADVANCE.
It is the RESPONSIBILITY of the registered guest to comply and obey with our policies and regulations.
If you need any assistance please call the office (101).
Have a pleasant and safe stay.
I ACKNOWLEDGE RECEIPT OF A COPY OF THIS DOCUMENT AND AGREED TO COMPLY.
Guest Signature ______________________________ Room # ______ Date ___________
On duty clerk ________________________________