Jack London Square - Oakland, California (OKJ)
1997 Photographs
www.trainweb.com/cities/okj/1997a.html
1997 photos of Oakland & Jack London Square, California, a stop along the Amtrak train routes.
Click on a thumbnail photo below to display a larger image.
Jack London Square
An Amtrak California San Joaquin or Capitol can be seen in the background.
My children, Jodina & Sherica Grande, playing at the platform
of the Amtrak Station in Jack London Square.
Half Moon Bay
My children and a friend standing by the surf at an almost deserted beach.
Historic Alkatraz Prison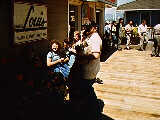 San Francisco Pier
Boat Tour Of San Francisco
San Francisco as seen from the Boat Tour
Golden Gate Bridge
as seen from the San Francisco Boat Tour
My children, Sherica & Jodina, are in the middle frames.
Visit related pages from this and other web sites:
Click below for pages in the directory of TrainWeb sites: