An exhibition of Amtrak history
http://www.trainweb.com/bigstories/2007j17a.html


An exhibition of Amtrak history will soon be on display in La Plata, Missouri, as a result of a joint venture between TrainWeb.com and the Depot Inn & Suites. An extensive collection of artifacts provided by the Amtrak Historical Society will be featured as well as various Amtrak artifacts collected by TrainWeb.com itself and donated by its website visitors over many years.
The exhibit of Amtrak history is expected to open to the public sometime in the next few months. Before that, the interior of the former Amtrak railcars shown above will be refurbished with interior lighting, display cabinets, and access stairs and ramps. The exhibit railcars will be located next to the Depot Inn & Suites (DepotInnAndSuites.com) at 1245 North Brown Street, La Plata, Missouri 63549. The hotel and railcars are located just a short distance from the La Plata Amtrak Station on the route of the Amtrak Southwest Chief.
DISCLAIMER: This is "AN EXHIBIT" of Amtrak history and NOT "THE" permanent "National Amtrak Historical Society Exhibit", contrary to information in a prior press release. We do not have permission nor are seeking permission at this time from either Amtrak or the Amtrak Historical Society to use the registered tradenames of "Amtrak" or the "Amtrak Historical Society" in the name of a museum. The railcars are a temporary beginning to a 40,000 square foot museum facility devoted to the history of passenger rail in North America with a focus on the history of Amtrak. This museum is currently in the conceptual stage. It will be decided at a later date whether or not we will seek from the National Railroad Passenger Corporation's (NRPC) permission to use their registered tradename "Amtrak" in the official name of this museum or will just use a more generic name such as the "Museum of North American Rail History". But either way, the main focus of the museum will be the history of Amtrak. Creating a temporary exhibit of Amtrak history in these railcars will allow the public to enjoy this collection of Amtrak history in just a few months rather than having to wait 2 or 3 years for the museum to be built.
Links to related stories:
Effort to establish a museum of Amtrak history in La Plata, MO
Oct 17, 2007: Macon Chronicle-Herald
TrainWeb 10th Anniversary & New Building Grand Opening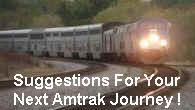 Visit related pages from this and other web sites:
Click below for pages in the directory of TrainWeb sites: