Luxury Rail Journeys
Available Today!
by Ted & Sylvia Blishak
of Train Travel Consulting at Accent On Travel
TrainWeb.com/aot/lrj2.html
This continuing series of news reports is produced in cooperation between
Train Travel Consulting at Accent On Travel and TrainWeb.com
While true luxury rail travel is hard to find in North America with the demise of the American Orient Express/GrandLuxe/American Railway Explorer trains, here are some great options.
Luxury Rail Journeys Now Available in North America.
Second in a Series. If you have not yet read PART ONE, please click here to read it now!

Photos courtesy of Chris Skow of Trains & Travel International except as noted. Experiences similar to the no-longer-available American Orient Express train, although far more exclusive -- and affordable -- are currently provided by our long-time travel associate, Chris Skow, Rail Tours Manager at Trains & Travel International. Please call Train Travel Consulting at 1 800 347 0645 for more information and to book your sentimental journey on a silver train.
Skow and his wife Debbie were recently married aboard their favorite luxury railcar, the Silver Solarium -- at 79 miles per hour!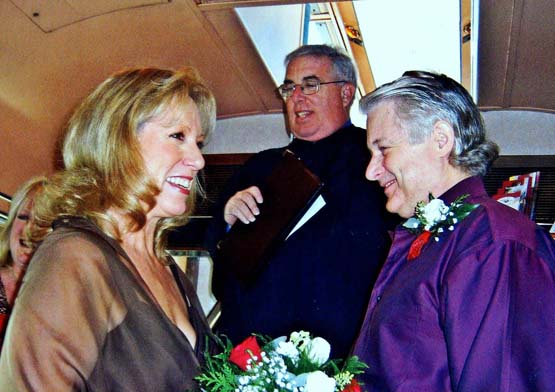 Chris & Debbie Skow say "I do" onboard the Silver Solarium at 79 mph
According to Skow, American private railroad cars now allow travelers the option to step back in time and recapture that romantic era of train travel that Amtrak cannot provide.
Once, rail barons and wealthy socialites traveled the country on private rail cars, dining on fine china and crystal and being pampered by the onboard staff.
Now this form of luxury rail travel is being offering to everyone at reasonable prices.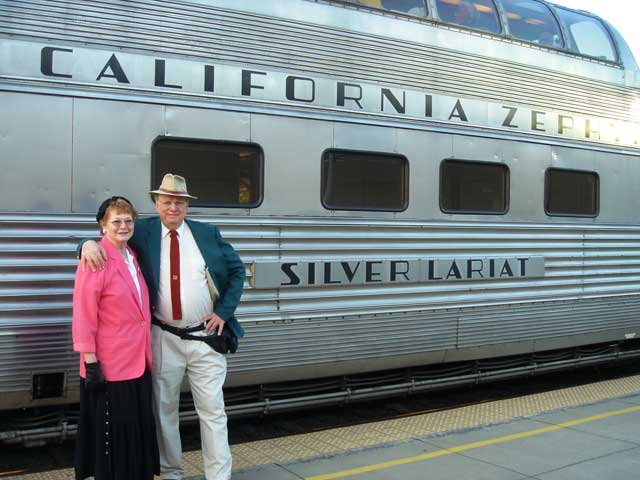 Ted & Sylvia Blishak are in 1950s garb, including "I Like Ike" buttons, for their trip on the Silver Lariat. Ted & Sylvia Blishak photo
A small number of railfans have purchased and refurbished private rail cars familiar to the first half of the 20th century. These railfans have spent millions of dollars on these vintage cars to bring them back to the high standards of their glory years.
Imagine yourself sipping on cocktails and nibbling hors d' oeuvres while sinking into deep comfortable chairs and sofas in lounges, domes, and private Pullman rooms, aboard a streamlined Vista-Dome train. Enjoying fine dining with meals prepared fresh onboard -- and made to order -- by our awarding winning gourmet chefs.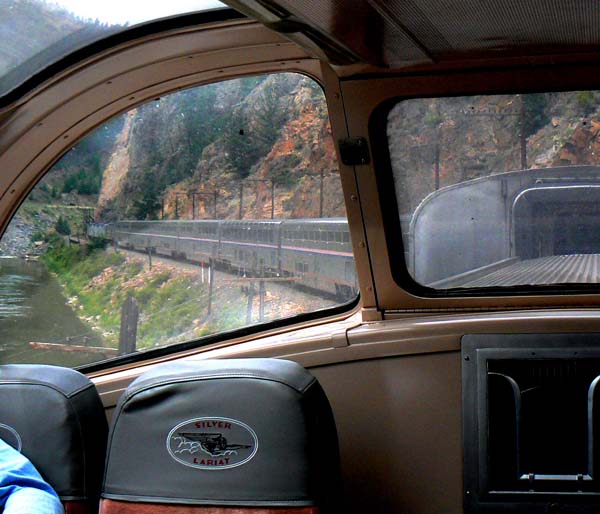 These luxury rail cars are coupled onto the rear of scheduled Amtrak trains. Our exclusive first class passengers are separated from the Amtrak passengers for privacy.
Vintage carriages from the pre-Amtrak California Zephyr we use are the Silver Solarium, Silver Lariat and Silver Rapids as well as the former Pennsylvania Railroad sleeper-lounge Colonial Crafts.

This page is Second in a Series. If you have not yet read PART ONE, please click here to read it now!
This continuing series of news reports is produced in cooperation between
Train Travel Consulting at Accent On Travel and TrainWeb.com
---
---
Click on each link below for earlier reports & photos of trips on Trains & Travels rail trips arranged by Chris Skow:

Call Train Travel Consulting at Accent On Travel
at 800-347-0645 to book YOUR railway adventure!