America's Luxury Train:
Will It Ever Run Again?
Part One
by Ted & Sylvia Blishak
of Train Travel Consulting at Accent On Travel

This continuing series of news reports is produced in cooperation between
Train Travel Consulting at Accent On Travel and TrainWeb.com
What happened to America's Private Luxury Train?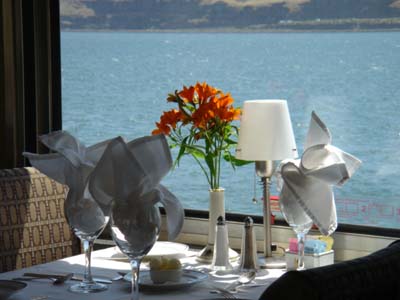 Never got to ride the American European Express?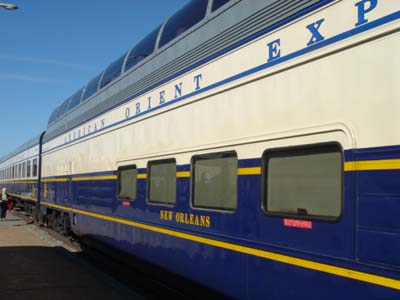 Missed the American Orient Express?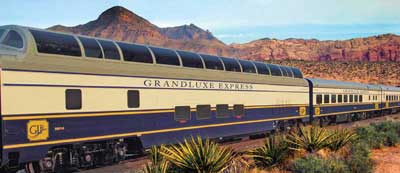 Too late for GrandLuxe Rail Journeys?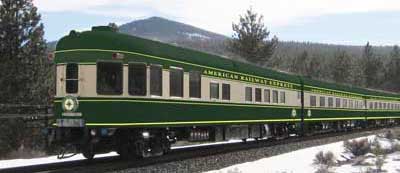 Hoping equipment would be running again as the American Railway Explorer?
(artist's conception - color scheme was to be cream, green, gold)

AMERICAN EUROPEAN EXPRESS, AMERICAN ORIENT EXPRESS, GRANDLUXE RAIL JOURNEYS, AMERICAN RAILWAY EXPLORER: This deluxe, legendary set of equipment, first assembled in the 1980s, has enchanted many passengers, and bankrupted several different companies. The collection has developed a mystique and personality of its own, no matter who owns it or what it is currently called.
On December 17, 1989, the New York Times reported its modest beginning as "... the American-European Express began operating last month between Chicago and Washington - four vintage rail coaches rebuilt by hand and coupled to the rear of Amtrak's regularly scheduled Capitol Limited. It generated not only curiosity but also high expectations."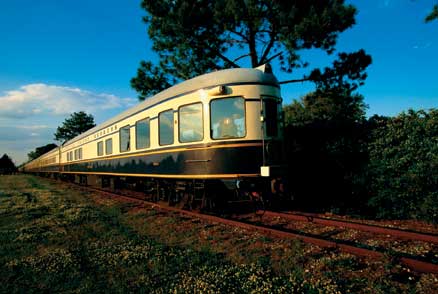 American-European Express
Ted and I had an article assignment. We would compare the US American European Express (AEE) train with the Venice-to-London Venice Simplon Orient Express. We took the latter train first, and then flew to Washington for the AEE journey to Chicago.
THE RIGHT TRAIN FOR AMERICANS.
Both interiors were sumptuous, and the exteriors both wore deep blue, cream, and gold livery. The AEE atmosphere was more relaxed, the food less salty, and the passengers and staff more friendly than on the VSOE. The AEE's carriages were wider and the decor somehow gave the impression that one was in the midst of a dream or a fantasy.
The company made a profit. Then the train derailed. While only minor injuries occurred to passengers, the carriages were damaged and the bad publicity impacted future bookings.
AEE DECLARES BANKRUPTCY.
By October 1991, the company ceased operations. -- Sylvia Blishak
CLICK HERE to read PART TWO of this report!


This continuing series of news reports is produced in cooperation between
Train Travel Consulting at Accent On Travel and TrainWeb.com
Call Train Travel Consulting at Accent On Travel
at 800-347-0645 to book YOUR railway adventure!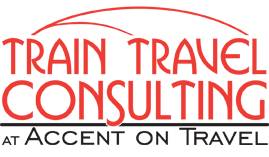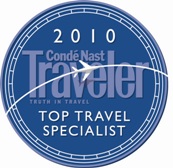 Visit our Rail Magazine promotion trading partners:
Click here to add your print rail magazine.