RailAlaska.com
Alaskan Rail Travel & Tours
TrainWeb.com/alaska
Below you will find the railroad related stories, travelogues and photos specifically about railroads in Alaska. TrainWeb correspondents have made numerous trips to Alaska over the years to ride the railroads of Alaska and continue to make new trips each year to provide us with updated travelogues and photos of the trains and scenery of Alaska. Additional information, travelogues and photos is provided below by numerous independently operated rail related websites hosted on the TrainWeb.org web server.
Alaska Railroad Stories & Photos from Richard Elgenson at TrainWeb.org/richard:
White Pass & Yukon Route Stories & Photos:
Information about railroads in Alaska:
Report & Photos of Move of New Holland America Railcars to Alaska:
You can also reach this web page from the following easy to remember URL: www.RailAlaska.com, .
Click on the below images to visit our rail magazine promotion trading partners:

(Click here to add your print rail magazine.)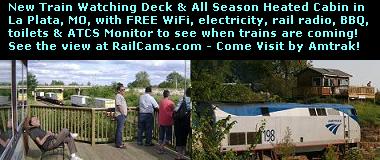 Visit related pages from this and other web sites:
Click below for pages in the directory of TrainWeb sites: