RAILadvocacy.com
Passenger Rail Advocacy & Education
The survival of Amtrak and the future of rail travel in America may be set by decisions made in federal, state, regional and local governments this year.
NARP (National Association of Rail Passengers) logo wear now available for puchase from CafePress.com
These organizations are involved in rail advocacy or in educating the public and our governmental representatives about passenger rail travel.

Other sites of interest to rail advocates:

Northstar Corridor (Proposed Minneapolis Commuter Rail)
Articles In Support Of Passenger Rail
This section was started on June 15, 2002, so you wont find much here yet. As I run across articles and arguments in favor of passenger rail, I will post links to them here.
Click on the below images to visit our rail magazine promotion trading partners:

(Click here to add your print rail magazine.)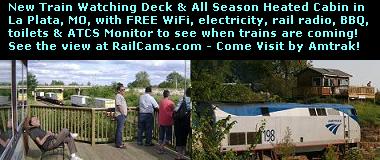 Visit related pages from this and other web sites:
Click below for pages in the directory of TrainWeb sites: