San Diego Wine Taster
RailWine.com/winetaster.html

Date: Saturday, January 29, 2011

Price: $99 per person round trip
includes a sandwich buffet and soft drinks.

Optional: $29 per person wine tasting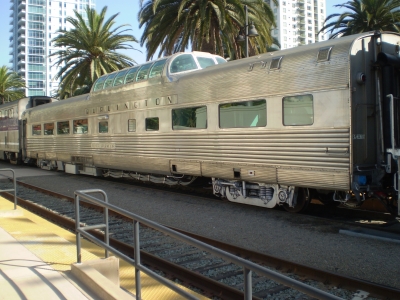 The SILVER SPLENDOR private dome railcar will depart south from Los Angeles at 11:10 AM. Passengers may board at other stops enroute to San Diego such as Fullerton, Anaheim, Santa Ana and Irvine, but we suggest you take an earlier northbound Amtrak Pacific Surfliner to Los Angeles in order to enjoy the duration of the full round trip from Los Angels to San Diego and back. A sandwich buffet will be provided along with soft drinks. The scheduled arrival time into San Diego is 1:55 PM.
During the lay over in San Diego from 1:55 PM until 6:20 PM, guests are welcome to tour attractions not far from the Amtrak Station such as tour the USS Midway, Seaport Village, the Star of India, Horton Plaza and many other attractions. There is even plenty of time to hop on the San Diego Red Trolley right from the station and ride up to Old Town San Diego!
While in San Diego those who opt for the $29 per person wine tasting will remain onboard for a tasting of selected wines from Temecula Valley led by Don Ziehm, the Wine Dept. Manager at Bristol Farms Market in Long Beach. After the wine tasting, guests are welcome to tour nearby San Diego attractions as listed above until departure time.
The SILVER SPLENDOR will depart San Diego at 6:20 PM for its return trip to Los Angeles. A selection of cakes, pies, cookies and dessert items will be served during the return trip. Those who boarded at other stations along the way may depart at their station of origination. The scheduled arrival time into Los Angeles is 9:05 PM.
Make your reservation soon by calling
714-292-9316.
Space is limited and is sure to sell out!

Payment in advance accepted by Credit Cards & Checks.
Note: Since the dome area of the railcar can't hold everyone at once, there will be a rotation during the trip so that everyone will get a chance to sit up in the dome that wishes to do so. The change of seats will probably take place in Oceanside both on the trip south and the trip north. That should give everyone a chance to be up in the dome sometime during the trip while we cruise along the rails by the ocean!

The SILVER SPLENDOR, built in 1956 as Chicago, Burlington & Quincy #4735, has just completed a 12-year restoration. Its owners, the Caesteckers, look forward to having you aboard and sharing the experience with you. Please visit LARail.com for more information.