Click on any photo for a larger image.
Photos taken from the TrainWeb office on Thursday, Sep 10, 1998.


Full-length Dome Car
used on the Amtrak San Diegans
www.trainweb.com/accommod/domecar.html
Currently, full-length Dome Cars are being used in place of the Cafe Cars on some Amtrak San Diegan Trains. The Dome Car is open to all riders, though it may be restricted to passengers consuming food purchased onboard if space becomes a problem. The Dome Car was first reported in service on Saturday, May 16, 1998.
Click on any photo below to view a larger image.
The Dome Car provides a beautiful view of the coast. The Amtrak San Diegans travel right along the shore for part of the distance between San Diego and Oceanside and then again for almost another hour between Ventura and Santa Barbara. However, the Amtrak Central Coast San Diegans have almost an additional two hours of running along the coast between Santa Barbara and San Luis Obispo! This will be an ideal run for the Dome Cars!
These Dome Cars will be used as the Cafe Cars on some of those trains. Most of the seating is at tables. This seating arrangement will be preserved and make it an ideal place to enjoy beverages, snacks or light meals while watching the coastal scenery.
I have been in the Dome Car even in the evening when the view is minimal. Because of the arrangement of seating, lighting, and open space the Dome Car still provides a unique rail travel experience even when there isn't much to see outside the train! The cafe and bar is right downstairs and the Dome area provides a relaxing setting in which to just relax and converse. If you are in the area, I'd strongly recommend that you take a trip in the Dome Car either during the day, the evening, or both, and try it for yourself!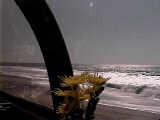 A view from the Dome Car of the surf near San Clemente.
At one end of the Dome Car is an electric piano which I have seen in use by some passengers who obviously had the talent for this instrument!
The left photo above shows the San Diego Red Trolly as seen out the windows of the Dome Car! The right photo shows the Dome Car in the San Diego depot.
Additional photos related to the full-length dome cars:
Visit our Rail Magazine promotion trading partners:
Click here to add your print rail magazine.