Rocky Mountaineer Vacations

Travelogues & Photos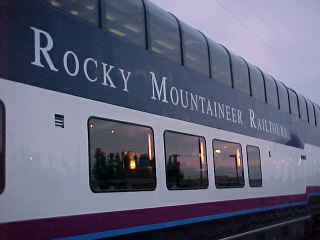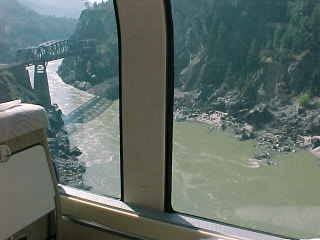 Click On A Photo Above For Rocky Mountaineer Vacations Travelogue & Photos!
Travelogues and photos from rail travel and excursions on the Rocky Mountaineer in Canada.
Rail Travelogues & Photos:
04/17/03-04/21/03: Doug and Kent's Trip between Vancouver, Jasper, and Banff

via Rocky Mountaineer Vacations (Gold Leaf Class)



12/20/01-12/22/01:
Rocky Mountaineer Railtour's White Christmas in Western Canada
By Sylvia Ann Blishak.



04/17/01-04/20/01: Riding the Rocky Mountaineer Vancouver to Calgary and back!

By Chris Guenzler



09/18/99-09/20/99: Banff, Alberta, Canada to Vancouver, British Columbia, Canada

via Rocky Mountaineer Vacations (Gold Leaf Class)
including tour bus travel from Jasper to Banff, stopping at the Columbia Ice Fields Glacier.



09/16/99-09/17/99: Vancouver, British Columbia to Jasper, Alberta, Canada

via Rocky Mountaineer Vacations (Signature Service Class)


360x360 Virtual Tour Of The Trainset: Click Here
Related Links:

Are you interested in rail travel along some of the above rail journies yourself? There are very few travel agents that have the necessary knowledge and experience of rail travel to answer your questions and to book a journey that you will remember for a lifetime. TrainWeb has sought out those travel agencies and rail tourism companies that not only have the knowledge to book your travel, but have gained the required experience through extensive rail travel themselves! Click here for a list of these rail travel providers!
Visit our Rail Magazine promotion trading partners:
Click here to add your print rail magazine.