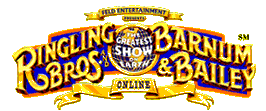 Join the excitement of the Circus Train.
A once in a lifetime employment opportunity.

Trainmaster
Feld Entertainment®, owner/operator of the world's largest private train, is currently seeking a Trainmaster to support the famous Ringling Bros. and Barnum & Bailey® circus train. 100% travel is required.
The successful candidate will support all areas, directing and coordinating activities to ensure safe and efficient train operations including routine train loading and unloading. Must have excellent knowledge of running gear and airbrakes. Requires a valid driver's license (CDL preferred). Airbrake and carman experience is preferred, along with knowledge of gasoline/diesel engines, hydraulics and HVAC. Must have a minimum of 2-3 years of related experience.
Compensation package: competitive salary, lodging and benefits. Individuals interested call 941-722-1990 ext. 607 for more info. or mail/fax/e-mail resume with salary history to Feld Entertainment, Dept. RTCATMTN, PO Box 3238, Scranton, PA 18505-0238. Fax: 888-435-3939, E-mail: feld@alexus.com. EEO & Drug-Free Workplace

Visit the circus online at: www.ringling.com
Click here To View Online Photos Of The Circus Train
Click here to return to the index page.
visits since December 11, 2000.