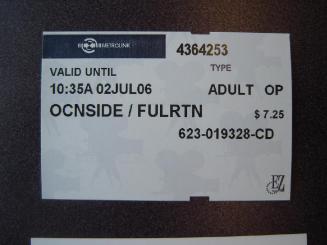 OCTA Metrolink Orange County Sunday Service Inaugural Run
Sunday, July 2, 2006
Photos From Steve Grande
http://www.trainweb.com/mvc/year2006/07/2006g02a/

Click each link below for more information:
First Sunday Run, July 2, 2006: Story & Photos by Chris Guenzler
First Saturday Run, June 3, 2006: Story & Photos by Chris Guenzler
"Metrolink Opens Weekend Routes" (Orange County Register, Saturday, June 3, 2006)
New train services don't start up very often, so I like to ride the inaugural runs when I can. I was out of town on Saturday, June 3, 2006, when the OCTA Metrolink Weekend Service was launched first with trains on Saturday, but Chris Guenzler did cover both inaugural OCTA / Metrolink events. Click on the above links for the photos and stories from Chris Guenzler.

I didn't think I was going to ride this inaugural OCTA Metrolink Sunday Service either as my family had various plans for this Independence Day Holiday Weekend. I definitely knew that I couldn't devote much of the day to this event. On Saturday night, I came up with a solution and barely had time to carry it through. I decided to take the last southbound Amtrak Pacific Surfliner that departed from Fullerton at 10:42 PM on Saturday night and arrived into Oceanside at 11:56 PM and spend the night in Oceanside. Unfortunately, even though there are several hotels within walking distance of the Oceanside station, the only one with vacancy was a Quality Inn 7 miles away in Carlsbad! My plan was then to take the inaugural Sunday Metrolink train which originates out of Oceanside at 8:45 AM and take it to just Fullerton arriving at 10:02 AM. That would get me home by about 10:30 AM. My family would probably just be barely waking up by that time and I'd be hardly missed!
Chris Guenzler, Ken Ruben, and Chris Parker boarded the train in San Juan Capistrano with plans to ride this train all the way to Los Angeles, then take the southbound Amtrak Pacific Surfliner to Oceanside and ride the inaugural afternoon OCTA Metrolink Orange County Sunday Service train north out of Oceanside. For that story and photos, click here.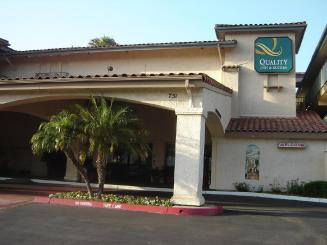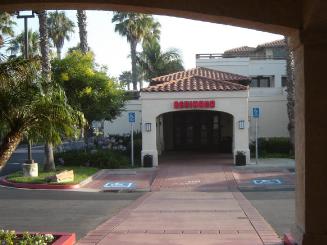 Above: Quality Inn in Carlsbad, CA with Benhana Restaurant on location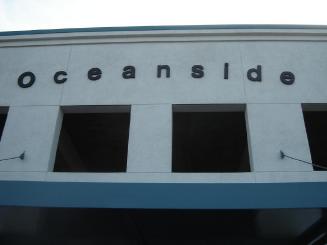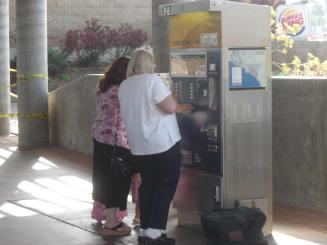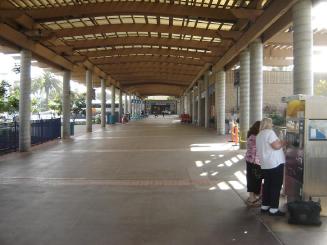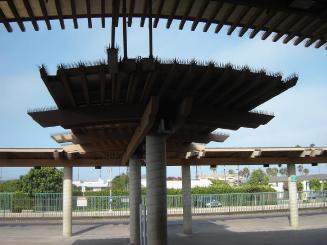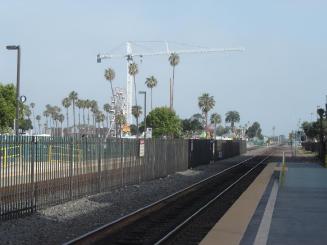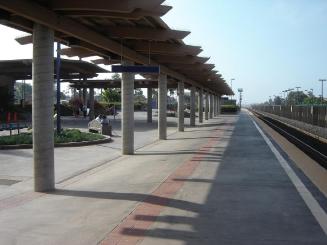 Above: Oceanside Station including other passengers buying Metrolink tickets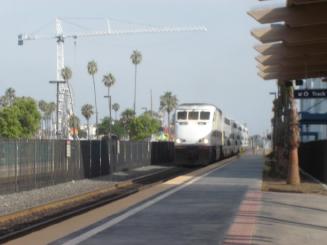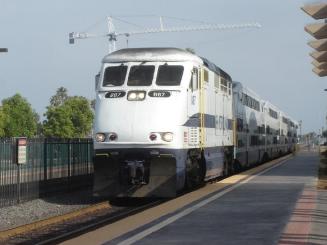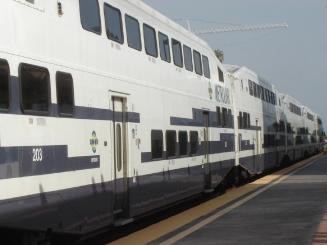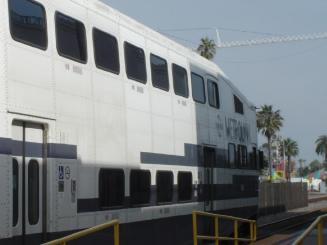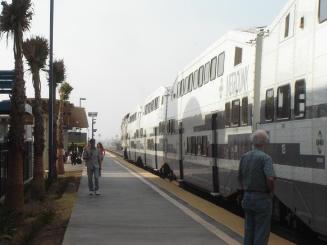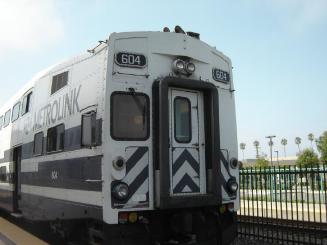 Above: Inaugural Metrolink Sunday Service Train arrives into Oceanside Station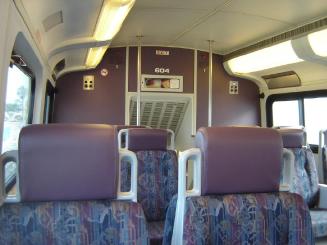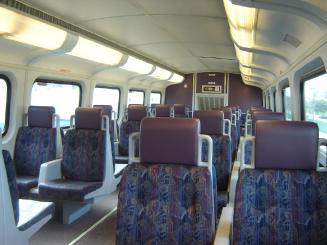 Above: Inside the Cab Car Upstairs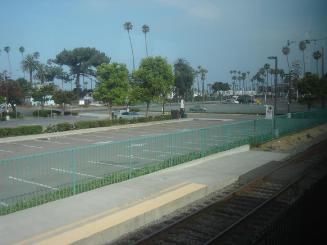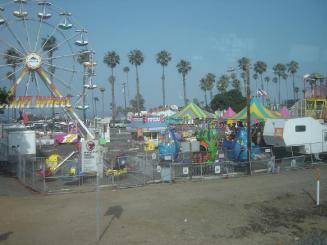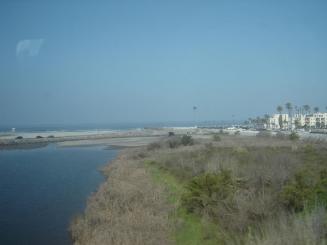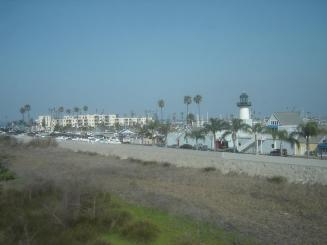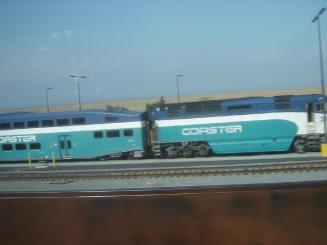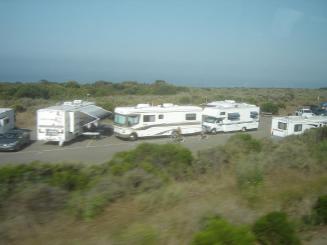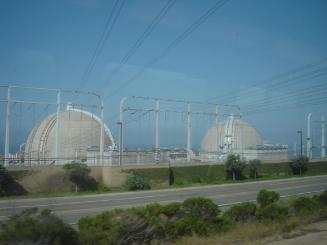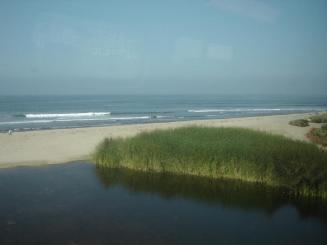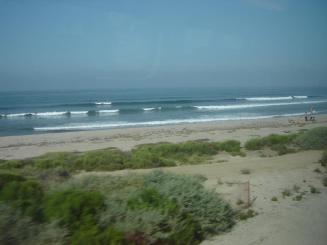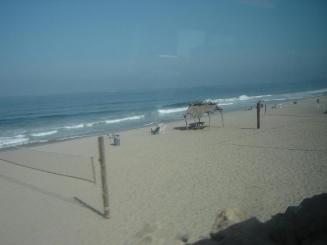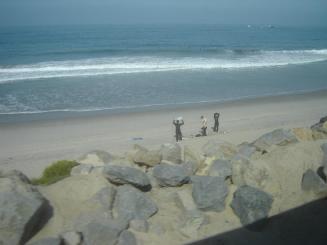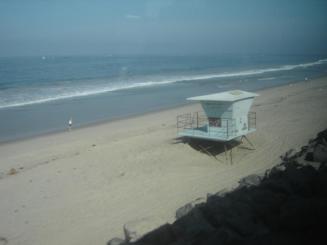 Above: Scenery along the way north to the next station: San Clemente - North Beach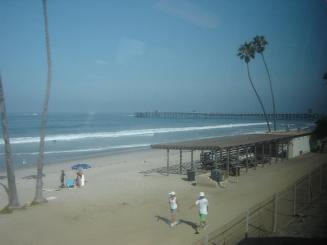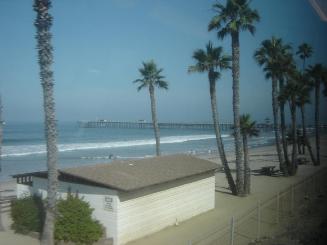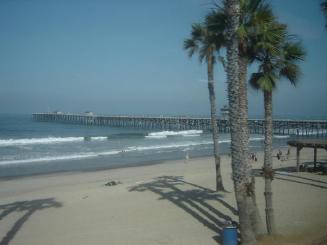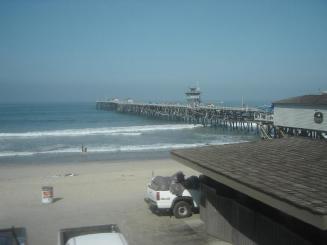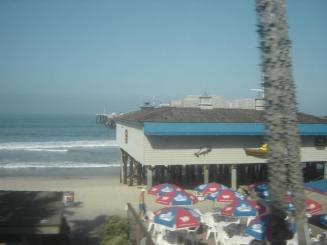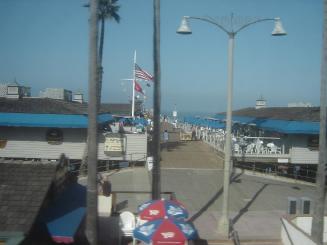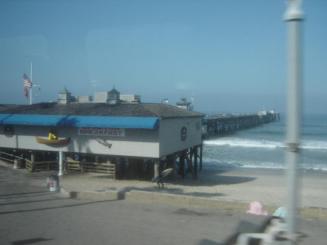 Above: San Clemente Pier
There is a station at the San Clemente Pier, but the Orange County Metrolink Trains don't stop there.
Instead, they stop at San Clemente - North Beach. The Inland Empire Beach Trains do stop at the pier
as well as a few of the Amtrak Pacific Surfliner trains. There are a lot more restaurants, hotels, and
interesting things for tourists near the San Clemente Pier Station than the North Beach Station and it
is quite a long walk from one to the other. I hope that both Amtrak and Metrolink will someday consider
providing better and more frequent service to the San Clemente Pier Station.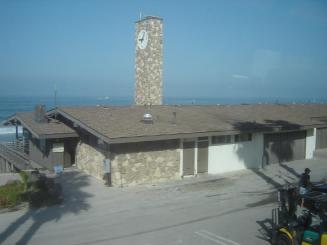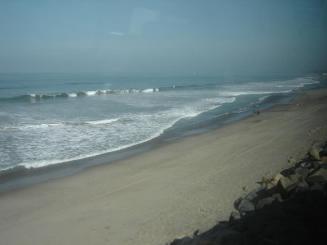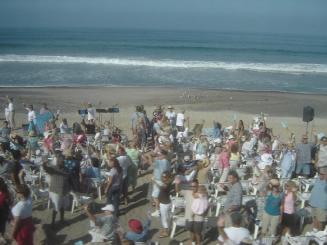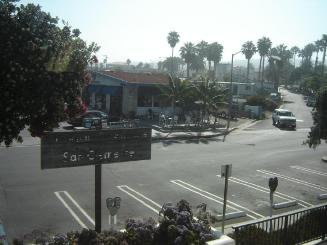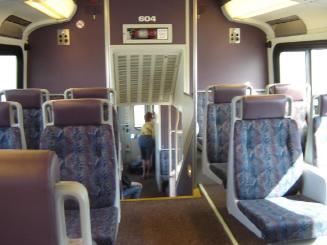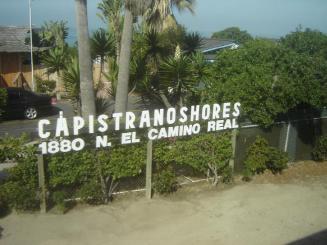 Above: San Clemente - North Beach Station Area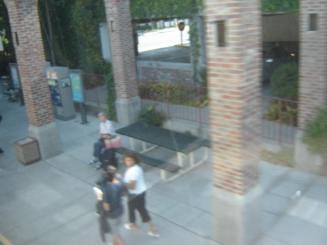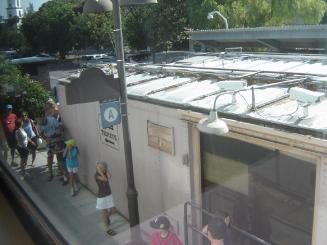 Above: San Juan Capistrano Station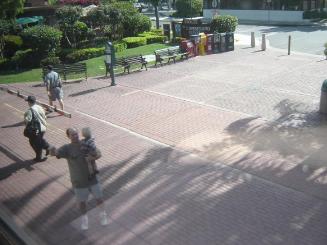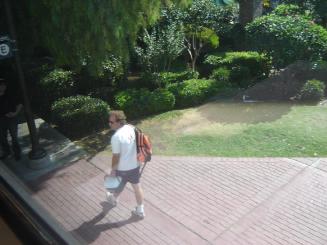 Above: Chris Guenzler walking to the head of the train to board the Cab Car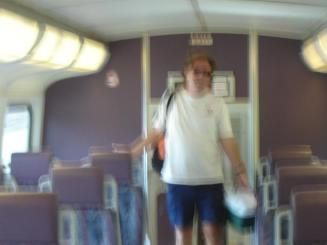 Above: Chris Guenzler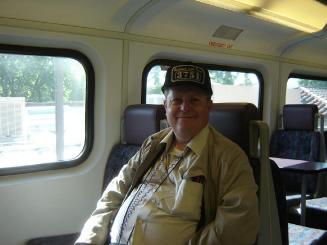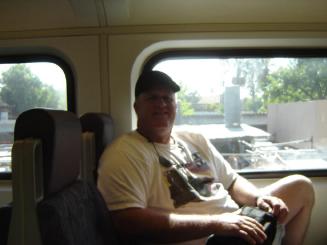 Left: Ken Ruben - Right: Chris Parker
Ken & Chris also boarded with Chris Guenzler in San Juan Capistrano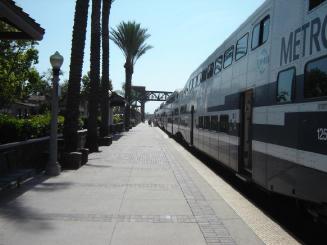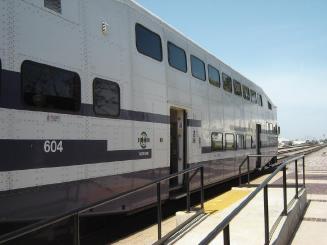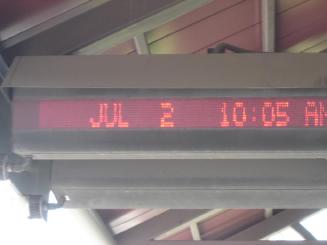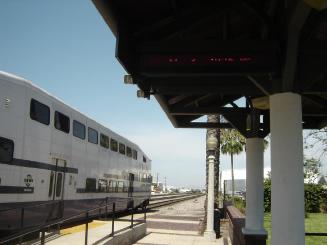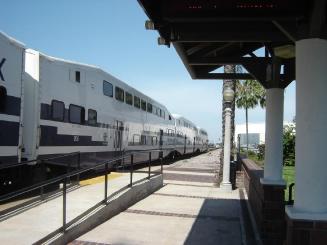 Here is where I got off in Fullerton!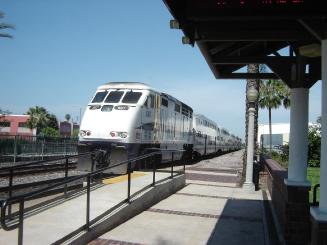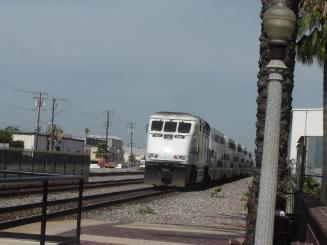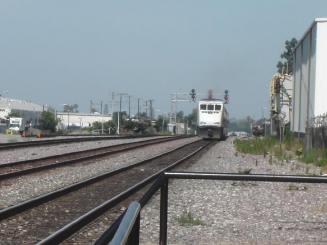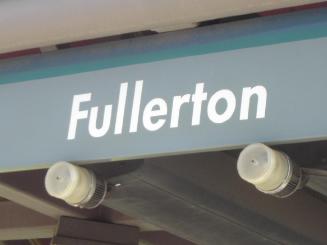 Above: The train departs from Fullerton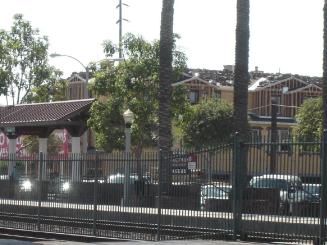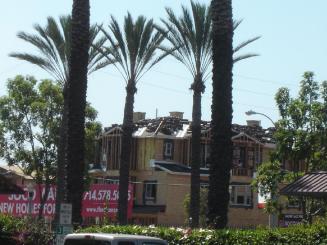 Above: Construction on new trackside condos in Fullerton: SOCO Walk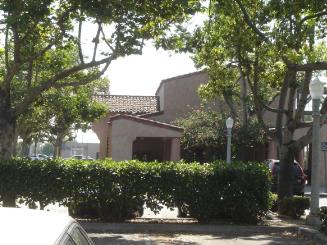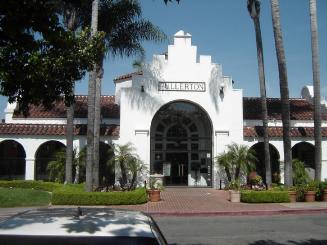 Left: Fullerton Santa Fe Depot - Right: Old UP Depot, Now The Spaghetti Factory Restaurant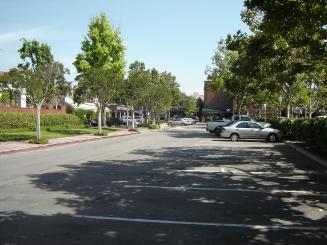 Above: Treed Area By the UP & Santa Fe Depots in Fullerton

Click Here For The Rest Of The Story & More Photos!
Click on any photo above for a larger image.
Visit related pages from this and other web sites:
Click below for pages in the directory of TrainWeb sites: