"JOURNEYS THROUGH AMERICA:
TRAIN JOURNEYS THROUGH AMERICAN LANDSCAPES"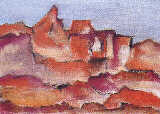 By Francia Turner
An illustrated and written tribute to the Nation's diverse landscapes and textures
Award-winning author and artist Francia Turner traveled almost a million miles by train in four years to produce an evocative travelogue of her Journeys Through America published by Ridyl Publishing, and to continue her research for a forthcoming Volume II.
She is the only artist to have ever undertaken such a monumental project. From the window of her studio, the moving train, she has captured the beauty of the American heartland.
In poetic prose and impressionistic pastel paintings, Francia shows the reader what she has seen -- beginning in the historic Atlantic coastal cities, then west through Chicago, New Orleans, and the expansive central states.
It highlights the unlimited variations in landscape of the Colorado Rocky Mountains, the Arizona-New Mexico red-rock canyons, and Glacier National Park, to ultimately follow the dramatic contours of the Pacific coastline.
She traveled as many as 24 times per route to complete each picture and text. The notes alone filled fifty 70-page notebooks, and the 18" x 24" paintings filled another 20 artist pads.
For over two years, Francia traveled full-time, allowing six weeks aboard, and one week off. This meant taking two luggage carts for not only her notebooks and art materials, but clothing for several different climates. It required precision planning of itineraries, and more stamina than she ever thought possible, but her motivation was in capturing the extraordinary panorama of the United States rolling by at every turn.
Underlaying the unique quality of the book is Francia's story - her dedication and spirit have turned her life-long dream into a reality. Her philosophy, that "if we continue to see life as a challenge, we continue to grow," has inspired her to challenge both her own creative resources as well as the imagination and artistic abilities of others.
Working with thousands of children and adults on four continents, she has planted the seed of artistic creativity within them and continues to teach people to recognize and express their talents through her art and writing workshops and seminars.
Francia was born in Boston and moved to California in 1957 with her family. As well as traveling throughout the United States, she has lived and traveled extensively by rail in Britain, Europe, Australia and South America, where the books and exhibited works have received critical acclaim.
She received her Bachelor of Fine Art and Master of Arts degrees from the University of Oxford, England, and is also the author of "Journeys: Train Journeys Through British Landscapes," a work sponsored by the Tourist Boards of England, Scotland, and Wales, and British Rail.
She has written and illustrated several award-winning children's books, including, "Through the Mist," the story of an Australian rainforest. This was the first children's book to be awarded the Australian Conservation's Seal of Approval.
For further information contact Ridyl Publishing, 2118 Wilshire Boulevard, Suite 467, Santa Monica, CA 90403,
Phone 310-392-9544.