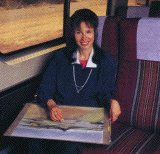 About the Author
Francia Turner was born in Boston, Massachusetts and has lived and traveled extensively by rail on four continents. She received her Master of Arts Degree from the University of Oxford, England and is the author and artist of Journeys: Train Journeys through British Landscapes, sponsored by the Tourist Boards of England, Scotland and Wales, and British Rail.
She has also written and illustrated several award-winning children's books, including Through the Mist, the story of an Australian rain forest. This was the first children's book to be awarded the Australian Conservation Foundation's
Seal of Approval.
Her works of art have received critical acclaim and have been exhibited in the United States, Britain, Europe, Australia and South America, where they are owned by private collectors, corporations and museums.
Francia has two children and lives in California.
As well as the participation of Amtrak in the creation of this book, Holiday Inn Worldwide and its franchised hotels have been Francia's enthusiastic sponsor.
Photograph by Gary Victor