Silver Rails Resort backers celebrate opening of event center, Amtrak museum
By GREGORY OREAR, Managing Editor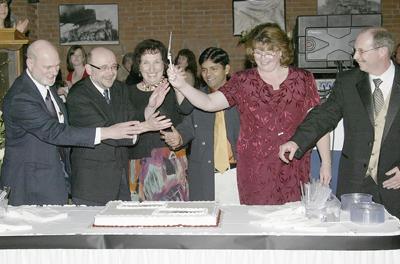 Silver Rails Resort investors Ray Burns, Steve Grande, Barbara Cepinko, Shivam Surve, Kelly Marshall and Tom Marshall cut a celebratory cake at a gala Saturday night. In addition to the sold-out gala, ribbon cutting ceremonies took place Saturday at the Event Center and Amtrak Historical Museum. (NEMO_Photography)
LA PLATA, Mo. - A pair of ribbon cuttings and a grand opening gala inducted the next phase of a $250 million resort in La Plata Saturday.

Nearly 500 people attended the sold-out gala at the Silver Rails Event Center, which opened with a ribbon-cutting earlier in the afternoon.

"I think this is a remarkable event," La Plata Mayor Tom Herron said at the gala. "To see what was accomplished in about 90 days is amazing. You should have seen it before."

In addition to the event center, which will be available for private events and public ones such as Sunday's bridal fair, the Amtrak Museum also opened with a ribbon cutting Saturday afternoon.

"I know what this community has done to improve this depot and it has come a long way," Amtrak representative Ann McGinnis said. "There is a lot happening here and I think this is gong to have a positive effect on this economy. I'm really happy for this community and I think this community has a lot to be looking forward to as tourism is going to be booming here."

Both the Amtrak Museum, which is located inside two donated Amtrak rail cars, and the event center are part of a bigger project that, according to organizers, will eventually include a 300-room resort, indoor water park, and an amphitheatre.

"Tom and Kelly Marshall have done everything they said they would do," Sen. William Stauffer, R-Popular Bluff said. "We are here at the birth of something that is really going to change north Missouri."

Tom Marshall, the owner of Depot Inn and Suites which opened in 2006, and one of the project's primary investors and organizers, said the railroad is only one facet of the resort.
"Everything needs a good foundation to build on, whether it's your home or a project like this," Marshall said. "We are in one of the richest historical regions in the country. We have a region that if we all work together as a region, we can accomplish a lot."

Missouri Tourism Director Blaine Leutkemeyer said with the historical aspect factored in, the project is headed down the right track.

"You try to find a niche, whether it is heritage related or amusement, and we have both blended together here," he said. "You have to market more than just yourself and your particular destination. This is a concept Tom has realized from the start."

Designer Barry Howard presented a video conceptual tour of the project, which features a narrow-gauge traing running through out the 10-station resort.

Howard, who has designed numerous large-scale projects, was not onboard initially.

"When I first came here to La Plata, I was admittedly skeptical," Howard said. "But I have become transformed by the people out here. This place, and the people in it, are authentic."

With the plans in place, Marshall is now securing additional investors, and projects construction to start sometime this year. If all investors are in place at the start of construction, the resort is expected to be completed in three years.